Briefs
Car Crashes 200 Feet off Highway 154
One Woman Is Trapped in Car and Suffers Serious Injuries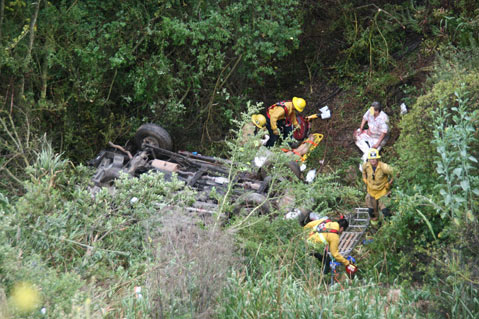 Two people were hurt, one seriously, when their Mitsubishi SUV crashed off the side of Highway 154 this morning. The passenger, Maribel Garcia, 45, was transported to Cottage Hospital with major injuries. The driver, Oscar Ortega, 44, was treated for moderate injuries. Both are from Los Angeles.
According to CHP spokesperson James Richards, the vehicle was traveling eastbound toward Santa Barbara in rainy conditions. For unknown reasons, Ortega allowed the SUV to drift off the roadway north of San Marcos Road and descended around 200 feet down a steep embankment. On its way down, the car flipped over and eventually came to rest on its roof. A motorist witnessed the accident and called 9-1-1.
Emergency crews used the Jaws of Life to extricate Garcia from the car. Ortega was able to escape on his own. Highway 154 remained opened during the rescue, and the cause of the accident is still under investigation, said Richards.