Briefs
DUI Crash Leaves 3-Year-Old With Serious Injuries
Mother Charged With Felony DUI and Child Endangerment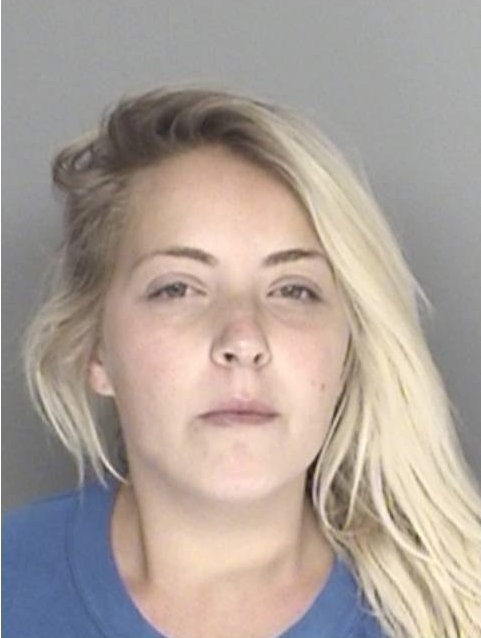 Santa Barbara resident Kate Hatrey Walters was booked into County Jail on felony DUI and child endangerment charges after a drunken collusion left her 3-year-old son with a broken neck.
Walters, 24, collided with a street sign and lamppost at the corner of State Street and Toyon Drive on Sunday evening after getting kicked out of Harry's Plaza Café for unruly behavior, said police spokesperson Sgt. Riley Harwood in a statement.
An investigation revealed that Walters had started heavily drinking earlier in the day before she went to Harry's with a friend around 5:00 p.m, taking her young son with her. Walters drove her 21-year-old unnamed friend's car to Harry's, said Harwood.
"At the restaurant Walters continued to drink with her friend and both became heavily intoxicated, unruly, and argumentative with restaurant staff," explained Harwood. Walters and her friend were asked to leave and restaurant staff called them a cab.
Staff then called police around 7:00 p.m. as Walters and her friend continued to make a scene outside Harry's, said Harwood. Before the police arrived, Walters put her son in his child seat and drove off with her friend in the passenger's seat. The investigation showed that the child seat was installed improperly. Walters' near collision with two parked cars in the Loreto Plaza parking lot prompted another call to the police, said Harwood.
Walters made it about two blocks westbound on State Street to the Toyon Drive intersection when "she struck the curb at the northwest corner of the intersection and drove up onto the sidewalk, striking the State Street / Toyon Drive street sign there and then collided with the lamppost of a city street light," explained Harwood.
When officers arrived they found Walters, heavily intoxicated and distraught, seated in the rear of the car. Her 3-year-old son — bleeding from abrasions to his neck — was being cradled in the arms of a citizen. Firefighters and paramedics struggled to extricate the heavily intoxicated, combative, 21-year-old woman from the front passenger's seat.
Walters, her son, and her friend were transported to the Santa Barbara Cottage Hospital Emergency Room. The responding police officer, conducting an DUI investigation, obtained a search warrant authorizing a blood sample to be taken from Walters. The results are currently unavailable.
Walters was treated for minor injuries and booked into jail. Her son was admitted to the hospital, suffering from "multiple injuries from the collision including a broken neck," according to Harwood. The condition of Walters' friend was unclear as of press time.
Walters has been charged with felony DUI and child endangerment and her bail is set at $100,000.