Books
Santa Ynez Valley Cottage Hospital Auxiliary Awards Four Scholarships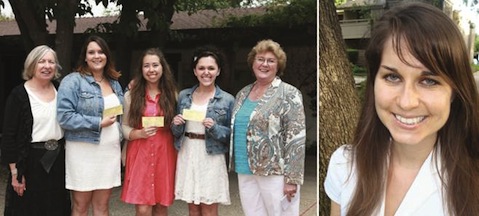 Four candidates were selected for 2013 and each received a $3,000 scholarship during the Auxiliary's annual "Thank You" luncheon held recently at the Santa Ynez Valley Historical Museum.
Melissa Aldecoa is currently attending California State University-Sacramento, has already completed one semester toward her Bachelor of Science in Nursing (BSN) and anticipates graduating in spring 2014. She graduated with honors from Santa Ynez Valley Union High School (SYVUHS) and has volunteered in the emergency room at SYVCH and also in the mother/infant unit at Santa Barbara Cottage Hospital.
Manon Ambrico will graduate this month from SYVUHS where she is a member of the Red Cross Club, National Charity League and involved in many other activities. She has been admitted to Azusa Pacific University to study applied health and nursing and is interested in working with children. Olivia Brents has been admitted to the pre-nursing program at California State University-East Bay where she will focus on her life goal of becoming a nurse. She was influenced by her aunt who is a labor and delivery nurse. Olivia will graduate this month from SYVUHS where she has been active in cheerleading and community service. Kathryn Guenther, after graduating this month from SYVUHS, will attend Santa Barbara City College to pursue her goal of becoming an occupational or physical therapist. She is motivated in part by helping her grandfather recover from a heart attack and stroke and seeing the care he received at Cottage Rehabilitation Hospital. Currently, she is an intern at a Solvang occupational therapy office.
The 2013 SYVCH Auxiliary scholarship selection committee consists of Chair Kathy Erb and members Barbara
Davidge, Janice Kuntz and Sharon Lewis.
SYVCH Vice-President Wende Cappetta remarked, "The Auxiliary provides more than 18,000 hours of volunteer service each year to the hospital. These in-kind hours equate to an approximate value of $415,000 a year. I am also thrilled with the opportunities the Auxiliary is giving students through generous scholarships that have been offered for the past 16 years. SYVCH Auxiliary has changed many lives and helped support future nurses, radiologists, doctors and others entering the medical field. Thank you from the bottom of my heart on behalf of our entire hospital staff and community!"
ABOUT SANTA YNEZ VALLEY COTTAGE HOSPITAL AND AUXILIARY
Founded in 1962, Santa Ynez Valley Cottage Hospital Auxiliary is an all-volunteer organization providing more than 18,000 service hours annually to the facility. The auxiliary operates the New to You Shop at 1689 Oak Street in Solvang (founded in 1963 and celebrating 50th anniversary this year) and volunteers sponsor and participate in numerous fundraising events supporting the hospital's mission. Founded in 1964, the not-for-profit Santa Ynez Valley Cottage Hospital (SYVCH) provides high quality outpatient surgical services, inpatient care, comprehensive imaging (including MRI, CT, digital mammography, ultrasound, X-ray), on-site laboratory, cardiopulmonary rehabilitation, physicians specialty clinic and 24-hour emergency services to the community. Located at 2050 Viborg Road in Solvang, SYVCH is part of the not-for-profit Cottage Health System, which includes Santa Barbara Cottage Hospital and its associated Cottage Children's Hospital and Cottage Rehabilitation Hospital, and Goleta Valley Cottage Hospital. For more information call 805-688-6431 or visit www.cottagehealthsystem.org