Sports
S.B. Triathlon 2013
A British Expat and an S.B. Couple Turn Pro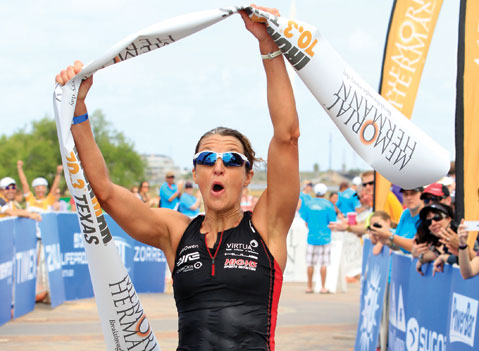 Emma-Kate Lidbury's ambitions swayed from Fleet Street to fleet feet on a fateful day in May 2005. She began the day as a reporter on assignment to describe the inaugural Blenheim Palace Triathlon from a participant's perspective. "When I plunged into the lake at the start, I was anxious whether I could do it," she said. "When I finished, I was smitten with the triathlon. I wanted to do another one."
Lidbury said she was chosen from the staff of the Oxford Mail and Oxford Times "because I was the least unfit" of the journalists. The triathlon inspired her to become the fittest. She eschewed the usual lunchtimes with her colleagues at the pub — bacon sandwiches were common fare — and went on 45-minute runs instead. She started winning triathlons, and in autumn of 2008 she told her editor, Simon O'Neill, that she was quitting her job to become a professional triathlete.
"He was amazed and shocked," Lidbury said. "He said, 'I just can't believe I sent you out there [to Blenheim]."
Early this year, Emma-Kate (she attributes her hyphenated name to "indecisive, stubborn parents") made another bold move. She left her native England to settle in Santa Monica, putting her within range of many opportunities to compete in her favorite 70.3-mile Ironman races — a distance that is half the mileage of the punishing Hawai'i Ironman.
Lidbury, 33, has collected six 70.3 Ironman victories, the most recent being in April at Galveston, Texas, and June at Lawrence, Kansas. On September 8, she will compete in the 70.3 World Championships at Lake Las Vegas in Henderson, Nevada, for the fourth time.
Based on her results so far this year, Lidbury aspires to improve on her best finish — eighth in 2011 — at the Worlds. To prep for the race, she has entered the 32nd annual Santa Barbara Triathlon. "When I saw it on the calendar, it jumped out at me," she said. "It's a perfect time. The distance is ideal." The long-course portion of the S.B. Tri on Saturday, August 24, consists of a mile swim, 34-mile bike, and 10-mile run — a solid workout leading up to the 70.3 in two more weeks.
"Hopefully I'll be racing in Santa Barbara with a smile on my face," Lidbury said. That is her usual expression. "I've never had a bad experience in a triathlon," she said. "Everything is switched on. I'm tuned to every little nuance of my body. It's the opposite of life in the rat race."
She has not completely abandoned her first profession. "The writer in me loves to tap away," she said. "I write for triathlon websites and publications. I contribute to my hometown newspaper, the Swindon Advertiser. I got my first job there in 2003. The writing gives me plenty of brain activity. I love to combine it with the triathlon.
"Crossing the Atlantic and setting up here the last six months was life-changing. Not every day is going to be happy and joyful, but I try to make it so."
TRI-COUPLE: Adrienne Hengels of Santa Barbara upgraded her status as a triathlete to professional this year. It was not surprising, as she has already completed the Ironman World Championship (the full 140.6 miles in Hawai'i), but it still was a big decision for her to declare her intention to race in the elite division every time out.
Hengels, like Lidbury, strives to compete with a smile on her face. Her occupation as a yoga teacher — she founded the Power of Your Om Yoga Studio on State Street — helps her deal with the stresses of the sport. While facing a difficult training session recently, she wrote in her blog, "I always say in class, 'If you can, you must,' and also, 'Just go for it and see what happens.' So I drank my own Kool-Aid — I stopped thinking, got on with the program and gave it a whirl." 
Hengels, a recreational runner while studying consumer science at the University of Wisconsin, did her first triathlon in Chicago in 2007. "It was not without a panic attack that I went into the water at Lake Michigan," she said. "After that, it got easier." She joined a triathlon club where she met her fiancé, Jason Smith, and together they moved to Santa Barbara in 2010. Smith, a personal trainer, turned pro last year.
Both Hengels and Smith will ply the long course on Saturday. "It's a solid course; it's challenging," said Hengels, who finished second among the women in 2011. Smith was the fourth-place finisher overall last year.
The couple will add a big leap to their swimming, biking, and running on September 28. That is the day they will be married.
TRI FACTS: Every stage of the triathlon starts and finishes at the Cabrillo Bathhouse on East Beach. The long-course race starts Saturday, at 7 a.m. The fastest times of the past decade were recorded in 2006 by Chris Foster of Venice (2:53:49) and Australia's Ironman champion Michellie Jones (3:06:25). … On Sunday, the sprint races (500-yard swim, 6-mile bike, 2-mile run) will begin at 7 a.m. for coed athletes, 8:15 for women only, and 8:45 for parents and children. … Event director Joe Coito urges prospective volunteers to call 682-1634 or visit santabarbaratriathlon.com….The Scholarship Foundation of Santa Barbara is the charity designated to benefit from fund-raising at this year's triathlon.
EAT, DRINK AND BE FLASHY: Matt Fitzgerald, author of Racing Weight, a nutritional guide for athletes, will be holding court at the sports expo that opens Friday at the site of the triathlon. Fitzgerald gleaned his dietary recommendations from scientific research and the journals of successful athletes. "It's possible to eat like a normal red-blooded American," he said, but certain things — like fried foods and soft drinks — should be severely limited or eliminated. "Do things carelessly, and you're not going to win races," he said. Fitzgerald was asked what he had for breakfast on a recent morning: "Whole-grain cereal (Oatmeal Squares), organic milk, fresh blueberries, organic orange juice, and black coffee."
SAD TIME FOR DONS: Khalid Hurst's friends don't know why he lost control of his motorcycle on Carrillo Hill last Saturday night. They do know why he was not wearing his helmet. "He gave it to the woman who wanted to go for a ride with him," Bobby Bisquera said. She survived the crash; Hurst did not. "It's a loss for the Santa Barbara Dons football community," Bisquera said. He was a coach at S.B. High in 1994 when the quick and nimble Hurst was the Dons' leading rusher. "Khalid had a great personality. People gravitated to him," Bisquera said. Hours before he died, Hurst and Bisquera were at a friend's birthday party. They got into a good-natured argument about the Giants (Hurst's team) and Dodgers (Bisquera's). "Khalid's last words to me were that the Dodgers don't know how to get out of the first round of the playoffs," Bisquera said. "Then this random thing happened, and I'll never be able to get the last laugh."