Sports
Fantasy Football
S.B.'s Sean Simms Creates Winning Teams Online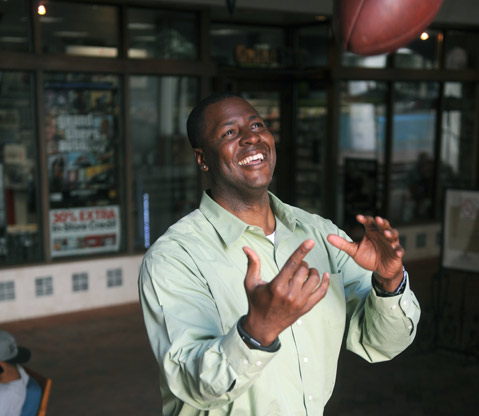 Sean Simms's summer reading was quite extensive, but it did not include classics, thrillers, mysteries, or romances. Those do not help him decide whom to pick on the teams he has entered into five different fantasy football leagues this fall.
"I tend to make good picks," Simms said. "I do a lot of reading and watch a lot of football. I looked at every NFL preseason game. I read the news on NFL.com and corroborate it on team web pages. I always do my fact checking. I want to know who's injured and who's going to be injured."
C.J. Spiller of the Buffalo Bills was one of the highest-rated running backs. "His coach was quoted as saying, 'We're going to run him until he throws up.'" Simms said last week. "But Spiller was just excused indefinitely from the team to deal with family issues." Days later, Spiller returned home to his team, putting him back on the board for Simms's remaining drafts.
Simms spent a good part of his life in the reality of football. The 1992 graduate of Santa Barbara High was a tight end for the Dons and Nevada, Reno. The Dallas Cowboys signed him as a free agent, and he spent a year and a half on their practice squad. Then he played in NFL Europe in Scotland.
When he returned home at the conclusion of his playing career in 1999, Simms said, "I had to stay involved somehow in football." He works as a guest services agent at Paseo Nuevo when he isn't checking the latest NFL news.
The top priority in selecting a fantasy team, Simms said, is the running backs. Adrian Peterson of the Vikings is the likely choice of any fantasy player who lands a No. 1 pick. Simms identified several rookies who might prove valuable ​— ​Eddie Lacy of Green Bay, Montee Ball of Denver, and Giovani Bernard of Cincinnati.
Zach Sudfeld, an undrafted tight end out of Nevada, may be the next player to rise in New England's system. Aaron Hernandez, charged with murder, did not work out too well. "The tight end is the most evolved position in the NFL," Simms said. He had his eye on another undrafted Patriot, wide receiver Kenbrell Thompkins.
Simms is a fan of the San Francisco 49ers "because my parents were always going for the Rams." He asserted that fantasy football does not detract from one's loyalty to a team. "It helps you get involved and understand the game better," he said. He might bench a player on his fantasy team the week he is playing against the Niners.
Simms brands most of his fantasy teams with the name Double-S Machine. He's entered three leagues through Yahoo.com and one each through NFL.com and ESPN.com. They are each composed of 10 to 14 teams. As of Monday this week, four drafts were completed. The last would take place Wednesday night on the eve of the season opener.
Game day finds Simms in a room with lots of TVs ​— ​Mel's Lounge is a favorite spot ​— ​pulling for the Niners and every player that has become his personal choice.