Foodie Awards
The 2013 Foodie Awards
Our Fourth Annual Celebration of Santa Barbara's Culinary Scene
When we started the Foodie Awards as an annual celebration of Santa Barbara's culinary scene back in 2009, there was hope that the momentum would continue to blossom into even more interesting eating opportunities around town. Four years later, we're happy to report that the region's collective kitchen is more exciting than ever, with an increasing number of both homegrown and imported "culinarians" deciding to stake their claims on our shores.
In this 2013 edition of the Foodie Awards, we honor nine establishments for the special sauce they bring to our eclectic menu, shining some deserved light on everything from authentic tacos and beachside ambiance to edgy sushi, philosophical cocktails, and painstakingly produced pasta.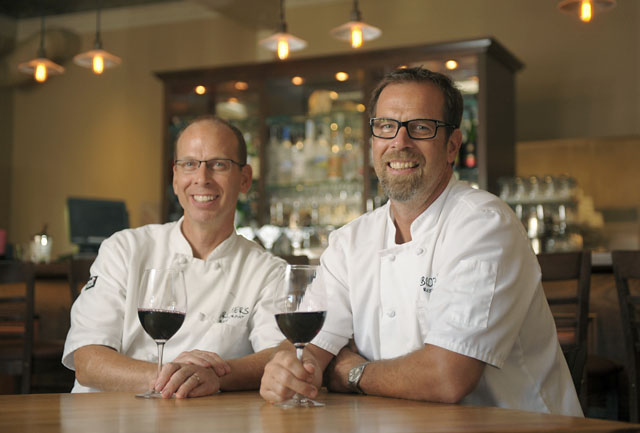 Worth the Drive Award: Sides Hardware and Shoes Los Olivos
If pork is important to you, put this paper down right now and drive to Los Olivos ​— ​because no one is doing pig better than Jeff and Matt Nichols at Sides Hardware and Shoes (the name is a nod to the historic building's earlier life). They opted to cure their own bacon, with brother Matt claiming, "It took about seven or eight batches to get it where we liked it. We wanted it to be unique, and I think we did a good job of accomplishing that." If their extra-thick bacon steak isn't enough for you, then there's the Hammered Pig: fried pork loin gussied up with red cabbage, apple, and mustard-seed slaw. There's more than pork: In summer their chilled soups include ultra-elegant ice-cream-like savory centers to swirl plus fish tacos that will make you think you're closer to the Pacific than you are. There's even quinoa with seasonal vegetables for the non-carnivorous. And, yes, grander things are still to come: The Nicholses will be opening at the refurbished Red Barn before next year's Foodies.
(2375 Alamo Pintado Ave., Los Olivos, 688-4820, brothersrestaurant.com)
Fist of Fin and Feather Award: Arigato Sushi "Gold Shot" Sea-Urchin-with-Quail-Egg Shooter
If decadence itself could be served in a shot glass, the place to get it would be Arigato Sushi" is how this paper's food editor Shannon Kelley recently described the esteemed sushi spot's uni-and-quail-egg shooter. "The Gold Shot is a mouthful of silken, oceanic indulgence whose flavor hits you like a wallop to the face." Sure, it's not for the faint of palate, but Arigato has been pushing our boundaries since 1983, in the days when it existed in a large closet facing the Victoria Court parking lot. It's just as hard if not harder to get a table these days (reservations, please!?), but it's not just about some big-city buzz. The fish doesn't get fresher in town or more artfully and creatively presented: the Pretty in Pink ​— ​smoked salmon, crab, avocado, burdock root, daikon sprouts, smelt roe, and cucumber ​— ​in its roseate soybean paper wrapper has aged much better than works of Molly Ringwald, John Hughes, and the Psychedelic Furs combined. You can't hide with sushi, and Arigato's stunning success has been an open secret for decades.
(1225 State St., 965-6074, arigatosantabarbara.com)
Pop-Up Kings Award: Spare Parts Bistro
Santa Barbara is notoriously slow to bend to food fashion, which is both a blessing ​— ​we don't suffer ridiculous trends like foams ​— ​and a curse, in that our culinary scene can seem pinched and provincial. Somehow Weston Richards, chef de cuisine, and Alvaro Rojas, production manager, brought food up to the moment and still made sure it was just a good dinner party at heart with their pop-up dinners known as Spare Parts Bistro. Each week, it's five market-driven courses led by one of Rojas's fine cocktails (you might know him from his other establishments Alcazar, Milk & Honey, or the Bourbon Room). You BYOB; eat dishes like baked sardines, tomato sauce, fennel, garbanzo beans, lemon zest, olive oil, and oregano; and leave feeling that you made a dozen fast friends. "The main ingredient is the love for our craft with a good helping of tenacity and sprinkled with a bit of crazy" is how Rojas explains their modus operandi. "I would say that I have been successful because of my commitment to making great, innovative food, and never compromising my vision of what Spare Parts should be," adds Richards. "I've always said I would rather go down in flames than compromise my vision. However, the support for what we are doing has been tremendous!"
(364-2715, sparepartsbistro.com)
Lifetime "Izzy" Award: The Isla Vista Food Co-op
Decades before farm-to-table was an idea, let alone a tired marketing mantra, the Isla Vista Food Co-op was supporting regional farmers like Tom Shepherd by selling their produce. The Co-op just celebrated its 40th anniversary with something unheard of: It crowd-sourced the down payment to buy its building. No one could sum this story up better than the Co-op's current inspiring dynamo of a GM, Melissa Cohen, who says, "We look at our unique store as a vibrant and dynamic model of people-powered participatory activism that has, since day one, been a container of all things cocreated by the community that uses the Co-op as a dynamic and evolving resource." She speaks of "grocery carts as vehicles for social change" since dollars spent at the Co-op stay in the community and explains that the I.V. institution offers many classes, tours, and other programs to educate everyone where their food really comes from. "The real secret is when people realize that we're not actually in the business of selling groceries," Cohen says. "We're in the business of creating, inspiring, and nourishing community." And to be able to do so in the very transient college-town nature of I.V. is simply amazing.
(6575 Seville Rd., Isla Vista, 968-1401, islavistafoodcoop.blogspot.com)
Farm-to-Bar Award: Patrick Reynolds
I'll see your farm-to-table, Patrick Reynolds might have said to the culinary world at large, and I'll raise you one. With his weekly "Farm-to-Bar" happy hours at the Wildcat ​— ​on Tuesdays, of course, when he scores fresh veg, herbs, fruit, jam, pistachios, and whatever else ignites his imagination at the Farmers Market on his way to the Kitty ​— ​Reynolds has taken it upon himself to single-handedly change the way Santa Barbarians get their cocktail on. He approaches his drinks the same way a chef might approach a dish, which is not terribly surprising when you consider that he attended SBCC's Culinary Arts school and worked professionally as a chef for a while. This sensibility is evident in every component, as in the sugar-macerated ginger, lemongrass, cucumber, chile, and jasmine syrup used in his "Thai-phun," or the corn-tortilla-infused vodka that made his "Hot Tamale" a drink we're still talking about. "It sounds cheesy," he says, "but lately I'm saying that I'm putting the spirit back into inspiration." In addition to mixing up sophisticated drinks in the off-hours at the Wildcat, Reynolds has taken his talents on the road, leaving his fingerprints on the best cocktail programs in town. And he just might be doing his thing behind a new bar in the near future. Watch this space for the scoop …
(every Tuesday at Wildcat Lounge, 15 W. Ortega St., 962-7970, wildcatlounge.com)
epicure.sb offer: Patrick Reynolds is offering a $5 cocktail through October every Tuesday at the Wildcat.
You're Invited!
2013 Foodie Awards Ceremony & Silver Shaker Cocktail Competition
The 2013 Foodie Awards will be presented during a special event at the Wine Cask on Sunday, September 29, 4-5 p.m. The awards are immediately followed by the 2nd Annual Silver Shaker Cocktail Competition, a showdown for Santa Barbara's best bartenders, next door to the Wine Cask at Intermezzo. If you'd like to come, please RSVP to events@independent.com today!
Cook Comes Home Award: Ron True @ Arlington Tavern
efore ever taking on the title chef, Ron True began cooking in the early 1990s at SOhO Restaurant & Music Club when it was founded in a low-slung building on Victoria Street. During the next 15 years, True hopscotched through some of the world's most famous kitchens ​— ​Judy Rodgers's Zuni Café and Cindy Pawlcyn's Bistro Roti in San Francisco, Tom Colicchio's Gramercy Tavern and Danny Meyer's Union Square Café in New York, not to mention six months of cooking in France ​— ​but then returned to his hometown of Santa Barbara in 2006 to work in catering. In April 2012, in the very same Victoria Street building where he launched his career, True opened his first restaurant with business partner Diego Barbieri, and Arlington Tavern has become a preferred eatery for many locals and visitors ever since. "It's incredibly rewarding," says True of the experience so far, which has been challenging due to construction on all sides for the past year. "This is the story I've been working hard to tell for some time: Local boy travels world and comes home to make good food for you. It's great to have that hometown feel, and that's what I love so much about Santa Barbara."
(21 W. Victoria St., 770-2626, arlingtontavern.com)
epicure.sb offer: Arlington Tavern has an early-bird special 5-6:30 p.m. of an appetizer, entrée, and bottle of wine for two for $70.
A Chef for All Seasons Award: Alessandro Cartumini @ Four Seasons Resort The Biltmore Santa Barbara's Bella Vista
It's easy to assume hotel chefs sweep into a town on a global tour and keep moving. Not so with Alessandro Cartumini at the Biltmore. "This award is very unexpected as there are a lot of great chefs in Santa Barbara," he too modestly says. "For me this is a very warm hug from the community. After only three years, this really feels like home. I love working with the local farmers, artisans, and winemakers and want to do more of it in the future." Sure, there's no room as romantic as Bella Vista in town, with Butterfly Beach just past the terrace and the fireplaces going inside. But that spectacular setting is merely a backdrop for amazing food so good it simply reads as food porn ​— ​you don't even need photos: roasted sweetbreads with royal-trumpet mushrooms, Madeira, sage; Dungeness crab sweet corn gnocchetti with tarragon, spinach, leek vellutata; sea scallops with saffron fregula clam stufato and baby gem lettuce. Cartumini offers up imaginative dishes with an elegant, European touch unmatched in the area.
(1260 Channel Dr., 969-2261, fourseasons.com/santabarbara)
Sensational Salsa Award: Taquería la Colmena
If at first you don't succeed, go to Mexico and ask your mom for a salsa recipe. That's the story behind Alvaro Abrego's creation of his chile de árbol and peanut salsa. "When I started selling tacos at events, the red salsa I had didn't work while the green avocado one did," says Abrego, who was in catering before opening his eatery on Milpas. He toned down the spiciness of his mother's version a bit, but it remains an addictive, roasted deep-heat treat that tops Taquería La Colmena's perfect street tacos, from lomito (a sliced pork-choppy one) to beef barbacoa to rajas where the cheese gets that gooey-fried browned treatment on its edges. While the tacos on their light yet flavorful house-made tortillas are the stars here, the alambre plates are a scrumptious mass of grilled goodness, and daily specials never fail to please, too, from huaraches to posole. Just remember whatever you order, it's primarily a vehicle for that chile de árbol and peanut salsa.
(217 N. Milpas St., 845-6970)
Toes in the Sand Award: Shoreline Beach Café
Everyone knows that there's nowhere else in Santa Barbara where you can eat with your toes in the sand except for the Shoreline Beach Café, and according to co-owner Steve Marsh, who opened the once-infamous Sea Cove under its new name in 1994, it might be the only place in the whole state where you can do so with a mixed drink in hand. Indeed, the hard liquor was what Marsh figured would drive business, but due to the sand, it's really become more of a spot for families, with parents able to actually relax at a restaurant as their kids play with the provided beach toys in the sand. "I never thought it would be that kind of restaurant, but it's really turned out to be a place where my friends' kids have pretty much grown up," says Marsh, who lives on the Mesa and has been in the area for 36 years. "And now half of their kids are working here!" It also helps that the solid food, which ranges from Baja-style fish tacos to Hawaiian-inspired mahimahi with sticky rice, won't break your bank. Says Marsh, "We really just try to serve good, clean food at a reasonable price. We're the perfect place to come have a margarita and watch the kids on the beach."
(801 Shoreline Dr., 568-0064, shorelinebeachcafe.com)
epicure.sb offer: Shoreline Beach Café is offering free chips and salsa if you bring in a copy of this article through the month of October.