Briefs
UCSB Basketball Fan Arrested After Rushing Court
Student Confronted Hawaii's Head Coach Before Fleeing Back into Stands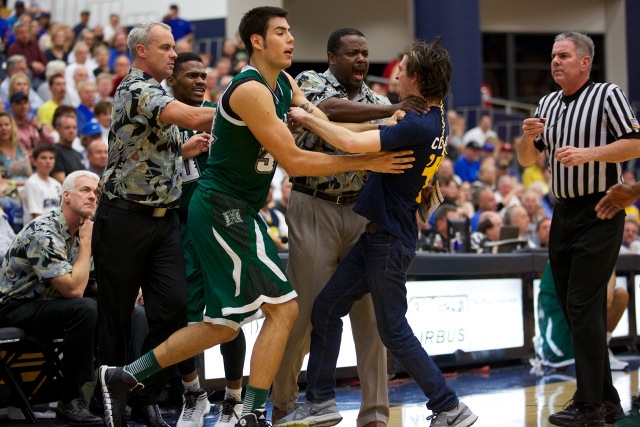 A brazen UCSB basketball fan was arrested Thursday when he rushed the court during a UC Santa Barbara-Hawaii game and started yelling in the face of the opposing team's head coach. After being shoved away by two Hawaii players and an assistant coach, the fan — who hasn't been identified — ran back into the stands before officials quickly ushered him out of The Thunderdome where he was handcuffed by campus police.
The incident came when play was halted late in the first half after Hawaii guard Brandon Spearman was called for an intentional foul and Hawaii coach Gib Arnold started arguing with referees. As Arnold and an assistant coach came onto the court to protest the call, the fan made his move.
In an interview after the game — which the Gauchos won 86-77 — Arnold told ESPN, "It doesn't concern me. It's rare. I hope security would be better. The guy was wasted and in a different world. It is what it is. You can't control crazies. That's why they're crazy."
UCSB coach Bob Williams told the same ESPN reporter, "I was shocked. Then I was mad. I immediately went to the officials and apologized to them. Gib was rather angry. He had to refocus on the game. I was appreciative that our guys tracked him down. Everybody was shocked. Nobody reacted. Kudos goes out to the Hawaii players that stepped out. I thought they handled it really well."
Calls to UCSB's public affairs office and its campus police station were not immediately returned. Check back for updates.
[UPDATE, 12:20 p.m.]: Bill Mahoney, a spokesman for UCSB's athletics department, issued this statement Friday afternoon: "On behalf of the UCSB student-athletes and staff we are disappointed and saddened by the singular act of a student during the first half of last night's men's basketball game versus Hawai'i.  We have apologized to Hawai'i athletics director Ben Jay and Big West Commissioner Dennis Farrell. Head Coach Bob Williams also apologized to Hawai'i head coach Gib Arnold on behalf of the department.
"The safety of all student-athletes, coaches and fans is paramount to us and we are reviewing the night and solidifying event protocol in hopes of preventing any one person from repeating this incident.
"This one person's selfish act does not represent the passionate atmosphere our students display. We also note there were no incidents before, during or after the game by the students or anyone else. We have great respect for Hawai'i, its fans and student-athletes. In particular, we appreciate that the UH players and coaching staff handled the situation with class when engaging the student."
George Foulsham with UCSB's Public Affairs Office confirmed that the unruly fan is a university student, but declined to identity him. "In general, the university has a judicial affairs process which reviews student conduct and determines disciplinary action," Foulsham said in a prepared statement. "Due to federal and state privacy policies, we can't discuss any specific case."