Living
Apps: Fishline
Fish for the People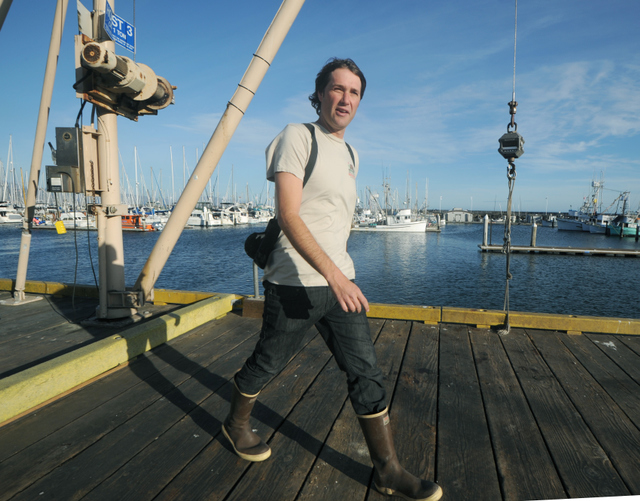 As Ben Hyman ticks off his injuries, he starts to sound like a pro wrestler. He has a bulging disc in his back, he's due for shoulder surgery this year, and a jagged bone in his knee creates a visible protuberance under his blue jeans. The 34-year-old Hyman is a commercial fisherman who says his injuries are part and parcel of a dangerous profession, but the way the seafood business runs is not helping. So he's setting out to change the system.
Traditionally, fishermen have felt they are at the mercy of brokers who buy the bulk of their catches at "rock-bottom prices" and then resell them at exponential markups; the Internet confirms those suspicions. However, the Web has also made it possible for fishermen to market directly to buyers. Three years ago, Hyman got his broker's license and created wildlocalseafood.com.
Growing up surfing and fishing the Central Coast, Hyman adheres to a strong environmental ethic and only sells local seafood fished through sustainable practices. Whereas the concept of "sustainability" can seem abstract, when it comes to fishing, there is a clear correlation between how we treat the ocean and whether there will be fish to catch in the future. To that end, Hyman promotes a new Android and iPhone app called FishLine, which connects buyers directly with fishermen. This way, buyers attain fresh local fish, and fishermen don't get nickeled-and-dimed by a middleman.
Founded in Morro Bay and already operating in seven ports along the California coast, FishLine will soon be available in Santa Barbara, Oxnard, and Ventura. While it stresses local over eco, it has smartly chosen environmentally conscious fishermen like Hyman to be the face of its rollout in new markets.
It bothers Hyman when he sees fishing practices that are unsustainable and damaging to sea life, for instance the use of pursainers — large circular nets—in Mexico." He does not blame the fishermen themselves; if they were educated, he believes they would go about things differently. A graduate of UCSB who studied history, Hyman once dreamed of becoming a teacher. He sees his burgeoning business as a way not only to make a living but also to educate the public.
"[Fishing] is the hardest job I've done," Hyman said. "There's no human-resources lady, no hours, no complaining, no guarantee of getting paid. But you work in the most beautiful environment on Earth."