Living
Gardening: Fire Safety
Landscaping Tips to Keep Away the Flames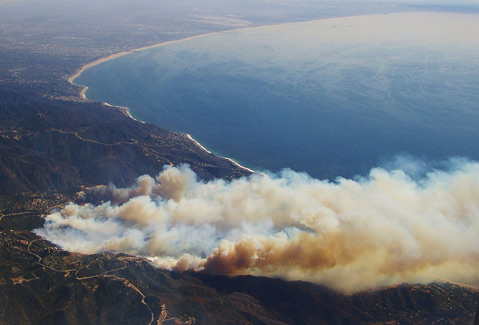 A defensible perimeter is the catchphrase for wildfire prevention. It defines the minimum spacing of vegetation that should be allowed around homes and other buildings in the very fire-prone southland. Fire-prevention specialists have developed a specific set of guidelines for managing landscapes so that should a fire break out, your home is as fire safe as it can be. Given the current dry conditions, these become extremely important considerations for almost everyone.
Fire-management authorities define three management zones. Zone 1 starts with a three- to five-foot unplanted strip right next to the structure that extends for up to 30-100 feet (the higher the hazard, the wider the zone should be) outward from the structure (consider any trees planted near the structure as a part of the structure). This zone should be irrigated, if possible, and all vegetation kept low (ground covers and low shrubs). Avoid using bark or wood-chip mulches in this zone. Zone 2, the fuel-reduction zone, extends from 70 -100 feet (again, farther if you are on a slope or surrounded by thick vegetation) outward from the structure. Plants should be spaced far apart (minimum of 10 feet between the tops of trees), with all branches below 10 feet removed, and all dead vegetation removed. If you can irrigate this zone as well, so much the better. Zone 3 encloses all the vegetation outside Zone 2. Remove dead or dying trees and shrubs and mow grassy areas. In all three zones, avoid planting highly flammable plants.
Fire will travel wherever there is something to burn. Plants whose growth results in thickets of secondary, woody forms should be kept farther away from structures. Softer perennials, and especially those that don't have aromatic foliage (a clue that they are full of flammable oils and resins), are obvious choices to plant in Zone 1. Isolate groups of plants with corridors of ground covers so that they don't create "ladders" for the fire to follow.
More common-sense rules: trim overhanging branches and keep them at least 15 feet away from roadways. Rake up dead leaves, barks, and twigs, and remove them from roofs and gutters. Be sure to keep palms that hold their old fronds trimmed up, as well. Don't locate the firewood pile near any structures. Keep vegetation mowed. Trim vegetation while it is still somewhat green, and beware of stones hiding in the grasses that, in a collision with a mower or tractor blade, can cause sparks. Have a hose ready nearby to dampen things down and get the upper hand quickly should, heaven forbid, these precautions fail. One last caution: Make sure mowers, string-trimmers, and chainsaws are in good condition to avoid electrical shorts and gas leaks that can fuel the tiniest spark. Fire season never really ends in low-rainfall areas, so we all must do our part to reduce the risk of a devastating wildfire.