Briefs
City Cops Endorse Wolf
Aceves, a Former Officer, Calls the Move 'Unfortunate'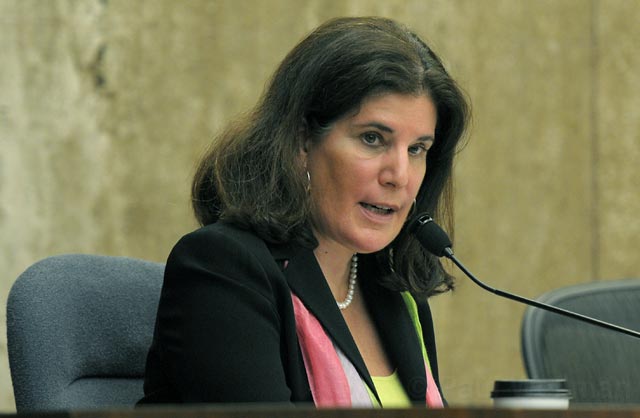 With less than two weeks until Election Day, the Santa Barbara Police Officers Association (POA) announced on Thursday that it has endorsed 2nd District Supervisor Janet Wolf in her bid for reelection against Goleta City Councilmember Roger Aceves. The organization had previously decided to stay out of the race, deferring to the Deputy Sheriff's Association (DSA), which had endorsed Aceves. But "some pretty big issues" — Measure M and county pensions — caused the group to change its mind, said POA president Sgt. Mike McGrew.
"Janet is somebody that we've always worked well with," he said, adding that the group has endorsed her in previous elections. "She's always been good for public safety. The Santa Barbara Police Officers Association has just enjoyed a great relationship with her. She understands the issues that are happening right now."
"We've had a really strong and positive history working together," Wolf said. "I'm very proud to have their endorsement. It says a lot." Wolf's other public-safety endorsements include the Santa Barbara County Firefighters, Santa Barbara City Firefighters, and the Deputy District Attorneys Association.
Aceves — who served in local law enforcement for more than 30 years, first for the Sheriff's Department and then for the Santa Barbara Police Department — has the DSA's backing as well support from the state and tri-county chapters of the Peace Officers Research Association of California. Of the POA's endorsement, Aceves said he took issue with a city group getting involved in a county matter. "This is unfortunate in that, what if the DSA had taken a vote on a city councilmember in Santa Barbara?" Aceves said. "I'm very surprised that Mike McGrew did not call me and let me know that they had changed their mind, didn't call me and get my positions on Measure M or the union endorsement."
With regard to Measure M — the June 3 ballot measure that, if passed, would require the supervisors to annually fund anywhere from $18 million to $44 million for the upkeep of county-owned roads, parks, and buildings — McGrew echoed the concerns shared by the measure's opponents that it could mean deep cuts to public safety. Unlike Wolf, Aceves hasn't come out against Measure M, which McGrew said was one of the reasons that the POA entered the discussion. The POA has also endorsed the "No on Measure M" campaign. "If you truly want to have good public safety, Measure M isn't going to work. It's going to destroy the Sheriff's department," McGrew said. He continued, adding that the POA selects candidates "for who they are and how they're going to advocate for public safety. We're not going to support someone whose agenda isn't for public safety."
The POA also took issue with remarks that Aceves, who was a union member while working in law enforcement, made about unions. In April, he accused Wolf of acting unethically by not disclosing her $60,000 worth of Service Employee International Union (SEIU) donations prior to the supervisors discussing SEIU-related matters; supervisors aren't legally required to do so, and Wolf has reported her donations to the county as is required, as has Aceves. Aceves has also said that the county needs to "look at all options" regarding county employee pensions, including examining what role 401k-type plans could play. "I think he knows the value of the retirement system and how it attracts good-quality people and retains them here," McGrew said. "For him to try to destroy that, I don't understand it."
The notion that he is anti-union isn't accurate, Aceves continued, noting the endorsement and campaign donations he's accepted from the DSA, and explaining his comments about Wolf's SEIU donations as a question of ethics. Aceves said that with Measure M, "It's all a question of prioritization," adding that the county is doing a "very poor job" of dealing with its maintenance needs but that his top priority is public safety. "I'm not endorsing it. A lot of people are not taking a position on it," he said.
But Wolf, who has said repeatedly that support for public safety and support for Measure M are mutually exclusive, said she understood why the association decided to enter the fray. "As the campaign progressed, they probably were able to discern some differences between the two us that I suspect made them want to come out publicly," she said.
Absentee voting started on May 5, and Election Day is June 3. The 2nd District includes portions of the City of Goleta, the City of Santa Barbara, and the unincorporated region in between.