Living
Small Eucalyptus (and Relatives)
There Are Many Delicate Forms of the Australian Trees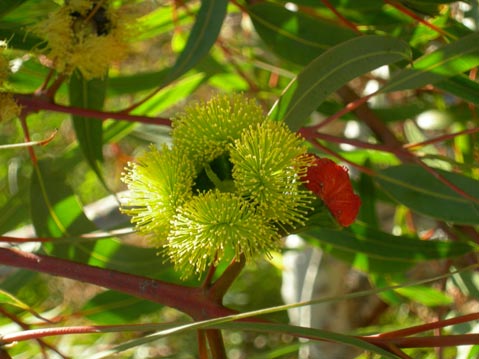 Eucalyptus have gotten a bad rap when, really, most of the ones that tower over homes and streets and drop limbs seemingly at will, those giants from Down Under that now and then just keel over, taking a car or roof with them, are just planted in the wrong place. No one would have thought to put a giant sequoia right next to the school yard or a bunya bunya in the courtyard of a shopping center. But many of the almost iconic eucalyptus trees around town were planted long before anyone knew just how big they would get and, to be frank, just how big the town would also grow around them.
There are many more eucalyptus species that maintain much more delicate forms and don't tower over everything in sight. There is the very showy red-cap gum (Eucalyptus erythrocorys) that tops out below 30 feet. The flowers start out as bright red capsules until the cap pops off to reveal a multitude of bright yellow stamens. Another small eucalyptus that also has good floral color is coral gum (E. torquata). It also stays in the 20- to 30-foot range (or a tiny bit taller). The flowers are a little smaller but still produce a nice display of coral red and yellow stamens in profusion. It may need some staking and training at first to create a more graceful shape. Another decorative eucalyptus species is the silver mountain gum (E. pulverulenta). This one is known for its very silvery leaves. The young ones look like discs strung on a stick. In fact, some people keep them pruned back so that they are always producing new juvenile foliage.
In the same family, there are a couple of nice, well-mannered garden subjects. Australian willow is Australian, but no relative of the willow. It does have graceful, almost weeping branches that are clothed in narrow, drooping leaves. Australian willow makes a nice rounded canopy and gets no taller than 30 feet. The peppermint tree, also called Australian willow myrtle (just to confuse things) does have aromatic foliage that is reminiscent of mint when crushed. It also has a weepy sort of grace up to 25 to 35 feet tall. In spring, it is covered with tiny white flowers that shower down a confetti of petals: nice, but also a bit of a chore to clean up. There is almost no such thing as a "clean" tree; most drop leaves, seed pods, or something throughout the year. Site them wisely for ease of maintenance.
The bottlebrushes are also in this family. Most of them are merely bushy, but one, weeping bottlebrush (Callistemon viminalis) usually remains single-trunked up to 30 feet tall. It also spreads out a bit with pendulous branches. In late spring and early summer, the ends of the branches sport the bottlebrush flower structures of their name. Bright red bunches of stamens circle the branchlets. It may need occasional pruning, and especially when young, a sturdy stake will get it off to a good start. Maybe these smaller cousins of the hulking species of eucalyptus can make a difference in the landscape and public perception.