Briefs
Carbajal in Climate Change Talks
President Obama's Task Force Addresses Sea Level Rise and More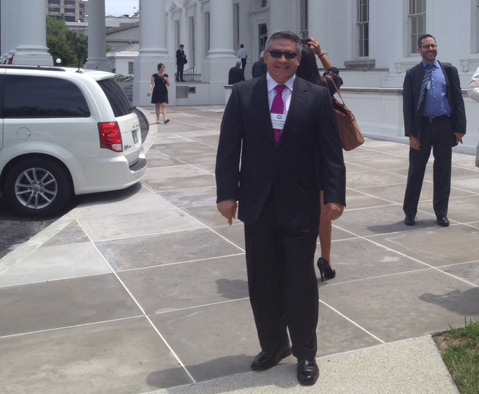 Supervisor Salud Carbajal, along with 25 other regional leaders from across the country, had a hand in the programs that President Barack Obama outlined this week to help communities gird for the effects of climate change. The White House assembled the 26-member panel last November, and July 16 marked the group's last in-person meeting before it makes its final recommendations to the president this fall.
Carbajal was the only county supervisor and one of only four California politicians to make the cut; he was recommended for the position by, among others, Congressmember Lois Capps, who helped suggest that the president start such a group and whose recently proposed bills served as the basis for some of Obama's announced programs. "We've identified a number of recommendations that he [Obama] can put in play and pursue," Carbajal said. "I think it is historic, and I think it's going to be substantive."
Most of what the president presented this week involved funneling federal dollars to state, city, and county governments with a focus on readying areas' infrastructure for repercussions like sea-level rise, increased rainfall, drought, and wildfires. One of the proposals creates a competition to create recovery models and preparation plans, another allocates resources to Native American tribes, and a third allows the United States Geological Survey to use 3D mapping for risk assessment. Actions based on three of Capps's bills — which are currently at the committee stage — involve providing $1.5 million in funding for coastal areas courtesy of the National Oceanic and Atmospheric Administration (NOAA), improving storm-water management systems, and understanding the public-health consequences that global warming could pose.
"Today's announcement shows the president is serious about responding to climate change," Capps said Wednesday in a prepared statement. "I applaud his efforts, and the efforts of the task force, to better equip our communities that are already being affected. I am happy to see that some of the actions I have been calling for in Congress will be implemented by federal agencies."
In a letter sent to Obama in February 2013, Capps and many of her congressional colleagues cited — using figures from NOAA — the 1,000-plus deaths and $180 billion in damages wreaked in 2011 and 2012 by natural disasters including Hurricane Sandy. The legislators suggested that the president assemble the task force to come up with solutions.
In their meetings, the task force members discussed and researched five overall topics: how to recover in the wake of extreme weather events, how to make buildings less susceptible to damage, how to address changes to agriculture, how to prepare for and prevent adverse health effects, and how to assist tribes in meeting their climate-change-related challenges. Carbajal focused his attention on the public-health angle and on strengthening coastal infrastructure, picking the brains of scientists at UCSB and Cal Poly.
Some of the ideas, Carbajal said, could require congressional action, which he said could stall the process. But pushing the regional governments — with input and help from the business sector — to push the envelop with climate-change preparedness will be key going forward, Carbajal said. (Earlier this month, the Santa Barbara County Board of Supervisors voted to accept a $200,000 grant from the Coastal Conservancy to allow officials to study which places in the county would suffer the worst effects of climate change.) "The State of California is going to be a vanguard in meeting these challenges," Carbajal said. "Santa Barbara is no exception — we're going to be a vanguard as well."