News
Water Odyssey
A Search for a Spring and Some Sanity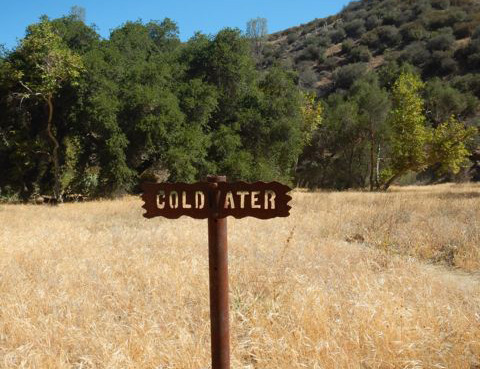 Hike: Moderate day hike along dried-up Manzana Creek past Coldwater Camp. Suitable for sturdy kids 6 and older
Mileage: 9-mile round-trip
Time: 3 hours driving, and about 6 hours hiking, including an hour devouring bag lunch near Double Meadow Camp
Maps: B.Conant, San Rafael Wilderness Map Guide
Despite summer's fierce heat and droughty conditions, I headed out for Manzana Creek — it's part of the backcountry glory to engage with any and all weathers and seasons. A nine-mile day hike in late August also conferred immediate opportunities for mental rest. My parched hike in quest of water music down past Coldwater Camp was also in search of a de-stressed mind … to surrender to the "oceanic feeling" — best enjoyed if one is fit, well prepared, and clearheaded. (Take water and the Conant map.)
Neuroscientist Daniel Levitin of McGill University and author of This Is Your Brain on Music warns that we are losing control over the neural "switch" between the executive function (gets stuff done) and the "mind wandering" function. Too many of us are stuck in the task-positive net-world and forget that much of our creativity springs forth from the wandering task-negative mental mode. Obsessions with materialism, appearance, or war in the Ukraine or on the streets of Ferguson too easily dominate our thinking. Levitin's recent New York Times article "Hit the Reset Button in Your Brain" suggests controlling the switch by taking a genuine vacation: Change things around, and click on task-negative brain wandering modes; get off the grid and on with the family; go hike in the woods.
Here is one way to do this: Start by driving to Nira Camp, about 90 minutes and 47 miles from Santa Barbara's Westside. I begin hiking west along the whitened rocks of totally dry Manzana Creek and savor the 48°F coolness of 6 a.m., with the rising sun soon to appear behind me. At Potrero Camp, I dropped back into the rocky creek bed bedecked with willows and stayed with the well-maintained riparian trail.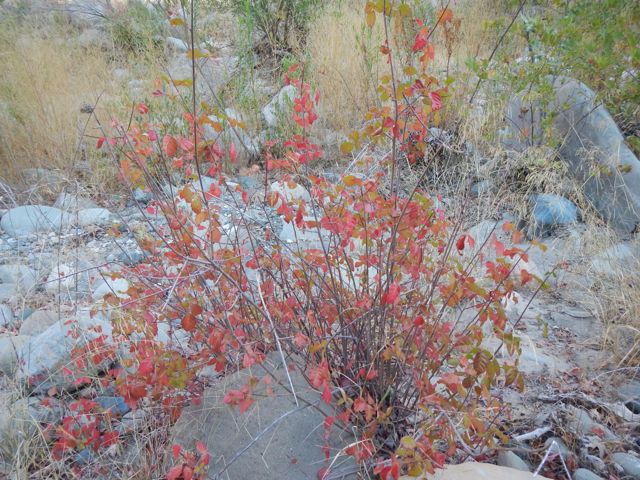 On such a pseudo-epic half-day hike, one may need a linear or task-positive goal, so I decided to make a quest out of searching for potable water on this 4.5-mile arid stretch of Manzana Creek. My guess was zero water sources, and it was certainly dry at Nira. The creek looked burnt-out for much of the beautiful hike. For color, one could admire the dying poison oak's burnt-red leaves.
Three miles from the parked car, you enter the large, overgrown potrero with the Boy Scouts' favorite Coldwater Camp, the main site beneath a towering oak giant. There's a second, much smaller camp, perfect for parent and child, equipped with a nice red table and rodent-proof cupboard at one end. No water here.
I continued another 1.5 miles or so to "Double Meadow" Camp (aka Horseshoe Camp), which has the best pools, but these deep pools were completely empty this day and will remain so until the first good rains of winter.
After wolfing down some nuts and a Clif Bar, I pushed the return hike, attempting to beat the heat, already hitting mid-80s by 11 a.m. My last hope for locating a sacred water source lay in a deep section of the Manzana just past Coldwater Camp on the return hike. Clambering down in there, yes! While not abundant, this water was moving and supported a host of living creatures. With my small water filter, I could easily get 4-5 liters of drinkable water from here every day: Ishi could survive here.
Levitin's Times article makes this critical point: Your two dominant modes of 'attention' operate like a seesaw in the brain, when the one is "on," the other has to be "off." If you have trouble switching from your executive function, jump in the car with your kids and partner, drive to Nira Camp or to the Rattlesnake Canyon Wilderness: Enter the remote zone. You're now in the daydreaming/wandering phase, and all can relax a bit.