Sports
High School Fall Football
The Dons, Chargers, and Royals Hit the Gridiron for Week Zero
FRIDAY, AUGUST 29, 6:05 P.M.: Attired in their traditional olive green, topped by shiny gold helmets, the Santa Barbara Dons have taken the field at the west end of Peabody Stadium. It's an hour before the kickoff of their 2014 football season opener against the Oxnard Yellowjackets. After a flurry of jumping jacks, the Dons run back and forth between the sidelines. Oxnard's players are warming up at the east end. In their cardinal-and-gold color scheme, they look like USC. Many of them are big enough to be Trojans.
Three area high school teams will open the season at home this evening. It seems early for football — the summer sun still up in the sky — but for several years now, the CIF Southern Section has designated this as week zero in an 11-week regular season. Everybody plays 10 games, and most schools have chosen to schedule early games so they can take a bye later in the season.
It is a season of transition for the Dons. A mid-July shakeup installed J.T. Stone as interim head coach, replacing Doug Caines, who had coached the team for two seasons. It came as a shock to the players, but Stone, who had coached football at many levels but never as a head varsity coach, took firm command of the program.
"We've bought in," said senior lineman Anthony Sandoval. "We have 40-45 players at practice every day. Before, it was 25-30. You sit out a quarter if you're late. The first day, somebody got cut from the team because he didn't report and tell the coach. J.T.'s energy is tremendous. He has a loud voice. There's no slacking off."
On the field, the focus will be on quarterback Brent Peus, a 6′3″, 190-pound junior. He is comfortable with Stone, who was a standout passer at Dos Pueblos High and SBCC. "The coaching change was huge for me," Peus said. "I've worked with J.T. off and on since the 6th grade." During the summer, Stone coached an elite 7-on-7 passing league team with Peus at the controls.
Peus also has taken private lessons from quarterback guru Steve Clarkson. Peus attended the Manning Passing Academy in Louisiana and met Peyton Manning. He chose his jersey number (16) because it belonged to Joe Montana.
Peus's father and three uncles all played tennis in college. Brent Jr. strayed from the family sport because he was attracted to the team aspect of football. "I love the bonds," he said. "Whether you're up or down, you're in it together as a team."
Rap music is blaring out of the speakers as the Dons' pregame drills continue. Peus warms up his throwing arm, delivering tight spirals to his receivers. Students begin to fill their section of the curved concrete bleachers in Santa Barbara's 90-year-old stadium.
The concession stands, with members of the girls' basketball team taking orders, are already up and running. One of the best meals in town is a tri-tip sandwich with salsa at any of the high school stadiums on a Friday night.
7:00 P.M.: Across town in Goleta, the Dos Pueblos High band has just played the national anthem. There is a long line of fans waiting to enter Scott O'Leary Stadium. They will nearly fill the east stands, from where they will view a brilliant sunset during the first quarter of the game between the DP Chargers and the visiting Pacifica Tritons. The stadium has an out-in-the-country feel, affirmed by signs that declare: "We Are DP … Where We Drive Tractors to School."
Manny Nwosu launches the 2014 season by kicking off to Pacifica. When the Tritons line up for the first play, spectators do a double-take at the sight of the quarterback. Adan Salas, listed at 6′2″, and 295 pounds, reminds old-timers of Refrigerator Perry, the part-time running back of the Chicago Bears. Salas is a full-time QB for Pacifica. He rifles a pass to fleet receiver Deondre Vines, putting the ball in DP territory. He later bulls for a first down at the 17 yard line, but the defense stiffens, and the Chargers take over on downs at their 11.
On DP's first offensive play, Angel Davison breaks loose on a 54-yard run to the Pacifica 35. Later in the drive, it's fourth-and-12 at the 25. Senior quarterback Barrett Burnes fires a pass over the middle to Josh Flora, who dives into the end zone for the touchdown.
The Chargers take their 7-0 lead into the second quarter. In the northwest corner of the stadium, a cart selling churros is doing brisk business. Salas appears to have consumed plenty of churros in his day, but now he is burning off calories and trying to burn down the DP defense.
7:50 P.M.: There already has been lots to shout about and a moment of silence at San Marcos High's Warkentin Stadium. The latter was a solemn tribute to Danny Perez, a much-loved student who had died in a shocking wrong-way accident two nights earlier. A side effect of football games is that they bring the community together for such memorials.
The visiting West Ranch Wildcats lead the Royals, 14-7, in the second quarter. The San Marcos offense got off to a great start, as Inri Cortez scampered 73 yards for a touchdown. West Ranch scored on two TD passes by Chase Killingsworth. On the last play of the second quarter, Sam Charest chases down Killingsworth and sacks him — an encouraging end to the first half.
San Marcos's award-winning band performs one number at halftime, a Radiohead tune featuring five marimbas. Unlike the football team, they do not have to play a full game this early in the year. "Every week the program will get longer," promises band director Michael Kiyoi.
The teams return to the flawlessly green football field. It is a synthetic turf carpet, the first of its kind in an area high school stadium. (Bishop Diego plays its home games at SBCC, which has a similar turf.)
Family members in the crowd include 5-year-old Toby Shaheen, who has come to cheer for his uncle Josh Foley, a fireplug (5′4″, 195 pounds) linebacker for the Royals. The defense is under siege in the third quarter, as a San Marcos fumble sets up another West Ranch touchdown.
8:50 P.M.: There is a cool breeze swirling through Peabody Stadium — a hint of fall in the air — and things are not going well for Santa Barbara on the freshly mowed grass. Peus has thrown a couple of interceptions, and Oxnard has ground out a 21-0 lead. Early in the final quarter, Peus throws a beauty of a long pass that goes through the receiver Bolden Brace's hands to the ground.
"The defense has been hanging tough," a sideline observer says. But the Dons must be tired because running back Raymond Caldera meets little resistance on a 56-yard run that puts the Yellowjackets up 28-0. Peus connects in the waning minutes on a 21-yard TD strike to Chris Jellison. The final score is 28-6.
Stone is not distressed to take a loss in his first game as a head coach, but he is disappointed the Dons did not play better. "Scott O'Leary [his coach at Dos Pueblos] said, 'Don't let anybody take your lunch money,'" Stone said. "They took our lunch money, and we didn't get it back. We had misreads and dropped balls. Still, it was only our first game. We get to play more. We've got to lick our wounds and get ready to compete."
Peus is critical of his own performance. He underthrew the balls that Oxnard picked off. "I overthrew the next two deep balls," he said, "and I got too antsy with my footwork." When he finally got into a rhythm, it was too late. Peus expects Brace, a 6′4″ junior who also stars for the basketball team, to be a reliable target. "I was pretty much begging him to come out [for football]," Peus said. "He joined the team less than two weeks ago."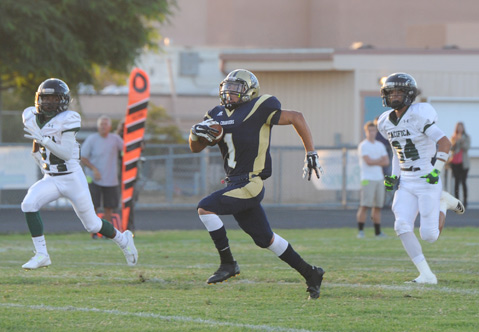 POST-MORTEM: The home teams went 0-3 in week zero. Dos Pueblos gave up three straight scores to Pacifica — two of them on long passes from Salas to Vines — and fell to the Tritons, 20-14. Killingsworth wound up throwing six TD passes as West Ranch throttled San Marcos, 42-14.
San Marcos and Santa Barbara will try to clean up their miscues on Friday night, September 5, when they return to their home fields. The Royals will host the Rio Mesa Spartans, while the Dons play a powerful St. Joseph Knights team from Santa Maria. Dos Pueblos will travel to face the Cabrillo Conquistadores in Lompoc.
Bishop Diego opened its season on the road last Friday and scored a stunning 56-0 victory over Oak Park. Running back Abel Gonzalez (119 yards rushing, two TDs) led the Cardinals against an Oak Park team that had upset them last year. Bishop graduated 23 seniors — the majority of whom had played on teams that went 33-6 over the past three seasons — but Coach Tom Crawford's team seems to have reloaded with ample talent. The Cardinals will host Santa Fe Christian, a traditionally solid team from Solana Beach, on Friday night at SBCC. The Carpinteria Warriors will play their opener Friday at Santa Ynez.
Tri-tips and hot dogs will be sizzling at all locations.
SBCC FOOTBALL: The Vaqueros, coming off their best season (7-3) since 1991, have many holes to fill, the usual plight of two-year community-college programs. They will kick off the season — the 60th in the school's history — against San Bernardino Saturday, September 6, 4 p.m., at La Playa Stadium.
Coach Craig Moropoulos says the young offensive and defensive lines will face a test against San Bernardino, an 8-3 team last year. Among the candidates to succeed quarterback Jarred Evans (currently No. 2 on Cincinnati's depth chart) is Nolan Tisdale, a sophomore from Bishop Diego. A strong stable of running backs includes Cheroke Cunningham, a freshman from Santa Barbara High.