Sports
Boys Water Polo
San Marcos Wins First Clash with DP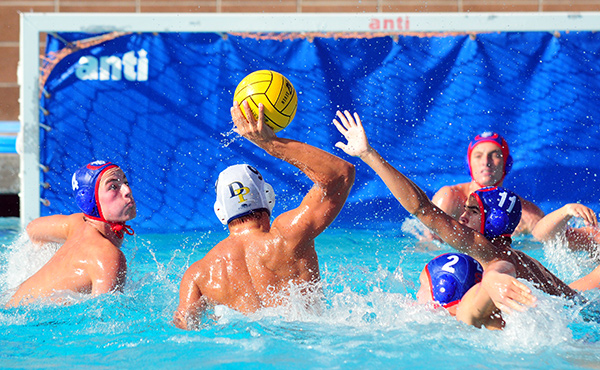 As a San Marcos senior, Kameron Bebb had never beaten Dos Pueblos during his prep career. That all changed on Thursday, October 9, as San Marcos' boys water polo team came from behind in the second half to beat the Chargers 14-12 in a Channel League match.
Bebb was in the thick of things being one of four San Marcos players to score three goals. His third, scored with just under six minutes remaining in the match, gave the Royals the lead for good.
"We've been anticipating this game all year long," Bebb said following the game. "I personally have never beaten DP in the four years that we've been playing, and the last two years it's been super-competitive and super-close, so it was good to finally get a win."
San Marcos trailed 11-9 late in the third quarter but managed to rally with five straight goals, taking advantage of a Dos Pueblos team crippled by ejections. By the end of the match, the Chargers only had one starting field player in the game.
"It's very scary to play when you know they're calling such unusual ejections," said Chargers head coach Chris Parrish. "If this is going to be a rivalry game, then why are we calling it so tight?"
Blake Parrish, who led Dos Pueblos with five goals despite seeing constant double and triple-teams, fouled out in the fourth quarter and was held scoreless in the second half. Parrish was one of four Chargers to foul out as San Marcos held a 15-8 advantage in ejections.
The score was tied 11-11 entering the fourth quarter. The Royals built their lead to 14-11 before DP's Ben Cable got one past San Marcos goalie Jack Palmer with 16 seconds before the final horn.
The result puts San Marcos at the top of the Channel League standings with a 2-0 record. Every other team has at least one loss. Dos Pueblos falls to 1-1. League play continues next week.
For the full story, see presidiosports.com