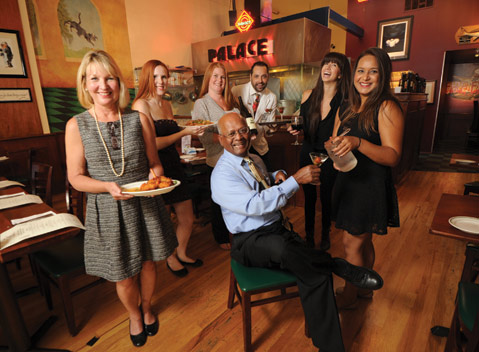 Health Food/Nutrition Store
Lazy Acres Market
302 Meigs Rd., 564-4410
In the olden days, the grocer provided sundries and provisions, as well as a social hub. Lazy Acres sounds like a country store with a cracker-barrel checkerboard, and even though it's slicker than that in real life, it has become clubby. People shop in the extensive produce, meats, deli, bakery, and wine departments, but they depend on the surprisingly stable crew of employees there for advice on vitamins, houseplants, and which cheese goes with which kale cracker. There's a small café with a daytime crew of regulars, and another gang descends on the place late at night when the prepared foods go on sale. Most of all, however, it's the alternative, old-school feel—you are in a grocery store but one more friendly than corporate.
FINALIST: WHOLE FOODS MARKET
Fresh Fish Market
Santa Barbara Fish Market
117 Harbor Wy., 965-9564
This is the one that is in the harbor and not the fishermen's market that takes place on the pier Saturday mornings. But the Fish Market deals with many of the same harvesters of the bounding main, and even if their home pride is closely caught fish, there are other deep-water delicacies like Maine lobster available. The shop is tiny, sweet smelling, and always hopping, but the prices are fair, and the people who sell you seafood never seem fishy.
FINALIST: KANALOA SEAFOOD
Produce Stand/Greengrocer
Tri-County Produce
355 S. Milpas St., 965-4558
It's not centrally located, and Tri-County has loads of competition, including two fancy health-food emporiums, a lot of local farms, and, of course, the daily occurrence of farmers markets in the area. But these guys take it every time. With a nice open feeling, a mania for freshness, and a very organized interior, this no-nonsense, reasonably priced, friendly store has been the green standard for decades—the place to beat.
FINALIST: FARMERS MARKET
Ice Cream Shop
McConnell's Fine Ice Creams
Two locations
Generations of Santa Barbarans had their first ice cream brain freeze on chocolate burnt almond at a McConnell's store. Or, let's be less cynical, got rewarded for their first great report card there with a scoop of peppermint stick. Come on, where's the romance? Had a perfect date and then, after dinner, enjoyed a Turkish coffee. And the rest? Maybe just because you were older now and remembered how good it tastes, you wandered in one night apropos of nothing for a Dutch chocolate, the one your parents always had and then realized why. It's real Santa Barbara taste, and for the ages.
FINALIST: RORI'S ARTISANAL CREAMERY
Frozen Yogurt Shop
Yogurtland
Two locations
If people want to pretend that this stuff is morally superior to ice cream, let's just add: whatever. It's still cold, sweet, and refreshing. Probably the best part of this experience, health-wise, is the control you have going in and coming out of that fabulous domain known as Yogurtland. Grab a cup. Pick a cold flavor base with as little or as much as your frame and pocketbook will bear. Top with items both fresh (berries) and frivolous (gummy thingies). Then consume. If it tastes like ice cream and it rewards your cravings, don't pretend any great nobility. You're just smarter.
FINALIST: McCONNELL'S FINE ICE CREAMS
Chocolate Company
Chocolate Maya
15 W. Gutierrez St., 965-5956
"People vote for us because we really use high-quality cacao when we make our chocolate," said owner Maya Schoop-Rutten, who is proud of the new truffles she recently added. "And that means our chocolate has no junk in it, no additives or fillers. It's just delicious and good for you." Recently she has been touring the world and giving seminars on the art and politics of the bean she loves. "We pay the farmers well, and we get high-quality chocolate."
FINALIST: SEE'S CANDIES
Bakery
Renaud's Patisserie and Bistro
Many locations
Nicole and Renaud Gonthier know they are not on any tourist's itinerary. Their main store is way up in the functionally blessed Loreto Plaza, sandwiched between a gaggle of readers' first picks. "I guess we have made a name for ourselves," said Renaud, who is happy about the crowded patio in front of their tiny storefront, "probably because we take a lot of pride in what we do, and I think our salads are as good as our pastries. But basically our business is almost entirely built on repeat customers from Santa Barbara."
FINALIST: JEANNINE'S BAKERY
Doughnut Shop
Spudnuts
Many locations
You have to admit it doesn't sound appetizing, the hybridization of the sinker and the potato, except in a belly bomb sort of way. Yet ever since the small chain opened in this town—and there's a new one in Isla Vista this year—Spudnuts has monopolized the market. The whole town, and our readers, love these sweetly imbued, deep-fried, tuber-infused confections.
FINALIST: ELLER'S
Cupcakery
Crushcakes & Café
Many locations
This is a trendy food item that became an empire. The original Crushcakes in downtown S.B. near the library and art museum, the now-activated arts corridor, was not enough for Shannon Gaston, who finally earned the Best Of that her family members earned for starting Bitterman's and Giovanni's. "I wondered if my turn would come," she joked. Now there are about to be four Crushcakes, even one in the heart of the Loop of fabled Isla Vista across from the former Magic Lantern Theater. "I think we've made it because my workers just have so much passion for what they do," she said, noting that they serve sandwiches and salads, too. They have also begun to make cakes, wedding cakes, a lot of them. "We try to stay versatile just in case cupcakes are replaced by apple pies. We can make pies."
FINALIST: ENJOY CUPCAKES
Bagel Shop
Jack's Bistro & Famous Bagels
Two locations
Consolidating into two locations has not lowered the esteem—or the number of votes—Jack's earns from the readers year after year. You can tell the owners want us to understand they have extensive and creative breakfast and lunch menus and that they can set up deliveries and host gatherings, especially in the Carpinteria store. But the big role this place plays in our hearts is its fresh and warm purveying of the world-class bagels with every kind of topping, from plain salt to exquisite, crunchy bites of garlic. It's food for your soul, no matter which faith, race, or persuasion you avow.
FINALIST: BAGEL CAFÉ
Goleta Restaurant
Beachside Bar-Café
5905 Sandspit Rd., Goleta, 964-7881
By now, everyone's seen the waves go through the Harbor restaurant windows on YouTube last spring in the big storm. There weren't any cameras at Beachside, but all the windows went out, and as they were trying to put up plywood, one of the managers was washed to sea by a rogue wave, and the restaurant was awash, though it opened the next day. "We're still finishing up repairs," said general manager Peter Crick. Considering all they've been though and the nuisance that repairs might have caused diners, Crick is double impressed that the readers voted for them again. "It's a great honor," he said.
FINALIST: HOLLISTER BREWING COMPANY
Carpinteria Restaurant
Sly's
686 Linden Ave., Carpinteria, 684-6666
Comfort food cooked elegantly is a risky bet. Most people think that a no-nonsense menu ought to include reasonable prices. Sly's is American food done exceptionally well—the steaks, chops, and even the meatloaf are cooked perfectly and spiced with drama, and it isn't cheap. The bar is legendary for reviving classic drinks—corpse reviver #2, anyone? But the best part is the comfortable way the real waiters help you with the meal. You are not experiencing experimental flavors; you're having a reliably satisfying meal.
FINALIST: THE PALMS
Isla Vista Restaurant
Freebirds World Burrito
879 Embarcadero del Norte, Isla Vista, 968-0123
Old Gauchos remember this place the same way the Lost Generation recalled Harry's Bar. Well, maybe that's an exaggeration, but there is no other restaurant in town with loyalty like this. Don't believe me? Come out to I.V. at two in the morning on a Saturday night when the line goes down the block. It's easy, delicious, and open as late as you have a craving for the soul food of partying studentry everywhere: burritos, tacos, and nachos. To paraphrase the song, if they leave here tomorrow, they would still remember Freebirds.
FINALIST: WOODSTOCK'S
Montecito Restaurant
Montecito Café
1295 Coast Village Rd., 969-3392
It may be hard to judge which is the flagship restaurant in Mark and Margaret Huston's empire, Jane downtown or the Montecito Café. But it's easy to judge how well this almost-humble space has done in a town riddled with big-name chefs: It consistently tops this list. They claim the food is "simple and delicious," and they are right, though simplicity shouldn't be confused with plain here. It's also reasonably priced with starting dishes in each course from the goat cheese pancakes to the coconut cake with sauce anglaise.
FINALIST: LUCKY'S
Santa Ynez Valley Restaurant
Trattoria Grappolo
3687 Sagunto St., Santa Ynez, 688-6899
Considering the competition—some of the best chefs in town work within a few miles of the place—this is a remarkable win and has been the readers' choice for the last four years. Trattoria Grappolo does northern Italian food with a special emphasis on hearty dishes like pasta carbonara, fagioli con salsicce, and for dessert vin santo con biscotti. Or you can have pizza. It's small, comfortable, and friendly, and maybe it wasn't featured in Sideways, but it sure is well-loved.
FINALIST: S.Y. KITCHEN
Appetizers/Tapas
Milk & Honey
30 W. Anapamu St., 275-4232
Dish titles alone qualify this place for Best Of status. They have Breakfast for Dinner, which mixes eggs, prosciutto, toast, and brussels sprouts—cute. Then there is Nice Rack, a vaguely offensive but funny title for lamb rib pops. But the winner and by far the most inventive entrée on Anapamu Street goes to Lamburginis, a combo of lamb, pesto, and raisins on Hawaiian bread. Even better, the small plates and fun bar are delicious, making it holy ground for sophisticated snackers.
FINALIST: ALCAZAR TAPAS BAR
Breakfast
Cajun Kitchen
Many locations
They do breakfast and lunch only, but you'd better get over there now if you don't want to wait in line for a breakfast table. Actually, since they opened their fourth place, Cajun Kitchen's demand has spread out and settled down enough to make the fun more convenient. Most of the food is standard eggs and bacon kind of grub, though, as you might imagine, there are a lot of Big Easy options available such as grits, Andouille sausage, and jambalaya. That these things offer instant relief for those who suffer from post-imbibement syndrome has never been actually proved by science. But if you know that beignets, coffee, and dirty rice make you feel better, why wouldn't you go?
FINALIST: JEANNINE'S
Sunday Brunch; Hotel/Motel
Four Seasons Resort
The Biltmore Santa Barbara
1260 Channel Dr., 969-2261
Chef Alessandro Cartumini thinks it's a good idea to change things up, to keep abreast of new happenings—for instance, serving spring rolls at the brunch that has defined celebratory Sunday in this town since the 1970s. "I think that the trend is toward healthier foods," he said, and the Biltmore tries with all its might to use organic fruits and vegetables. On the other hand, you can't mess with success: their famed rack of lamb, smoked local fish, and baked salmon. But there is a more important philosophy guaranteeing success here, he said. "I give the people what they want." The same can be said for the classic Santa Barbara hotel itself. For about $500, you can stay a night in a deluxe room with a wine package in the evening. There is a spa, perhaps the most underrated in the county. It was elegant in the 1940s when movie stars like Clark Gable and W.C. Fields used to weekend here, and it's never fallen on lean or shabby years. There are other elegant rooms in town, but this is where our readers go, or dream they will.
FINALISTS: THE BREWHOUSE (SUNDAY BRUNCH); BACARA RESORT & SPA (HOTEL/MOTEL)
Late-Night Eats
Blue Owl
5 W. Canon Perdido St., 705-0991
It's safe to say that Cindy Black's late-night eatery makes the hippest food in town. Lots of pretentious new places toy with other cuisines or elevate the merely comforting to the level of nice surprise. But none of them do it with the utter aplomb that young Black manages in a tiny space with an even tinier kitchen—or on a smaller price index. The kids line up late at night for munchies—friendly food like Porkducken, an adobo dish containing you know what, or a Thai basil cheeseburger, or the legendary kimcheezer. This is the kind of food that puts you back on your feet for the solemn road home, and, best of all, priced for people who work and play hard in a town that routinely overcharges for most everything.
FINALIST: ROY
Salad Bar
Savoy Café & Deli
24 W. Figueroa St., 962-6611
"No way!" exclaimed manager Alex Bayet. "We're so excited to win." If that boisterousness surprises regular habitués of the Figueroa Street deli that opened, went away, and opened again, we're not. The place is dignified—a peaceful, easy spot where guests just heap their plates, pay at the register, and, more often than not, tuck into a book and a meal. "I think people like the fact that it's good food and good service." Organic and locavore is the underlying dream of the place, said Bayet. "But people also appreciate that we listen. We like to get feedback on what we are doing and improve on it."
FINALIST: CHUCK'S OF HAWAI'I
Chinese Restaurant
China Pavilion
1202 Chapala St., 560-6028
Santa Barbarans know elegant Chinese cuisine when it's offered them. All of your favorite dishes are a bit more subtly seasoned here, and when you break into the Chinese menu and start sampling dishes like the Pavilion's dense, tender pork belly or the chicken cooked in clay pots with basil, it's more like revelation than nosh. Dim sum on the weekends completes a restaurant that has long held down this foodie corner of downtown and has in the last years taken its place next to the best cooking in the whole city.
FINALIST: MANDARIN PALACE
Indian Restaurant
Flavor of India
3026 State St., 682-6561
The Joshan family has 23 years now making tandoori, dal, raita, and bhaji roll off the tongues of people who never traveled farther than Las Vegas. People here do not recite the names of these staples and delicacies of Indian cookery as if exotic words used to impress dates. It's what you get on Friday night now—or for lunch on Tuesday—and this place not only introduced half of the city to the foods but stayed good enough to make the customers regulars and comfortable asking for extra chapati.
FINALIST: INDIA HOUSE
Italian Restaurant
Ca' Dario
37 E. Victoria St., 884-9419
Some day pasta may be an endangered species, what with all the carb and gluten police on patrol. In the meantime, it is plentiful, creative, and delicious in this place with the exotica ranging from ravioli in sage butter to penne with smoked salmon and capers—and Thursday is fresh gnocchi night. Hurray. There's only one true revenge that can be taken on lives of quiet desperation—a loud, happy meal with your lovers and friends (even your family) of pappardelle with Ca' Dario's exquisitely complex Bolognese sauce. Ask for extra gluten, per favore.
FINALIST: OLIO E LIMONE RISTORANTE
Mexican Restaurant; Salsa
Los Agaves
Two locations
It took no time at all for the clamoring hordes to discover Los Agaves' second location on De la Vina Street. Call them Luna-tics, the ultra-patient customers who willingly wait in line to eat at Carlos Luna's emporium of empanadas, palace of pasillas, and castle of carnitas. Luna claims it is the ever-changing menu and fresh ingredients that whip his customers into addiction frenzies, but we think that serving things like squash blossom quesadillas and poblanos stuffed with shrimp might have done the trick, too. Top it off with a rainbow of salsas ranging from smooth, avocado-based to muy picosa red sauce with devastating half-lives of burn, and you have the makings of true food madness.
FINALIST: LOS ARROYOS
Seafood Restaurant; Clam Chowder; Bloody Mary
Brophy Bros. Clam Bar & Restaurant
119 Harbor Wy., 966-4418
Our only trifecta winner, Brophy Bros. is a lot of restaurant squeezed into a rather small loft overlooking the glorious harbor. The seafood is grilled, fried, and raw—and fresh, we might add. Self-billed as a clam bar, it's no wonder that they have the raw ingredients on hand to make a great chowder, one that is smooth but not gluey, and full of nice garlic flavor. As for the Bloody Mary? Well you could blame that on the location—sailors have for some few centuries been readily connected to strong grown-up drinks. But it's an overall combination of taste as well as location that makes Brophy's reputation not on the best of something but the best of a lot.
FINALISTS: ENTERPRISE FISH CO. (SEAFOOD RESTAURANT AND CLAM CHOWDER); TUPELO JUNCTION (BLOODY MARY)
Sushi Restaurant
Arigato Sushi
1225 State St., 965-6074
Always popular and never conventional, in a town that is very blessed with an abundance of sushi spots (most of them fine), this is the one that everybody remembers—not just for the scene nor just because they serve fusion-y dishes with Western ingredients like truffle oil and blackened fish. It's more because the place holds professionalism and service on a level that seems impossible to get anywhere else. It's crowded, but your impeccable dish will arrive on time.
FINALIST: SAKANA
Thai Restaurant
Your Place
22 N. Milpas St., 966-5151
It was the first Thai restaurant in town, and it hasn't changed much since the 1980s, besides adding more room. But people love that: the tropical décor with big fish tanks and a menu that favors the flavorful standard dishes like pineapple fried rice, curries, and spicy salads like larb. This place boasts friendly service and a clientele that never wavers in its faithfulness.
FINALIST: TAP THAI CUISINE
Steak House
Holdren's Steaks & Seafood
512 State St., 965-3363
Why do they always call it a steak house, as opposed to a shack or a stand? Because some sort of ultimate dignity gets preserved in the occasions on which we indulge in large grilled slabs of tender cow. Holdren's has history on its side, housed in a building that oldsters remember as the original Joe's. But by now, Holdren's has its own family histories—dating back to the 1990s. Kids who came in with their parental units 15 years ago can order a martini with that porterhouse now. And probably do. It's not bargain basement, nor is it through-the-roof expensive. But it's a nice steak house built by a family who keeps the quality better than you can cook in your own home.
FINALIST: LUCKY'S
Sandwich
South Coast Deli
Many locations
Once confined to the land of Goleta, South Coast now peddles its sammies from Isla Vista to Carrillo Street. The formula isn't tricky—in a way, they are just a slightly fancier brand than Sam's To Go, which used to dominate this category for years. But the edge is a bigger kitchen and embellishments like herbed mayonnaise and red-pepper jellies. It's clean and breezy and serves reasonably priced salads that no known human has ever finished.
FINALIST: THREE PICKLES
Barbecue
Woody's Bodacious Barbecue
5112 Hollister Ave., 967-3775
This place has been a success since it first opened down on Montecito Street in the Reagan years. With a cartoony ambience, big servings—including the milk bucket of beer—and a menu that has stayed the same for a quarter of a century, this is consistency personified, and the best place in Goleta to get your fingers sauced.
Finalist: Killer B's BBQ
Burger
The Habit Burger Grill
Many locations
Sure, Brent Reichard is excited to win The Indy Best Of, but you have to remember, the sandwich he and his brother launched from Goleta to a 100-plus-restaurant chain has had other thrills this year. "How about Consumer Reports calling us the best burger in America?" he asked with more than a hint of pride. He was as shocked as everybody by the news. Driving in Los Angeles, Reichard heard a radio report that a small California chain had won. "I thought they were going to say In-N-Out, which I love by the way." When the newscaster said Habit, he almost ran off the road. Reichard, who is pioneering another fast-food concept, long ago sold the Habit name but kept the S.B. stores and sits on the board of the burgeoning business. But the Dos Pueblos grad couldn't be happier. And we've been telling him he was the best for a decade now, too. "We know we're not perfect, but we try to be the best."
FINALIST: EUREKA!
Veggie Burger
The Natural Café
Many locations
Sometimes even the wisest among us needs to take a break from eating animals. For those experiencing abstinence, not to mention those who abstain regularly by principle or taste, the little things are what you miss. It's not beef Wellington you walk around craving; it's the burger all warm, caramelized, nestled in a fresh bread bun with lettuce, etc. The Natural Café's veggie burger, made of leaf and root and other things that do not sport a pair of eyes, satisfies the craving and rewards the craver with vitamins and such.
FINALIST: THE HABIT BURGER GRILL
Burrito
Super Cucas
Many locations
This dish has become staple food for the young. And why not? It's reasonably priced, convenient to score and eat, and good nowadays for breakfast, lunch, and supper. The Cucas crew builds their version big with dynamite payloads of small-diced meats—whether it is steak (carne asada), pork (al pastor or carnitas), and, of course, chicken (which doesn't get a fancy Spanish name except for pollo, which just means chicken)—beans, rice, onion, cilantro, and salsa, though there is a nice bar from which you can pull for free some supplementary saucing. The burrito is popular at lunch in all the locations, but the best time to order one is when you are hungry.
FINALIST: FREEBIRDS WORLD BURRITO
Tacos
Lilly's Taqueria
Two locations
Lilly's serves a lot of meats that a lot of gringos wouldn't eat, like tripe, brains, and eye. On the other hand, nobody is forcing you to eat those waste-not-want-not parts of the cow anyways. You can have their fine asada, pastor, or machiza, which is a steamed beef. There's chicken for the relatively squeamish, too. Best part? Their unbelievably satisfying small tacos run about $2 each. You can have three and a soda for less than $7, and it won't be weird at all, dear gringos; it'll be delicious.
FINALIST: RUDY'S MEXICAN RESTAURANTS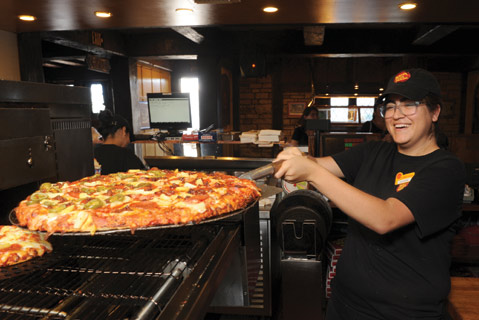 Pizza
Rusty's Pizza
Many locations
Seven locations—sadly the Lighthouse waterfront store is closed—with one ring (on one phone number) to unite them, Rusty's is one of those amazing started-in-Isla Vista businesses (Blenders in the Grass, Kinko's) that made it big right after leaving the student ghetto incubator. Today, it's the reader-preferred place to get quick delivery with all the efficiency of a chain and the idiosyncrasies of a local biz. Just try and get a chorizo pizza at Domino's.
FINALIST: OLIO PIZZERIA
Restaurant for Dessert
Sojourner Café
134 E. Canon Perdido St., 965-7922
We used to think that this place was famed for desserts just because no one expected it—such fripperies in a healthy food environment. Then we took a peek at the dessert menu, which changes daily. Red velvet cake with vanilla buttercream? Cheesecake with Earl Grey honey whipped cream? Cocoa cashew coconut orb? This isn't health food; this is professional night on Chopped. Is there any restaurant in town with a list like this? The readers don't think so.
FINALIST: THE ANDERSEN'S RESTAURANT & BAKERY
Stellar Service
The Palace Grill
8 E. Cota St., 963-5000
This is from their website: "To insure [sic] we remain authentic, the Palace routinely flies its staff to New Orleans to experience first-hand the magical quality of the city that has inspired the spirit of the Palace grill." So what did we learn here today, students of Santa Barbara's Best Of? Number one: The feeling you have of expert service mixed with let-the-good-times-roll bonhomie was not just a public relations thing. These servers are in the Big Easy dream. Number two: Let's all see if we can get a job at the Palace.
FINALIST: THE LARK