Bookstore
Chaucer's Books
3321 State St., 682-6787
Since 1974, Mahri Kerley's first small store in Five Points and then larger space in its present location has been the shop that all other bookstores in town have been measured by. Most of them have come up short—or come and gone—yet Chaucer's, with its piled-high shelves, continues to thrive. The staff is perfectly polite; they neither interrupt your muse-y browsings nor shrink from the craziest request. ("There's this book I'm looking for—I don't know the author or title.") Most bookstores are either havens of refuge or social scenes; Chaucer's has a nicely integrated combination of friendly neighborhood store and deep archive of the culture's best-wrought reflections committed to print.
FINALIST: GRANADA BOOKS
Camera Shop
Samy's Camera
530 State St., 963-7269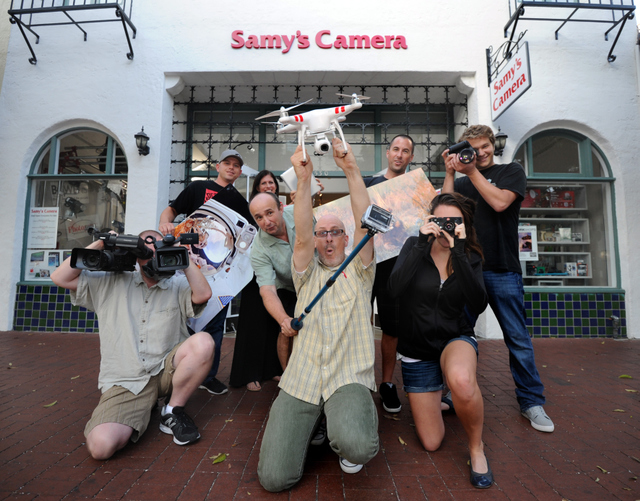 Another big business that moved its quarters this year, Samy's left its cavernous Chapala Street digs for the main street rush of a State Street locale. Everything came with them, from the basics of photographer outfitting to the convenience of television and computer hardware sales. There's a great deal to recommend this store, but the most important thing to note is this: Photographers hang out there, and some of them talk to each other. It's weird, and you might not witness it anywhere else.
FINALIST: BEST BUY
Musical Instrument Store
Jensen Guitar & Music Co.
2830 De la Vina St., 687-4027
One measure of the destructive power of a recession is the music store. Jensen's had 50 employees and four locations before the boom got lowered. Today, Chris Jensen has one store and 15 employees—and not all of them are full-time. He's not complaining really. He likes being in the one store and experiencing all the fun it always was. "People come in for lessons, and they see all that we have, or they come in for repairs," said Jensen. "Then they hang around and talk and put their band posters in the window. That's what I like."
FINALIST: NICK RAIL MUSIC
Gift Shop
Plum Goods
909 State St., 845-3900
"We're so stoked. Thank you so much to Santa Barbara," said Plum Goods owner Amy Cooper, in business four years this October. "I think people like us because we have such a unique inventory, and the music is great, and it looks good inside. It even smells good," she laughed. Cooper is excited that Plum Goods is about to join One Percent for the Planet, an environmental fund that helps return all the abundance she has received in her sweet-smelling store.
FINALIST: IMAGINE
Party Supply Store
Glenda's Party Cove
3319 State St., Ste. A, 687-4500
Steve Thomson doesn't like to talk about how long he has helmed the store with the coolest name in Santa Barbara. "Let's just say, for a long time," he said. According to him, the world hasn't changed much, at least in terms of party supplies. "We do a good business in balloons, and helium has been scarce this year," he confessed, though people keep buying them along with cards, toys, and stuff like funny hats. Maybe it's just a metaphorical cove, but it's a place where Santa Barbarans get into the swim of all life's holidays.
FINALIST: 99 CENTS ONLY STORE
Art Supply Store
Art Essentials
32 E. Victoria St., 965-5456
This is the kind of art store every town ought to have. Peopled with real artists as clerks and managers and stocked with just about everything you might need to paint a chapel ceiling or to carve a great cogitating man out of a stone, it's low-key to visit but difficult to stump—everything from printmaking tools to books that tell you how to make a print. The readers paint a glowing picture of it year after year.
FINALIST: MICHAELS
Craft Supply Store
Michaels
187 N. Fairview Ave., Goleta, 967-7119
Here's a quick story about a someone who got himself into trouble by promising to supply fake golden rings for a Lord of the Rings movie party. Seemed simple until he started looking. Just as he was about to take out a mortgage to buy real rings, he remembered Michaels. He drove over, asked one of the nice clerks, who said, "Of course," and then disappeared into the vast store and came back with a bag of fake gold rings that made certain Hobbits happier than they need to be. It's a good place for Hobbit-ual shoppers.
FINALIST: ART ESSENTIALS
Frame Shop
Aaron Brothers
601 State St., 966-3954
Nobody sane, and that excludes a lot of artists, wants to pay more for the frame than the thing being enframed. Aaron Bros. has kept this simple standard as a guiding principle—many sales, good stock on hand, and friendly clerks to help you surround your beautiful things with protective beauty.
FINALIST: MICHAELS
Computer Repair
MacSuperstore
216 E. Gutierrez St., 965-9722
The store everybody knows was purchased last year by another family-owned business, San Luis Obispo's MacSuperstore, owned by Shane Williams. They've made changes in the nearly year they've held the lease, and it's safe to say the readers are happy with the modifications. "It's probably our customer service that people like," said store manager Tyler Anderson. "We have a lot of students and a lot of older people. We pride ourselves in being able to talk to any group."
FINALIST: CHANNEL DATA SYSTEMS
Bank
Montecito Bank & Trust
Many Locations
"Thank you, Santa Barbara, for voting Montecito Bank & Trust the Best Bank for the second year in a row!" said bank president and CEO Janet Garufis. "Your vote inspires us to continue to deliver on our commitment to serve the banking and borrowing needs of the entire community. A special thanks to our Montecito Bank & Trust associates, who are responsible for helping us to earn your confidence as the community's bank of choice."
FINALIST: CHASE
Retirement Residence
Maravilla
5486 Calle Real, 308-9585
Here's the inventory that matters: a movie theater, a dining room (huge, good chef, open to the public for lunch), beauty salons, fitness rooms, two pools, a library, and more. "There are 13 fireplaces and little stores—we call them mercados—where people can buy food and other items," explained general manager Brian McCague. "It's nice to see that we are still the one your readers vote for."
FINALIST: VISTA DEL MONTE
Travel Agency
Santa Barbara Travel Bureau
Two locations
"It's always an honor," said David de L'Arbre, manager of the business his father began in 1947. (His brother, Charles, took over in 1974, and David came soon after.) "'Duty of care' is the watchword of this business nowadays, and that's what a good travel agent does for you," he explained. People who buy travel online get bargains, but if there are problems, only they can dig their way out of them. "We have a great service-oriented staff, and that's how we've done so well."
FINALIST: AAA
Acupuncturist
Points of Health
1805 E. Cabrillo Blvd., Ste. E, 687-7775
"We are very grateful to have won the last four years!" said Points of Health's Erik Smith. "We want to thank our amazing patients for their support and trust. We are perpetually humbled and amazed by the healing power of acupuncture, and we are honored to share it with the wonderful people of Santa Barbara. You inspire us, and we love you!"
FINALIST: ANTHONY KAR
Chiropractor
Dr. Lori Sender-O'Hara
25 Carlo Dr., Ste. B, Goleta, 964-0222
"After being in practice for 27 years, I can honestly say I still love what I do and genuinely care about each and every patient that walks through my doors," said Dr. Lori Sender-O'Hara. "Seeing a doctor of any kind is a sacred trust, and I value that immensely. Unlike any other profession, people may judge chiropractic by one visit or one doctor. My goal is to massively exceed expectations. Excellence starts with the first phone call to make an appointment, through the consultation and examination process, and most importantly to the precision of the chiropractic adjustment. When I began in 1987, I knew I was in it for the long haul, never taking short cuts or compromising my principles. That, along with mastering the chiropractic technique called Gonstead, has been my secret ingredient to long-lasting success. Thank you again to all my patients for allowing me to serve you for all these years!"
FINALIST: SERENA SINGER
Dentist
Johnson Family Dental
Many locations
Nicole Clark thinks that the longevity of the practice, the skill of the dentists, and the way they treat patients are all vitally important. But convenience is likely the quality that makes people crazy about Johnson Family Dental. "We try very hard to keep everything under one roof," said Clark, the marketing director. "From cleaning to dental implants, we don't send people out the door to get something done somewhere else." People also appreciate the high-tech approach, from the anesthesiologist to the 3D-imaging machine they use to do implants. "We always try to make it convenient, even with appointments, billing, and creating payment plans." They take care to please their clients, and the clients seem quite willing to endorse the Johnsons.
FINALIST: DR. J. DAVID DART
Licensed Massage Therapist
Marlo's Therapeutic and Sports Massage
1126 & 1128 Coast Village Cir., Montecito, 453-2333
"My team and I are honored to be voted Best Massage therapist in Santa Barbara for the sixth year in a row," Marlo Tell writes. "With a combination of trigger-point therapy, deep-tissue work, myofascial release, and other techniques, we help clients with a multitude of ailments, including chronic pain, poor circulation, acute muscle tightness, and much more.Since we take a holistic approach to our client's wellness, we are pleased to have recently become a part of the team at The Lab (thelabsb.com). This partnership will allow our clients to experience a full breadth of services focused on restoring, regenerating, and building the human body, including the healing effects of whole body cryotherapy."
FINALIST: MARY ELLIOTT
Optometrist
Dr. Joanne Gronquist
1805 State St., Ste. B, 569-1504
The readers like her, but her husband is even more devout in his praise. "I think people voted for her because of the personal care she gives each patient, because of her attention to detail, and because of her lovely personality," said Dr. Tem Gronquist, who shares a practice with Joanne. "We both try to stay at the front of advances in emerging medical technologies." Both believe it's important to look at everything affecting a patient. "She looks at personal, professional, and leisure time activities, too."
FINALIST: EYE & VISION CARE