Sports
BWP: DP and San Marcos Share League Title
Charger Snuff Out Dons, Royals Beats Buena to Share League Title
With a share of the Channel League championship on the line on Thursday, Dos Pueblos held off Santa Barbara High, 12-4, to finish the league season with a 7-1 record and a share of the league title.
It's the second-straight league championship for the Chargers, who will enter CIF as the league's second seed after losing a coin flip to co-league champion San Marcos, who will have the league's top seed. Playoff brackets will be released on Sunday morning.
The Chargers defense was stingy, holding Santa Barbara scoreless in the first and fourth quarters. "We just shut them down on defense," said Dos Pueblos' Taylor Gustason. "The second half they only scored one; I think and that was just great defense."
Dos Pueblos' defense forced plenty of turnovers and limited Santa Barbara to only 15 shots throughout the game. "It's good momentum going into CIF," Gustason said about the win. "Knowing that we can shut down anyone on defense is just a good confidence boost for us and we're hoping to do good in CIF."
Blake Parrish was the game's leading scorer with five goals. The Dos Pueblos senior has amassed 187 this season and is close to breaking into the top-10 all-time for single-season scoring in the CIF Southern Section.
Playing the role of spoiler on Thursday did not go according to plan for Santa Barbara High, which finishes tied for third place in the league standings with Ventura. The Dons (16-12, 3-5) and Cougars will face each other in Ventura on Thursday in a play-in game that will determine the league's third playoff team.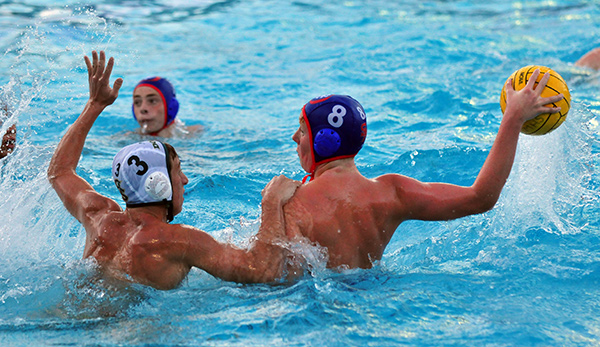 "We need to put this one behind us like it never happened," said Dons head coach Mark Walsh. "We have one game tomorrow for an hour against Ventura. Whoever is the better team for an hour is going to go to playoffs so I told the guys whoever wants it more and plays smarter is going to win that game tomorrow."
San Marcos' 17-13 victory over Buena on Thursday clinched a share of the Channel League title for the Royals, a first for the program since 1995. San Marcos needed a victory to ensure the feat, as co-league champion Dos Pueblos was able to top Santa Barbara 12-4. Both teams finish with a 7-1 record.
The Royals scored 37 goals in two games against Buena this season by adding 17 on Thursday. Sixteen of them came in the first three quarters. George Kuesis led with six. Jesse Morrison added four, Ben Hauschild three, and Miles Cole three. Charles Sweeney's one goal rounded out San Marcos' scoring.
"We didn't play great in our final channel league match but played well enough," said Royals head coach Jeff Ashton.
For more on high school boys water polo, see presidiosports.com.