Sports
Girls Tennis: Dons Reach Semis
Singles, Doubles Team Advance in CIF Play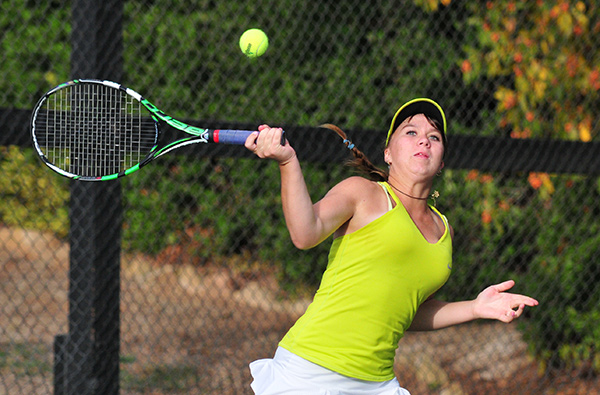 Santa Barbara High's Summer Garrison and Carpinteria's Kelsie Bryant each won three matches in singles at Monday's Northern Regional to advance to the final rounds of the CIF Individual Tennis Tournament.
Also advancing was the Santa Barbara doubles team of Madison Hale and Mattea Kilstofte.
The regionals were played at Carpinteria High and Cate School. The final rounds will be held on Dec. 2-4 at Whittier Narrows and Seal Beach Tennis Club.
Garrison blanked Leyla Gorgoni of Oakwood and Alexandra Romanova of Oak Park, 6-0, 6-0 and then outlasted Arroyo Grande's Sophie Whittle 2-6, 7-6 (4), 10-5.
Bryant beat Lea Meschke of Oxnard (6-0, 6-1), Grace Olyphant of Marymount (6-3, 6-1) and upended top-seeded Jensyn Warren of Calabasas (6-3, 6-2).
Hale/Kilstofte rolled into the final rounds with shutouts of Julia Johnson/Nichole Johnson of Nipomo and Caroline Burke/Annaliese Lippold of San Luis Obispo.
"This is the first time in my coaching tenure that we have had both our singles and doubles qualify for the final round of the CIF Individual Tournament," Santa Barbara coach Greg Tebbe said. "It is testament to the talent of our players and I am proud of them for extending our season just a little bit longer. These three players have had amazing high school careers and it is only fitting that they have advanced to compete against the very best players in Southern California."
Bryant, a four-time league singles champion, fell behind 3-0 in her match against hard-hitting Olyphant Carpinteria coach Charles Bryant (Kelsie's father) said Kelsie started mixing up her shots and whittled away the deficit.
"She did a great job of keeping her opponent off balance mixing in slice, hitting with heavy pace herself, off speed balls," coach Bryant said. "Kelsie showed how smart she is as a player and was able to transition from defense to offense at the right times. It was a good match as her next opponent hit even harder."
Coach Bryant said he was impressed with Kelsie's focus and stamina to battle through three matches in one day.
For the full story, see presidiosports.com