News
New Leader for Casa Esperanza
At 29 Years Old, Jessica Wishan Takes the Reins from Financial Savior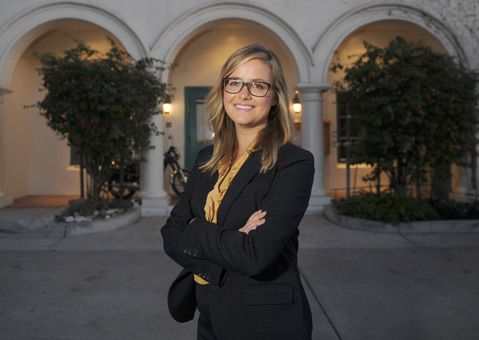 After she graduated from UCSB with a degree in global studies, it wasn't long before Jessica Wishan dove head- and heart-first into a career aimed at ending homelessness. For the past eight years, Wishan has worked for nonprofits in Southern California, spearheading programs focused on getting indigent citizens off the streets. In 2011, as the head of the San Diego chapter of PATH (People Assisting the Homeless), Wishan got a 14-floor, 223-resident housing project ​ ​off the ground. Within a quarter mile of the project ​— ​for which Wishan raised and managed a $3 million operating budget ​— ​homeless rates dropped 50 percent. In her most recent post, for San Diego's Continuum of Care program, she pushed to reduce homelessness across 18 cities.
And in mid-November, Wishan, 29, returned to Santa Barbara to take the helm of Casa Esperanza. "We think she is just A-plus," said interim leader Joe Tumbler ​— ​who has steered Casa's ship into calmer seas since he came aboard in July 2013 ​— ​of his successor.
Wishan, who speaks with a calm, collected voice and whose modesty Tumbler is quick to point out, made her debut before the Board of Supervisors on Tuesday, when Casa received unanimous support from the dais for an extra $139,305 ​— ​on top of the $346,670 already awarded for this fiscal year, for a total of $485,975 ​— ​to help cover costs of operations and secure designated beds for clients enrolled in several county programs.
This week's hearing came on the heels of a request for county funding from the organization in June. The supervisors then agreed to give Casa $120,000 from its overflow pot but hinged the donation on receiving an updated financial picture. (The Santa Barbara City Council also awarded $60,000 up front and will dole out additional money in monthly installments through this fiscal year.) When Tumbler ​ ​came to Casa, the organization was in dire financial straits, having borrowed $2.5 million in six years to pay its bills.
But under Tumbler's tenure, the situation has vastly improved. Severing $1 million from its budget ​— ​by, in part, ceasing its day-center and lunch programs and laying off its top two executives ​— ​and renegotiating several loans has helped. As of now, 42 percent of Casa's budget comes from city, county, federal, and state pots, a slice that mirrors contributions received by comparable shelters in other California counties. That the remaining 58 percent needs to come from private sources, Tumbler said Tuesday, is "aggressive, but it is achievable."
Supervisor Salud Carbajal commended Casa for its progress. "No doubt they should have taken action sooner, when the train wreck was coming. But having said that, I don't fault them for having a big heart." Supervisor Steve Lavagnino thanked Tumbler for his financial prowess. "There are lot of good-hearted people out there," he said. "But we've seen what happens with the model when compassion and the bottom line don't come together."
Tumbler will be staying on in a background role for a bit longer, but Wishan said she will remain focused on keeping Casa's books in check. Further changes could include a merger with PATH, a Los Angeles–based organization whose primary focus is on housing. Refinancing the Cacique Street building's mortgage is also planned. Wishan indicated that she intends to expand Casa's "street outreach." Greater collaboration with Santa Barbara's faith groups is also on the table, Wishan said, explaining how she has seen permanent housing built in church parking lots, which she called "a really innovative solution that has a lot of potential."
Although the new residency and sobriety stipulations have drawn the ire of some, Wishan explained the benefits are twofold. Ensuring that only city residents ​ ​receive Casa's services "brings trust" that the resources from here are being spent here, Wishan said. Admitting only sober clients ​ ​ensures improvements in the neighborhood, she added, which has recently grown more supportive of Casa.
As of Tuesday, 96 of the 100 regular shelter beds were occupied, as were 37 of the 100 winter beds, which are available December through March, said the new director. Since the start of the fiscal year in July, Casa has had an overall capacity of 91.8 percent; Wishan stated that the goal is for Casa to be entirely filled. Of the 850 people the shelter looks to serve by the time the next fiscal year comes around, officials want to get 70 enrolled in treatment facilities, 70 secured in permanent housing, 70 reunited with family, 300 employed, and 300 kept in existing jobs. "It takes a whole community working together to end homelessness," Wishan said. "I'm confident that with the recent changes in finances and operations at Casa Esperanza, we do have a reason for hope, just as our name says."