Briefs
City Toughens Aggressive Panhandling Laws
Expands Hours Banning People from Sitting or Sleeping on the Sidewalk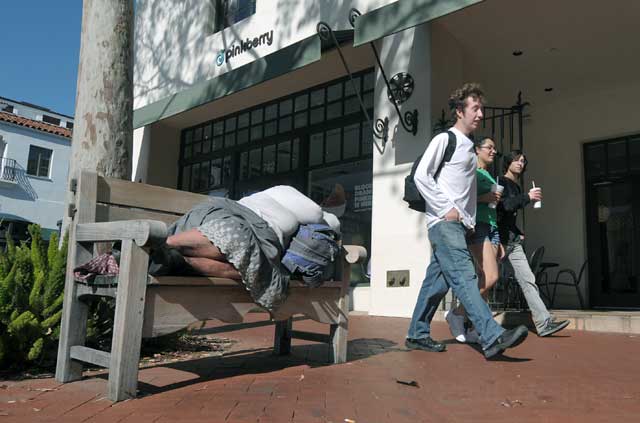 The Santa Barbara City Council approved a package of ordinance changes designed to tighten up laws regulating aggressive panhandling and disruptive street behavior, and in the case of public urination and defecation, to give prosecution responsibility to the City Attorney rather than the District Attorney. The latter change was adopted because police have contended the DA's Office is too swamped to prosecute.
The council expanded the distance panhandlers must keep from people standing in line by ATM machines or while eating at outdoor dining areas. It also expanded the hours banning individuals from sleeping, sitting, or laying on the sidewalk. Under the new ordinance, such behavior will be illegal until 2 a.m. Under the existing ordinance, it was 9 a.m.
Many of these changes have been long sought by members of the business community who contend unruly street people generate a behavioral blight on Santa Barbara. Homeless advocates countered that none of the changes address underlying problems of addiction and mental illness.
Councilmember Dale Francisco expressed passionate frustration that panhandling was deemed by courts as constitutionally protected speech. Mayor Helene Schneider expressed concern that some of the changes could be legally challenged on grounds of selective enforcement. No one complained, she noted, when people passed the hat during Solstice Parades or when eager shoppers camped out on State Street — with their tents — in front of the Apple Store and the Arlington Theater.