Briefs
Farmworkers and Activists Gather at ICE Facility on May Day
They Were There to 'Combat Fear with Love and a Message Welcoming Immigrants'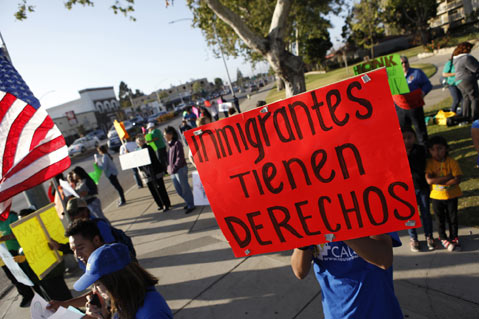 Community, faith and labor leaders gathered at the new Immigration and Customs Enforcement (ICE) facility in Santa Maria on May Day to support the rights of workers and immigrants.
"This building, the ICE facility, it set to open this summer," said Hazel Davalos, spokeswoman for the Central Coast Alliance United for a Sustainable Economy (CAUSE). "It provoked fear in the hearts of so many of our neighbors and friends here in Santa Maria. Today, we combat that fear with love and a message welcoming immigrants here in Santa Maria."
The ICE facility, located at 740 W. Century St., was approved by a 3-2 vote in Santa Maria City Council last year despite more than 1,000 community members turning up in protest. The facility is likely to open early this summer, according to Homeland Security spokeswoman Lori Haley.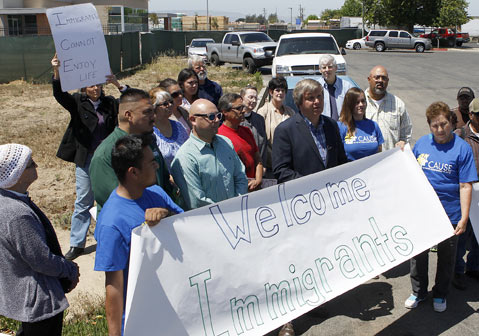 "We are calling on local policymakers to ensure immigrant neighborhoods have fair representation at City Hall, that our schools are supporting immigrant students, that our local law enforcement resources are not being used by ICE to separate immigrant families," Davalos said.
One such local policymaker, City Councilwoman Terri Zuniga, was there to offer her support. She and Mayor Alice Patino were the two members of the council who voted against the ICE facility in March 2014.
"It seems like just a short while ago that we had several thousand people at the Fairpark protesting the opening of this facility," Zuniga said. "It's so unfortunate that their voices weren't heard and the facility is going to open."
Zuniga announced her commitment to hold federal workers to their word about the type and scope of the work planned for the facility.
ICE officials say the new facility will be used for interviewing and briefly holding individuals who are coming into ICE custody following their release from area jails or prisons. They say it is not a detention center and will not have overnight holding or bed space.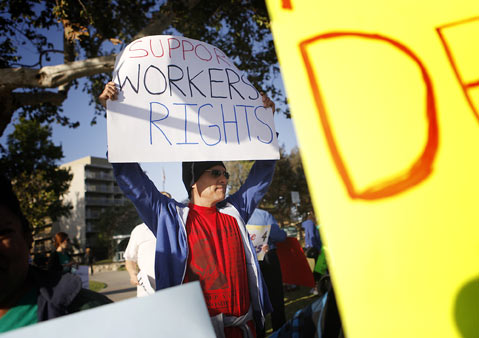 The coalition that gathered at the ICE facility — including CAUSE, Frente Indigena, United Domestic Workers, United Food and Commercial Workers Local 5, Reverend Debora Dunn and others — also organized a rally that started at the corner of Main and Broadway on Friday night.
Jorge Manly-Gil, of the Beatitude House in Guadalupe, said he thinks it's unfair to bring immigrants in to do work that no one else will do and then "militarize" the community — in this case with an Immigration and Customs Enforcement (ICE) facility in the city — to maintain the economic disparity it creates.
"We've already seen what the militarization of local communities has done to communities of color," Manly-Gil said. "We don't want that to happen here in Santa Maria."