Briefs
Fire Chief Forced to Retire Receiving $200,000 Severance Deal
Michael Mingee Was Successfully Sued for Retaliating Against Department Whistle-Blowers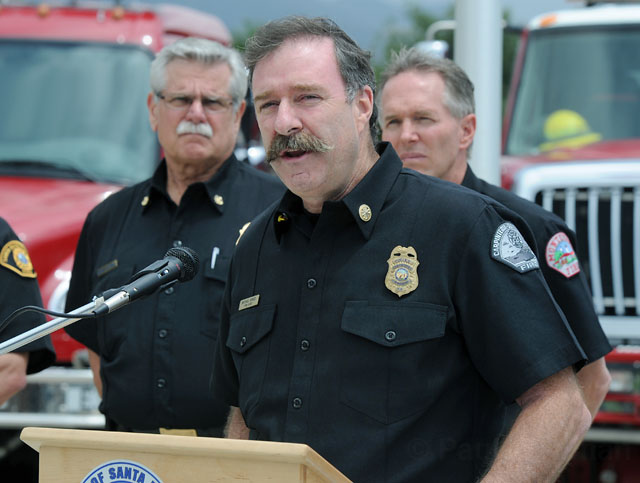 Chief Michael Mingee of the Carpinteria-Summerland Fire Protection District, who is being forced into early retirement after he was successfully sued by three department whistle-blowers, will receive nearly $200,000 in severance pay when he steps down this summer. Mingee will leave his post a year and five months before his contract ends. He's been with the department since 2007.
According to a notably generous clause within Mingee's employment agreement, if the Carpinteria-Summerland District's board of directors votes to dissolve the chief's contract early — and if he hasn't been convicted of a crime or displayed gross negligence of his duties — the chief "shall be paid twelve months of his then current salary and all benefits as severance."
In 2013, the most recent figures available, Mingee earned approximately $165,000 in base pay and $35,000 in benefits. He renegotiated his contract's "Termination for Convenience" clause in 2011.
The district's board of directors is scheduled to vote on the matter this evening during its regular monthly meeting. Its approval to terminate Mingee's contract is a foregone conclusion — his forced early retirement is part of the settlement agreement of a lawsuit that concluded last week.
In November 2013, three Carpinteria-Summerland firefighters, including a battalion chief, sued Mingee for retaliation. The group alleged they were either harassed or fired after they voiced a number of concerns about health and safety violations within the district. One of the firefighters reportedly received a high six-figure settlement for his unlawful termination.
After tonight's vote, Mingee, 59, is expected to release a statement to the media that he's been thinking about retiring for some time and that leaving the department early was his choice to spend more time with his family.
Mingee's attorney in the civil case, as well the district's board members and spokesperson, have not returned requests for comment.