Briefs
Cottage Medical Director Wins National Award
Dr. Paul Erickson Named Among 16 'Exemplary' Psychiatrists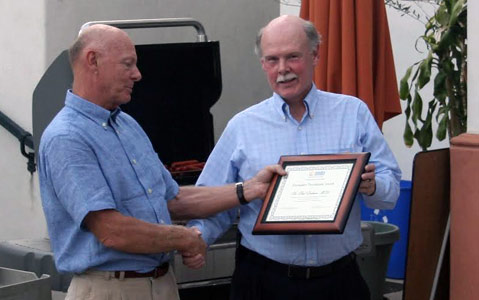 Medical director Dr. Paul Erickson, MD, who oversees the psychiatry and chemical dependency specialties at Santa Barbara Cottage Hospital, is one of just 16 recipients of this year's National Alliance on Medical Illness (NAMI) Exemplary Psychiatrist Award.
The nonprofit mental health advocacy group recognizes Erickson for his efforts to eradicate stigmas surrounding mental illness and work toward improvements in mental health care, which reflect the organization's own values. "He exhibits extraordinary patience, empathy, and caring for both his patients and their families and as a result he is an asset to our local mental health community," said President George Kaufmann of the local NAMI chapter.
Though many presume every psychiatrist to be an inherently good listener, Kaufmann admits this is not always the case. Erickson understands what many experts in the field don't: "the most valuable thing is to be heard," Kaufmann says, and to have a professional validate patient concerns, whatever they may be. Though psychiatric demand continues to grow nationwide, he attests that "not every psychiatrist has that patience and skill to meet people where they are" psychologically, but the level of trust Erickson fosters with his patients produces extraordinary progress.
As a longtime board member of the Mental Wellness Center, NAMI's local host institution, Erickson often refers families to NAMI services such as support groups and the "Family-to-Family" program, which helps family members cope with their loved one's mental illness. More directly, he has contributed by offering forums at monthly NAMI meetings on topics such as marijuana use by psychiatric patients as well as more informed understanding of certain mental health conditions. His involvement inspired the organization to implement a weekly "Family Discussion Group" for family members impacted by a loved one's mental illness.
"When he's with a patient or he's talking to a family, he's totally committed to them and is able to see their perspective," Kaufmann said. "The fact is that the way medicine's organized today, it's really hard to do that."
Erickson was appointed medical director of Santa Barbara Cottage Hospital in 2002, after holding jobs both as a clinical chief for the Cambridge Hospital Department of Psychiatry in Massachusetts and an associate professor of psychiatry at Harvard Medical School. He completed his residency in psychiatry at the Harvard Department of Psychiatry at Cambridge.
According to Kaufmann, Erickson stands apart in a field that has only in recent decades begun to understand psychiatric conditions as medical diseases, "as opposed to something that somebody can willfully control. That's why it's important to have a medically trained psychiatrist that has the training but also the human touch. Paul has got the mix of both."