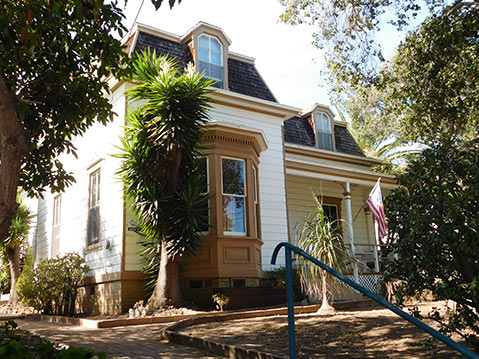 Original Owner: Charles W. Gorham
Year of Construction: 1883
Architect: Unknown
Profiled this week is the former home of Mr. Charles W. Gorham, manager of the Santa Barbara Lumber Company, where he and his family lived for 40 years. The property is one of very few in the city to maintain Second Empire architecture, also called the Mansard style, which can be attributed to the work of famed 17th-century French architect François Mansart. This style gained popularity in the United States in the 1870s and 1880s, primarily in smaller Californian cities. Second Empire's hallmarks include a symmetrical square block with a projecting bay window, tall windows on the first floor, and steep, narrow roofs with fish-scale and shingled overlays. This property also features interesting "dormer" windows poking out from the roof.
In December 1939, the Santa Barbara News-Press published an advertisement celebrating the lumber mill's 50th anniversary. The ad read, in part, "In 1889, a group of local businessmen recognized the need for a better lumber and millwork service to a rapidly growing community and founded the Union Mill Co. This group included pioneers of the construction and lumber industry of the west. … J.H. Richardson and C.W. Gorham were associates … Wages shall in no case be less than $3 or more than $4 per day." By 2015, the wage equivalent would be close to $80 per day — quite a living wage!
The property changed hands multiple times since Gorham passed away. In a sign of the vacation rentals-by-owner era to come, a resident who was advertising the property as a bed-and-breakfast in 1984 was ordered to stop. Today, it houses six units and was most recently assessed at $1.7 million.