Sports
Ice in Paradise Skates to Reality
Goleta Welcomes Santa Barbara Region's First Ice Rink in Three Decades
For a long time, there were dreams in paradise. Then there were plans in paradise, fundraising in paradise, and construction in paradise. Now, finally, there is Ice in Paradise.
Two rinks on the floor of Ice in Paradise, the long-awaited skating facility adjacent to Girsh Park in Goleta, received their first coats of ice this week. Steve Heinze, a Santa Barbara resident and retired National Hockey League (NHL) player, watched the lines being painted on the NHL-sized (200 feet by 85 feet) main rink on Monday. "I'm getting heart palpitations," he said.
A twist of an oft-quoted expression explains how this project came about: "If they come, it will be built." People from colder climes who came to live in Santa Barbara while retaining their passion for ice hockey became prime movers in bringing Ice in Paradise to reality.
The 46,500-square-foot arena needs some finishing touches before the grand opening takes place in November, but it will have a full-fledged opening day on Saturday, October 10.
LOST AND FOUND: There was ice skating in Santa Barbara between 1975 and 1983 at the Ice Patch on Cliff Drive. It struggled financially. The last owner kept it open so his daughter, a promising young figure skater, had a place to practice. After it closed, the building was sold and converted into office spaces.
Visions of an ice-skating facility in Goleta sprung up in 1997 when plans for the Camino Real Marketplace were approved. Developer Mark Linehan set aside 1.3 acres for the potential project. In 2010, he donated the land to the nonprofit Greater Santa Barbara Ice Skating Association (GSBISA).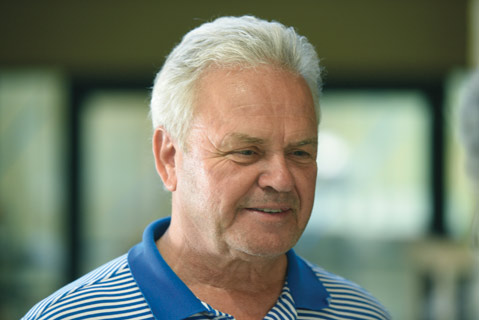 In the meantime, Minneapolis native Jack Norqual and his wife, Gretchen, moved to Montecito. Norqual, a retired businessman, is a lifetime hockey player and a boardmember of the U.S.A. Hockey Foundation. "I skated on ponds," he said. "I'd never lived in a place without a rink." He got connected with the GSBISA. Besides being a major benefactor, he said, "I set out to meet people who could help us."
He called on Ed Snider, another Montecito resident, the founder and owner of the NHL's Philadelphia Flyers. Snider (reported worth: $2.5 billion) financed the construction of the $200 million Wells Fargo Center that houses the Flyers and the NBA's 76ers. With a far lesser outlay, he made a big impact on the building of an arena in his West Coast hometown.
All told, the price tag of Ice in Paradise will be an estimated $15 million, including the $3 million valuation of the land. "We've raised over $8.5 million," said Jennifer Ono, capital campaign director of the GSBISA. There is an ongoing fundraising effort, including the selling of bricks that will adorn the entrance to the building.
The City of Goleta is kicking in more than $300,000 and has its name displayed on the Zamboni ice-surfacing machine. "We also waived the traffic mitigation fees," said councilmember Roger Aceves. "We're excited about this new recreational opportunity. The people behind it are highly energized. We hope it succeeds."
FROM DIRT TO ICE: Ground was broken for Ice in Paradise on November 20, 2014. "We're scrambling to the finish line," Larry Bruyere, the general manager, said last week. Workers were installing the flooring at the entrance, painting doorways, tuning the dehumidifiers, and preparing the two rinks — the main rink and a 100-foot-by-60-foot studio rink — for the application of ice.
Bruyere, a native of upstate New York, is the former manager of the Channel Islands Ice Center in Oxnard. It is slated to be replaced. "The property is more valuable for other uses," Bruyere said. "Many ice rinks fail. There's a large overhead. You have to fire on all cylinders: public skating, youth hockey, adult hockey, figure skating, broomball … With its two rinks and state-of-the-art equipment, this place has a future."
Norqual partnered with Parker Anderson, a childhood friend from the Twin Cities, to oversee the project. They tapped Engelsma Construction, a Minnesota firm, to build the arena. "We put in something for everybody," said Norqual, pointing out a special bench area where disabled athletes can access the main rink for sled hockey.
There is a second-floor terrace that can accommodate 250 spectators. In one corner is a study center. "Kids can come here to skate and get their homework done," Bruyere said.
UCSB's hockey team, which had commuted to Oxnard for six years, will play its first home game at Ice in Paradise on Saturday. The Greater Santa Barbara Royals will play its home opener at 4:45 p.m. on Saturday, October 17, against the Kern County Knights. "We've got a pretty good team," said Heinze, the coach of the Royals, who have won two road games while outscoring their opponents 17-2.
Bruyere said there is tremendous interest from older players, some of whom go back to the Ice Patch days. "Eighteen teams have signed up for adult hockey," he said. "There's not a better sport than hockey. I'm 62, and I still play. Jack [Norqual] plays at 70. You're gliding. It's easier on the joints."
Heinze, 45, moved to Santa Barbara after finishing his 13-year NHL career with the L.A. Kings in 2003. There was one drawback to the move. "Hockey is the only sport Santa Barbara doesn't have," he said. "I like to skate once a week." Now he can find ice next to the soccer and baseball fields, a short distance from the sand and surf.
COME TO OPENING DAY!
The opening day for Ice in Paradise (6985 Santa Felicia Dr., Goleta) is Saturday, October 10. Here's the schedule:
1:15 p.m.: Ribbon-cutting ceremony with NHL Hall of Famer Luc Robitaille, Philadelphia Flyers owner Ed Snider, and Goleta officials
1:45 p.m.: Ice skating exhibition
2-4:30 p.m.: Public skating session ($10 per person; $2.50 skate rental)
4:45 p.m.: Hockey exhibition game, UCSB vs. Cal Lutheran ($3-$5)
6:45 p.m.: Figure skating exhibition
7:30-10 p.m.: Public skating session ($10 per person; $2.50 skate rental)
Athletes of the Week
Manny Nwosu, Dos Pueblos Football: Five touchdowns and 340 all-purpose yards in a 53-28 win over Carpinteria.
Alea Hyatt, Santa Barbara High Football: Three extra points and two field goals (including a game-tier) in a 27-20 win over Pacifica.