Arts & Entertainment
Tyrone Wells Solos at SOhO
Singer/Songwriter Wooed Audience with Heartfelt Set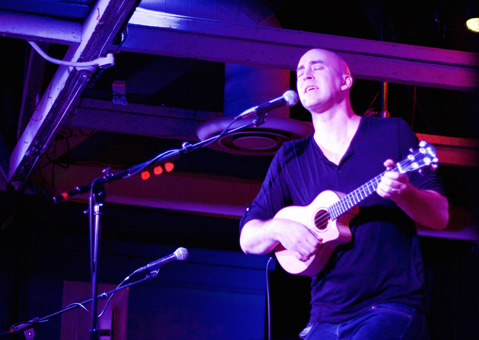 Tyrone Wells strummed the heartstrings of the romantics at his intimate acoustic performance Wednesday, October 7, at SOhO Restaurant and Music Club. An accomplished singer/songwriter, Wells has released 12 records and garnered significant attention through the placement of his works in popular television shows and films like "The Vampire Diaries," "Grey's Anatomy," and "My Sister's Keeper." The solo artist is in the midst of touring his latest album, Roll With It (released earlier this year), at intimate venues across the country.
Wells delivered a heartfelt yet playful solo performance, complete with clever use of a loop pedal and an array of instruments, punctuated by humorous conversations with the audience, ranging from football to family.
Wells started off the night simply with the romantic (and wonderfully cheesy) acoustic song "A Beautiful Place To Be," dedicating the track to his Santa Barbara audience. With vocals reminiscent of lead singers of The Script and Coldplay, he soothed the audience into a blissful silence rarely found inside the walls of SOhO. By song three, however, Wells was ready to switch up his style with the fan favorite "Every Night." He began with beat boxing, then looped the beat over his playing and singing, progressively working in more instruments as he went. By the end of the song, the crowd was echoing the lyrics at his instruction, and the show grew more lively.
Wells kept the atmosphere upbeat with jokes and personal anecdotes, ensuring that his many thoughtful and at times poignant songs didn't put a damper on the mood of the show. He broke up the set with covers of radio hits like "A Sky Full of Stars" by Coldplay and Ed Sheeran's "Thinking Out Loud." There were a few gaffs in the performance — midway through the latter song, his mic and amp continually gave out, and he forgot a few words to the chorus. Nevertheless, Wells recovered quickly and jovially, and had us laughing about it seconds later, referring to Sheeran's hit as "a song I really wish that I wrote, but I didn't."
The show finished up on an intimate note well-suited to cozy shows like this, as Wells reminisced on being a father, watching his daughter grow up, and even his grandparents. He aptly closed his set with "Carolina Blues," a tune that delves into these same topics, perfect for an all-ages show and a family friendly evening.