Briefs
Dream Foundation Gala Honors its Supporters
Event Celebrates New Dreams for Veterans Program and Gentiva Hospice Foundation
On a picture perfect Saturday evening at the breathtaking Bacara Resort and Spa, the Dream Foundation, a national organization dedicated to granting dreams to adults facing life-threatening illnesses, hosted its 14th Annual Celebration of Dreams Gala.
The foundation honored supporters of its newly launched Dreams for Veterans Program, which fulfills the final wishes of terminally ill veterans. The program's founding partners include CKE Restaurants Holdings, Inc. President and CEO Andy Puzder and John Paul DeJordia of The Patrón Spirits Company and CEO of John Paul Mitchell Systems.
Also celebrated, was Gentiva Hospice Foundation — a national nonprofit end-of-life care service with its closest location in San Luis Obispo — as the honoree of the Dream Foundation's 2015 Outstanding Corporate Partner Award. "I am proud to say we have moved the needle this year," said Executive Director of the Dream Foundation Kisa Heyer. "We have delivered 48 percent more dreams than in the previous year." She also added that Gentiva Hospice Foundation has been responsible for nearly half of the dreams fulfilled since the Dream Foundation was established 16 years ago.
Heyer began the evening by telling a story she "had not been able to get off of her mind," that of 41-year-old dream recipient Gary and his four-year-old daughter. Gary and his daughter loved to dance together. Gary developed brain cancer and asked the Dream Foundation for help fulfilling his wish, which was to create a video of him and his daughter dancing in several locations ending at Disneyland Castle in Orlando. Gary wanted his daughter to have the video to play at her wedding in place of a father-daughter dance, because sadly he will not be there. "The power of this dream, as with all of our dreams, will truly span decades and generations," Heyer said.
The gala began outside with a cocktail reception where guests walked a red carpet and sipped on wine courtesy of Babcock Winery, champagne courtesy of Taittinger Champagne, and spirits courtesy of Patrón Tequila. New to the gala was Uncork the Board, a part of the cocktail reception when each one of the Dream Foundation's board members displayed their favorite wines in an effort to allow people to get to know them better.
The gala included many more memorable moments including a lively auction hosted by Andrew "The Bachelor" Firestone and his wife Ivana Božilović. Firestone, who has been an active volunteer and supporter of the Dream Foundation for the past five years, shed his jacket in excitement as the live auction got underway. The most prized auction item was a four-night stay in New Zealand divided between the Wharekauhau Country Estate and the Otahuna Lodge, as well as a three-night stay on Fiji's Laucala Island. The trip, valued at $42,400, includes all flights on luxurious airlines and was auctioned off for a bargain $27,000.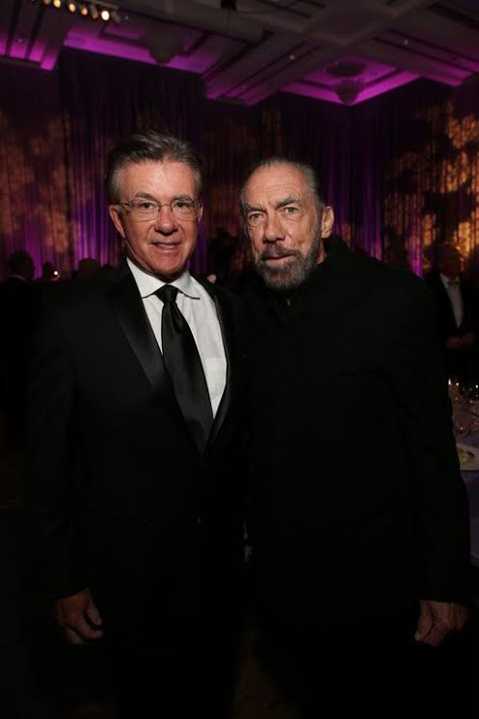 The gala also featured musical performances by American rock band O.A.R., country singer Natalie Noone, and classical singer Sara Stevens. The night concluded with a lively after-party, where world-renowned DJ Chris Cox performed for his third straight year.
At the after-party, The Santa Barbara Independent caught up with Canadian actor Alan Thicke, who has attended the gala in previous years. When asked what he wished people would take away from the event, Thicke responded, "Number one: volunteerism. It doesn't cost anything to be part of this and feel good about yourself — and you'll go to heaven if you put your heart and your brain in the right place and do something for people who will really appreciate it. Number two: it's not very expensive to get involved financially and make a difference. It's not the amount of money required to cure diseases, we're talking about simple pleasures in life."