Briefs
Report Details Last Moments of Fatal Plane Crash
Dialogue with Air Traffic Controller Appears to Show Confusion Over Mountain Location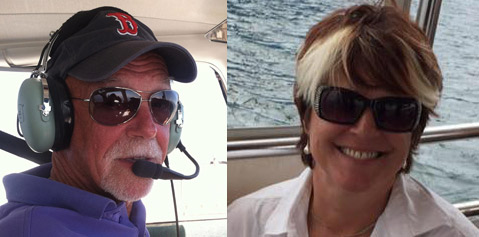 The National Transportation Safety Board (NTSB) released its preliminary investigation following the October 17 crash of a small plane in the San Bernardino Mountains that killed Santa Barbara residents Bob Trimble and Terri Day. The report states that 71-year-old pilot Trimble was in radio contact with an air traffic controller when his Piper PA-28R-180 plane collided with San Gorgonio Mountain.
Trimble and Day, 50, were returning from the Palm Springs Air Museum, where Trimble had just donated a fellow Vietnam War veteran's Prisoner of War/Missing in Action (POI/MIA) bracelet. According to the accident report prepared by NTSB Investigator Eliott Simpson, the private plane departed from Palm Springs International Airport for Santa Barbara Municipal Airport at approximately 3:13 p.m. Because Trimble was flying as a private pilot, he was using visual flight rules, which means he was looking out the window to maintain his position, Simpson said. Trimble hadn't filed an instrument flight plan detailing specifics of his trip like route, altitude, and estimated time of arrival with air traffic controllers.
About six minutes later, Trimble radioed an air traffic controller at Southern California TRACON (Terminal Radar Approach Control) and asked for flight following to guide him to Santa Barbara. Trimble said, "It looks like we might have to get up to 9,000 feet with the clouds." The controller responded with a squawk code, altimeter settings, and instructions to maintain visual flight rule conditions at an altitude Trimble deemed appropriate, as well as confirmation that he had made radar contact with the plane.
About four minutes later, when the plane had reached 5,200 feet elevation above mean sea level, the controller said, "just to be clear, you do have terrain insight to your left, right?" Trimble confirmed that he did and said he was going to make a 360-degree turn in order to gain altitude. The controller responded, "OK, just wanted to make sure we are on the same page. Are you guessing you are going to wind up north of Big Bear, or do you think you're going to be able to get up through the Banning Pass, is that what your intents are?" Trimble explained his plan to go through San Bernardino, out to the desert, and then out by General Fox. He turned northeast to reach an altitude of 7,000 feet.
Over the next 14 minutes, the plane made six 360-degree turns and reached 10,800 feet in altitude. As Simpson reported, "By that time the airplane was about 12 miles east of, and heading directly toward, the 11,500 foot peak of San Gorgonio Mountain." Trimble made a 360-degree turn westward and gained 100 feet, to which the controller asked, "are you going to go north side of the peak there or south side there?" Trimble said his navigation showed he was heading right to San Bernardino. The controller responded that he showed the mountain between the plane and San Bernardino.
Trimble, who said he was at 10,600 feet in altitude, traveled west for seven more minutes before beginning to descend. The controller said, "you are descending once again in an area of higher terrain just west of you. I have a peak that I show to be at eleven thousand seven hundred feet, just west of your position…verify you still have the terrain in sight."
Trimble responded "Negative! Negative!" to which the controller issued the instructions, "remain calm, if you are able, proceed eastbound, remain, visual flight rules proceed eastbound, hold your altitude, if you are able, I see you are descending — repeat, eastbound, visual flight rules, hold your altitude if you are able, you are in an area of higher terrain."
Trimble didn't respond. For the next 45 seconds, the plane continued descending to its last recorded altitude of 7,775 feet at approximately 3:52 p.m. The plane's wreckage was found at 7,222 feet on the east side of the San Bernardino Mountains, about 200 feet northeast of its last radar target. Its cabin was burned out; both wings were crushed, leaving a 60-foot-long debris trail. In the next six to nine months, Simpson said the NTSB will release its final accident report on weather, aircraft, and medical issues, and stating the ultimate cause of the crash.