Briefs
Goleta Chess Star Wins Bronze at World Championship
Agata Bykovtsev, 16, Competed Against 94 International Female Players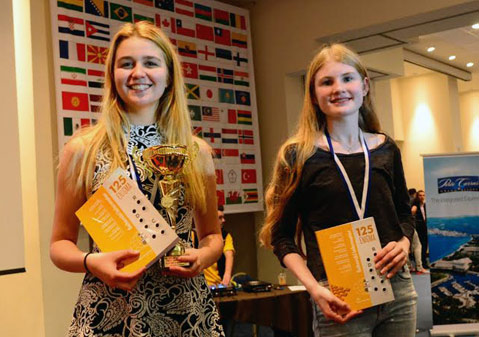 Goleta's 16-year-old Agata Bykovstev just took home the bronze medal for the U.S.A. Team at the World Youth & Cadets Chess Championship in Porto Carras, Greece. For Bykovstev, who has been playing chess competitively since she was a 9-year-old student at St. John of Damascus Academy in Goleta, this is her first medal but her fifth world championship.
Over the 11-round, two-week-long tournament, she competed against 94 international female chess players in the under-16 division, many of whom train full-time as "professionals," her mother Rita Makogon told The Independent. Bykovstev still placed third despite her busy schedule taking the most advanced math and physics classes at SBCC, traveling to L.A. to train with international chess master Andranik Matikozyan, and taking a weekly online lesson from him. "She studied so hard this summer," said Makogon. "[Chess] is her passion."
In July, Bykovstev traveled to Ontario, Canada, where she won the female division of the North American Junior (Under 20) Chess Championship, beating two reigning champions. Joining the ranks of no more than 15 other women in the U.S., Bykovstev was named a Woman International Master by the Fédération Internationale des Échecs (FIDE).
Chess grandmaster Alejandro Ramirez, who witnessed Bykovstev's success in Greece, remembered her as the "relatively serious and calm" student he once taught at a summer chess camp. But at this year's world championship, "she was simply a roller coaster of emotions," Ramirez wrote in a blog post for the U.S. Chess Federation. He said, "She worked extremely hard, and you can tell just by looking at her the deep and on point preparation she had with her coach." Despite losing twice in the middle of the tournament, "she mustered the strength to go on a winning streak, destroying everyone in her path including our own Ashritha Eswaran and the top seed, Canadian Qiyu Zhou," he said.
After seven years, Bykovstev's passion for chess remains strong, even though her mother realizes that as her daughter has grown older, the competition has become tougher. As Makogon said, "she shines the happiest in the pictures" taken after achieving bronze.