Briefs
[UPDATE] Ventura Fire Shuts Down Freeway Between Carpinteria and Ventura
Motorists Detoured to Highways 150 and 33; Aerial Battle Against Solimar Blaze Escalates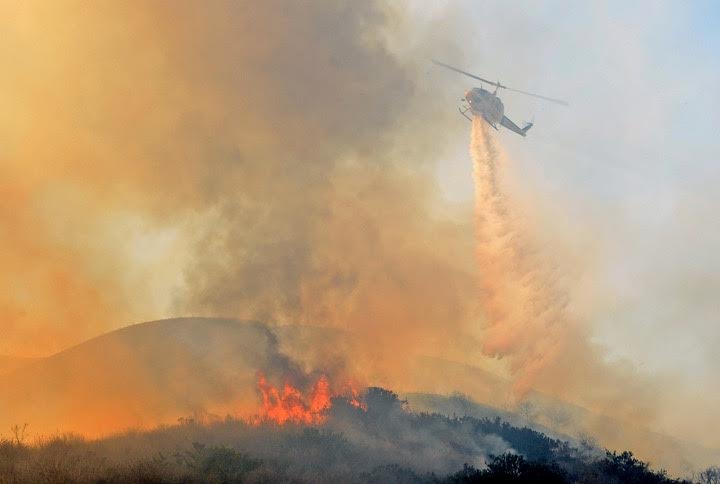 [Update, 3:43 p.m.]
Downed power lines on private property caused the Solimar Fire, Ventura County Fire public information officer Mike Lindbery told The Santa Barbara Independent. As the Ventura County Star reported, high winds knocked down the power lines, which were located north of Solimar Beach. Authorities plan to open the Pacific Coast Highway, as well as lift the evacuations for the Solimar Beach community and Faria Beach area, at around 5:00 p.m. Saturday, said Lindbery.
[Update, 2:00 p.m.]
Highway 101 is open in both directions, according to Santa Barbara County Office of Emergency Management. Approximately 600 firefighters are still on the roughly 1,200-acre fire, according to Ventura County officials, and the public is advised to be aware of equipment working in the area.
[Update, 11:51 a.m.]
Northbound drivers planning to take Highway 101 through the Solimar area are advised to take the I-5 or highways 150 or 166 instead. Highway 101 remains closed between Carpinteria and Ventura due to a brush fire that began around midnight. The southbound lanes are estimated to open at 12:30 p.m. today, according to Caltrans.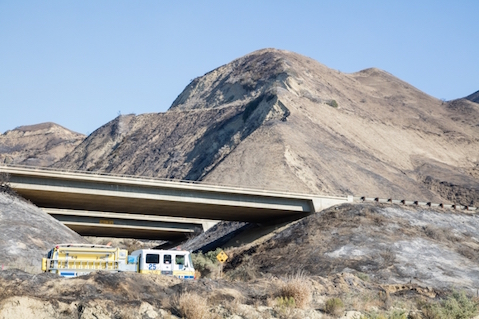 According to the Ventura County Emergency Information website, an emergency shelter has been established at the Red Cross in Carpinteria, 941 Walnut Avenue for evacuees from Solimar Beach and campgrounds, and also Faria Beach residents.
[Update, 11:23 a.m.]
According to Ventura County Fire public information officer Mike Lindbery, the only available fixed-wing fire aircraft in southern California is dropping fire retardant on the blaze. Due to the rocky and slide-prone terrain in the canyon where the Solimar Fire is burning, "it's difficult getting a good handline established now," Lindbery said. "It's difficult to get a nice clean fire break." Trains started traveling slowly through the area again around 10 a.m. Saturday morning.
Personnel are hoping to get some lanes open this afternoon on Highway 101 northbound and southbound between Carpinteria and Ventura, but Lindbery asks those drivers detoured to Highways 150 and 33 to please be patient while traveling through those "very treacherous roads."
[Original Story]
Because of a 1,200-acre fire that broke out late Christmas night 10 miles north of Ventura, authorities have blocked off Highway 101 between Carpinteria and Ventura for the time being. Motorists are being diverted to Highway 150 and Highway 33. As of this writing, holiday traffic has remained relatively light and — aside from a few 18-wheelers forced to lumber up Highway 150 — the impact on the smaller winding roads has not been great.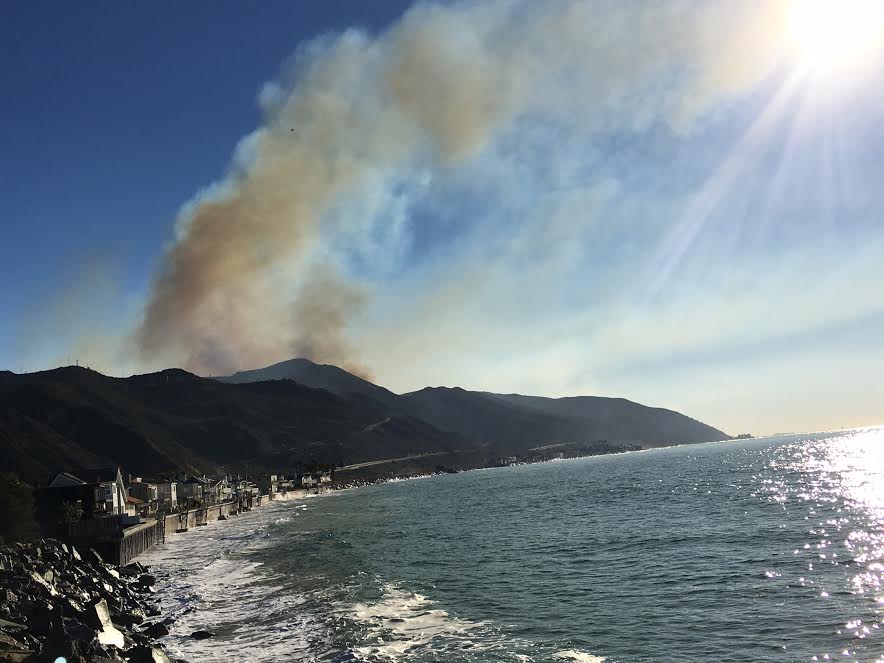 In addition, rail traffic along the coastal route has been interrupted until Ventura County firefighting officials determine it's safe. "Getting the freeway re-opened is one of our highest priorities," said Ventura County Fire public information officer Mike Lindbery. It remains uncertain when exactly that might be, but containment crews are aiming for late Saturday morning. In the meantime, crews are attacking vegetation along both sides of the 101 to eliminate fire fuel.
For the time being, the fire appears boxed in between Highway 101, Highway 150, and Highway 33 with no place to go, reported longtime Independent fire correspondent Ray Ford, who is on the scene. But, he added, there's plenty of material within that box — which he estimated to be "three air-miles wide and 10 air-miles long" — to keep the 600 firefighters dispatched to the scene busy.
At this point, the fire is sitting in box canyons on the mountainside of Highway 101, where handcrews and aircrews will focus their attack. The good news is that winds have died down considerably from the violent gusts hammering the hillsides with such force the night before that an extreme wind advisory was declared. Smoke from the fire is heading straight up into the air; to the extent it's moving laterally, it's out to sea. But that could change later today when windier conditions are expected. The concern is that it could head south further into Ventura and northern Los Angeles counties.
Early this morning, residents of the Solimar community — about 30 homes — were evacuated, as were visitors camping at the Emma Wood State Beach. Two helicopters dropped water on the fire through most of last night, but they were played out by the morning. Four copters have gone up since, and four fixed-wing aircrafts are reportedly on their way to drop fire retardant on the flames. To date, no homes have been burned.
Three strike teams from Santa Barbara County Fire Department have been dispatched to the Solimar blaze, as well as one water tender, five engines, and one helicopter. Engines from the Carpinteria and Montecito departments have been dispatched as well. None, so far, have been sent from the City of Santa Barbara, nor have any been requested.
No cause for the fire has yet been determined.