Visual Arts
Victor Hugo Zayas River Paintings
Giant Paintings of the LA River at MOLAA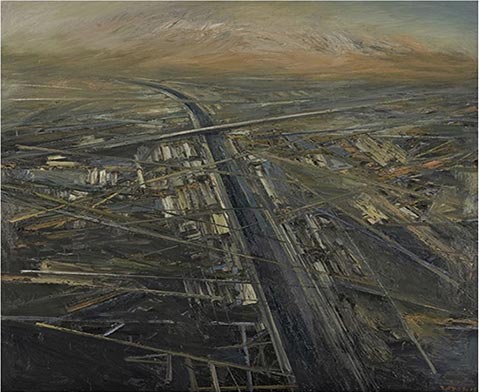 This splendid one-person show at the Museum of Latin American Art in Long Beach has to be one of the greatest revelations of the year in Southern California art. Los Angeles artist Victor Hugo Zayas made a splash in 2012 with "Mi Obra," a series of sculptures made out of discarded firearms that was shown at the Laguna Art Museum, but nothing could have prepared viewers for what he has unleashed in this powerful exhibit of giant paintings of the Los Angeles River. These monumental canvases rival those of fellow Southland resident Charles Garabedian in size, and like Garabedian, Zayas has both a clear relation to art historical tradition and an independent streak that takes him in a recognizably new direction. By layering fantastic amounts of oil paint onto canvases that can go as large as 96" x 96", Zayas creates a magnificently rich surface that's suspended midway between the conventions of representational landscape and those of painterly abstraction.
Particularly in those canvases designated as part of his "Grid Series," Zayas has invented a system of internal patterning that allows him to not only register light, shadow, and form, but also force and direction. These diagonal slashes of paint come together in a woven fabric of lines that both implies the street grid of urban industrial Los Angeles and suggests something more, vectors of movement that pull and distort the surface of the image. The result is striking. Cutting through the heavily worked surface of the paintings, these tangential lines help Zayas achieve an unexpectedly direct emotional impact. It's as if by calling attention to the artifice of impressionist landscape painting techniques, the artist is able to picture his subject for not only what it looks like, but for what it is.
And what a subject the Los Angeles River is in the hands of this artist. The LA River is to Zayas what the Provencal landscape was to Cezanne, which is to say that it's a microcosm for multiple concerns and aspirations.
Not content merely to present the river from one or two angles, the artist pursues it from every direction and under all conditions. There are spectacular nocturnes steeped in the shadows of whispering trees as well as aerial views that could only have been realized from the window seat of a plane. What unites them all is the sense that what we are seeing is our region's main artery. In part through the sheer mass and physicality of these paintings, Zayas conveys his thesis about the river, which is that the constant flow of goods and people from the ports of Los Angeles and Long Beach through South LA and on to all the corners of the continent is central to the identity of Southern California. This is one of the reasons that the show's location, at MOLAA in Long Beach, just a stone's throw from the harbor, makes so much sense. Let's hope that these extraordinary art works continue to be seen and experienced at other institutions in the region, as they will only gain in relevance with the advance of the new century.