Sports
UCSB Baseball Sports Whiskers and Wins
Gauchos Win 3-1 Against USC and UCLA; U.S. Women's Water Polo Goes to Rio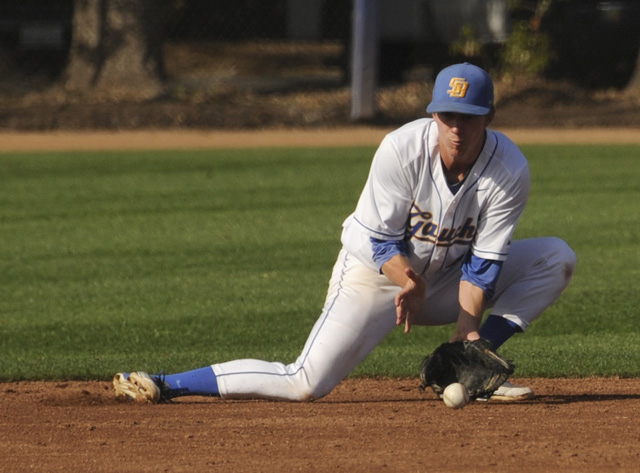 It is evident that UCSB's baseball team no longer has a clean-shaven requirement. "I got tired of it," said head coach Andrew Checketts, who sported a five o'clock shadow himself after the Gauchos opened their series against USC with a 10-1 victory last week.
The differing facial fashions of the players have had no effect on the team's unity or sense of purpose. The Gauchos were 18-4 through last weekend and are ranked as high as No. 11 nationally on the Collegiate Baseball Poll. They had a nine-game winning streak that was ended when USC salvaged the finale of their three-game series. Against the Trojans and UCLA, the Gauchos are 3-1 with a late-season game at UCLA remaining.
"It's nice to beat those guys," said JJ Muno, a second baseman from Hermosa Beach. "They get all the big-name high school recruits. Santa Barbara is a school unmatched in my mind. I wanted to be part of it."
Muno, a sparkplug-type of player on the field and running the base paths, had to wait his turn to become a Gaucho regular, as did two of the team's offensive stars, catcher Dempsey Grover and designated hitter Josh Adams. All three are redshirt sophomores; they sat out their first year in school, and they saw just limited action last year on a team that had 11 players drafted or signed by major-league organizations.
During their years as understudies, the younger players built up a supply of fuel, and now they are burning it.
"We're all in the same boat," Grover said. "We've spent two or three years getting better and getting hungry. To be part of that team of good leaders, we want their legacy to live on. We're starting to get at-bats, and we're able to win a lot of games."
Grover has grown a beard that may never disappear as long as he keeps making his at-bats so productive. He leads the Gauchos in hitting with a .421 average. "I keep that out of my mind," the catcher said. "I go up and plan to have a great at-bat. You can smoke the ball at somebody and make an out, but that's a great at-bat."
Adams, another Gaucho with neatly trimmed whiskers, has injected power into the lineup with a team-leading four home runs and a .649 slugging average. "I'm getting over that learning curve," he said. "I didn't have a lot of at-bats last year [three, to be exact, with two hits]. Our hitting philosophy has changed. We're squaring up and hitting into the outfield gaps. Before, we hit grounders into the holes."
Checketts explained, "We've got more power in the lineup but don't run as well as we have in the past."
Adams went deep early in UCSB's 11-6 victory over UCLA on March 1, and his two-run shot in the second inning against USC gave the Gauchos all the runs they needed, with ace hurler Shane Bieber on the mound.
The most memorable blast of the season so far came from first baseman Austin Bush, a true sophomore. With the Gauchos trailing Connecticut 3-2 in the bottom of the ninth, Bush pulled three long drives foul down the right-field line. On his next swing, he drove the ball into the trees behind the right-field fence for a three-run homer and a 5-3 UCSB win.
"It was the craziest ending to a game I've ever seen," Grover said. "The game's on the line, and he hits it a mile foul, then another, then another. When he straightened it out, we lost our minds. There's no better way to win than a walk-off home run."
Checketts observed, "We seem to be timely in everything we do." The skipper hopes the magic continues now that the Gauchos are about to begin their conference schedule this weekend. They'll visit the Long Beach State Dirtbags, another Big West team that's named in the national polls. Later to be dealt with are contenders Cal State Northridge, Cal Poly, Cal State Fullerton, and UC Irvine — all boasting winning records.
Starting pitchers Bieber and Noah Davis have sub-3.00 earned-run averages. The third weekend starter, Joe Record, was under 4.00 before USC roughed him up in a 9-5 setback last Saturday. Sophomore relief pitcher Kyle Nelson had put together a massive streak of 49 consecutive innings without allowing an earned run before UConn dinged him two weeks ago.
"We really play defense," Checketts added. At the heart of UCSB's fielding prowess is shortstop Clay Fisher, a sophomore who is so good that he started as a freshman, too. With 100 chances so far this year, his record is as smooth as his face — no booted grounders, no bad throws, no errors at all. "Fisher is the best defensive shortstop I've ever seen," Checketts said. "His hands are so good. He's a special player."
Steady senior Ryan Clark provides experience at third base after three years as a reserve player. Speedy junior centerfielder Andrew Calica, the leadoff hitter, is flanked by veteran Billy Frederick in left and dynamic freshman Michael McAdoo in right.
It's been a good year for daytime college baseball. Westmont has been hitting and pitching up a storm in the Montecito hills — a 24-6 record through last week — and will host Bethesda of Anaheim on Friday-Saturday (double-header), April 1-2. UCSB's next home stand at Caesar Uyesaka Stadium begins Friday, April 15, against Northridge.
ON TO RIO: The U.S. women's water polo team, which starts three former area high school stars — center Kami Craig (Santa Barbara), goalie Sami Hill (Dos Pueblos), and attacker Kiley Neushul (DP) — punched its ticket to the Rio de Janeiro Olympics by rolling through a qualification tournament in the Netherlands. The Americans went 8-0, outscoring their foes 109-28, including Italy in the final, 11-6. n