Briefs
Philadelphia Flyers Owner Ed Snider Dies
Philanthropist Helped Fund Goleta's Ice in Paradise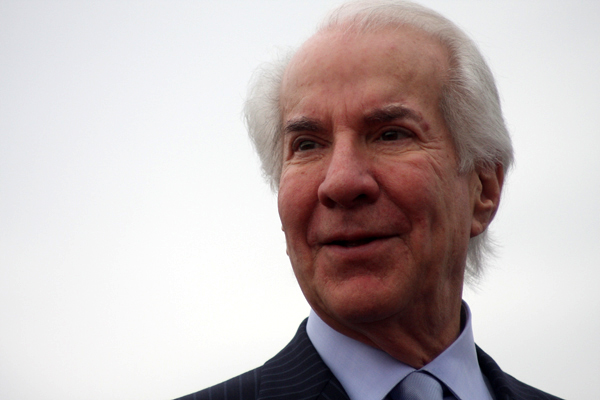 A few months before Ed Snider died, his team, the Philadelphia Flyers, paid him a visit at his Montecito home. They'd been at Goleta's Ice in Paradise earlier that New Year's Eve morning to practice for an hour or so before a game against the Los Angeles Kings later in the week, but Snider was too ill to attend. They wanted to see him, and they stopped by his house for lunch. On Monday, "the Father of the Flyers" died at the age of 83 after a two-year fight against cancer.
The NHL team Snider formed in 1966, the Philadelphia Flyers, won the Stanley Cup in 1974 and 1975, and made it to the finals six other times. Bob Clarke, captain of the championship teams, praised Snider's dedication to his players, telling Philly.com that the Flyers became a franchise that players wanted to join. Jack Norqual, a hockey fan who grew up in Minnesota, recalled how Snider had players "from many, many years ago" at a Flyers game signing autographs: "He was so loyal to his players," Norqual said.
Norqual brought Snider to the effort to build Ice in Paradise, a skating rink out by Girsh Park that has been in the making for decades. He thought Snider was a "perfect fit" for Ice in Paradise because of his dedication to skating as well as his reputation as a philanthropist. Snider's Youth Hockey Foundation has built practice rinks around Philly and offers as many as 3,000 kids free hockey — floor and ice — as well as homework help and social and academic support.
After about a half hour of talk, Snider said he was in. He donated more than a million dollars for the effort, but more importantly, said Norqual, "Ed Snider gave us great credibility to go out and find other people to help us." The main rink at Ice in Paradise is named in his honor, and Norqual said they've modeled the building's study room after Snider's Youth Hockey programs. Snider was also a significant donor to Santa Barbara's Cottage Hospital Foundation and to the Granada Theatre.
With considerable vision and success, Snider created multi-faceted companies around sporting events through his Comcast Spectacor group of companies: venues, facilities management, ticketing, the cable network PRISM, and the all-sports radio station WIP among them. The Flyers website remembers his philanthropy, which included starting the Ayn Rand Institute; an enterprise center at his alma mater, University of Maryland; a research center at The Wharton School in honor of his father; and great support to the Simon Wiesenthal Center.
Ed Snider is survived by his wife, Lin; his children: Craig, Jay (Terry), Lindy (Dr. Larry Kaiser), Tina, Sarena, and Sam; his former wives Martha McGeary and Christine Decroix; 15 grandchildren; and his sister, Phyllis Foreman.