Sports
Kobe's Last Stand
Saying Good-Bye to the Laker Great; Plus Bertka's Tendon, Big Moves for UCSB Alumni, and More
It seems right to praise Kobe Bryant even though the Lakers are buried. The final minutes of Bryant's 20-year pro basketball career were to unfold Wednesday night at the end of the most dismal season in the history of a club that brought 11 NBA championships to Los Angeles.
Bryant was the brightest star in five of those titles. He was the only star — dimmed by injuries and age — in the Lakers' last three seasons, each of them setting a new precedent in losing. Critics blame the decline partly on Kobe's rich contract extension ($48.5 million for the last two years) that restricted the club's ability to add proven players to the roster.
Lakers general manager Mitch Kupchak rebuffed that notion last month during an appearance at the Santa Barbara Athletic Round Table's annual "March Madness" gathering. What Kupchak saw three years ago — April 12, 2013, the night Bryant ruptured his Achilles tendon — goes a long way to explain why the Lakers signed him up through the end of his second decade. "He walked off the court [with the tendon severed above his left heel]," Kupchak recalled. "He walked back on to shoot free throws, made them both, and walked off again." Nowhere else could the GM find that kind of toughness.
Longtime Lakers scout Bill Bertka remembers putting Bryant, a Pennsylvania high school phenom, through a workout at an Inglewood gym before the 1996 NBA draft. "So many of his traits were evident at that time," Bertka said. "Jerry West [then the GM] recognized his gifts. We were very closed-mouth about it." When the draft came around, West engineered a deal in which the Lakers exchanged veteran center Vlade Divac for Bryant, Charlotte's No. 13 pick.
It took some time for the flashy youngster to mature. He averaged 7.6 points a game in his rookie season. "People are knocking D'Angelo Russell," Bertka said of the L.A.'s new rookie guard. "They might be surprised that he has better numbers than Kobe did." Yet it is inconceivable that Russell or any other player will ever again persevere 20 years with the same team.
And will Russell work hard to improve his game? "Early in his career, Kobe had a reputation of not being a good defensive player," Bertka said. "Then he made the NBA's All-Defensive team in 2000" — and 11 more times in the next 12 years.
Bryant's relentless approach to the game, earning him the sobriquet Black Mamba, made him a favorite of the millennial generation. My nephew Eric Anderson, who grew up watching the Lakers win championships, is a staunch fan of his. Eric wrote in a Facebook post: "Kobe is the last competitive assassin left after [Michael] Jordan."
With Bryant's retirement, the Lakers will have the wherewithal to sign a couple of free agents to go along with a high draft pick. Their thinking might be different than it would have been a few years ago, because of the success of the Golden State Warriors. "They've changed the game of basketball," Bertka said. "You don't see heavy-legged, muscular post guys. They're all greyhounds. They run, jump, block shots … and they all make shots." Sort of like Kobe Bryant in his prime, times five.
Kupchak agreed. He described Golden State's Steph Curry as "a joy to watch" and noted, "There used to be one three-point shot a game. Now there's 60."  It will be interesting to see what pieces go into the attempt to rebuild the Lakers. "We hope to make wise decisions," said Kupchak, who has the goodwill of a restless fandom riding on his choices.
SHADES OF KOBE:  Bertka experienced sharp pain in his right heel a few weeks ago. He was diagnosed with a partially torn Achilles tendon. The 88-year-old basketball guru is confined to his Santa Barbara home with a boot on his foot. "It's my takeoff leg," he said. "I can't dunk." He never stops thinking about the game he loves, and here is one of his latest inspirations: "We should put in a four-point shot. Put [the arc] halfway between the three-point line and midcourt."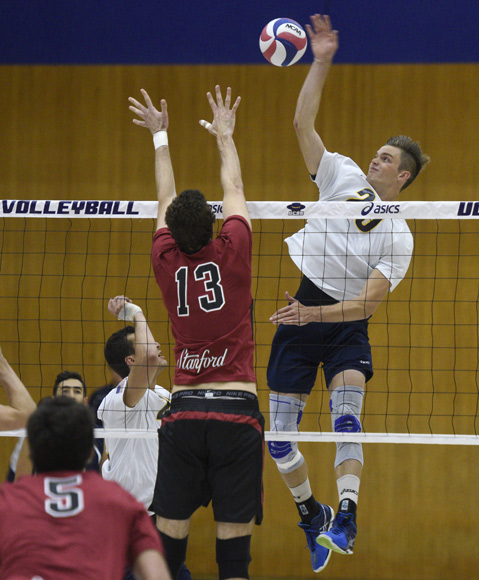 GAUCHO VOLLEYBALL:  Jonah Seif, UCSB's 6'8" All-American setter, stood tall in his final home match at Robertson Gym. Against No. 3-ranked Stanford, his distribution of 47 assists led the Gauchos to a four-set victory and a robust .360 hitting percentage. Another senior, Austin Kingi, had a team-leading 14 kills. UCSB will try to upset Stanford again Saturday night in Palo Alto and extend its season in the Mountain Pacific Sports Federation playoffs, a springboard to the NCAA tournament. The Gauchos' last appearance in May Madness was in 2011, when they finished runner-up to Ohio State.
BIG AL:  Alan Williams was overlooked in the 2015 NBA draft after he led the nation in rebounding at UCSB. The 6'8" post player signed with the Qingdao DoubleStar of the Chinese Basketball Association, where he was a dominating force on the boards. The NBA finally came calling last month when the Phoenix Suns signed Williams to a 10-day contract. The Suns recently committed him to a multiyear deal that will become effective if he makes their roster after training camp this fall. Jeri Williams may join her son in Phoenix, their hometown. After Big Al was recruited by UCSB, his mother, an assistant chief in the Arizona city's police force, was hired as Oxnard's chief of police. Now she is one of 10 candidates to become top cop in Phoenix.

SUDDEN BIG LEAGUER: Former UCSB pitcher Greg Mahle, a 15th-round selection (449th overall) by the Los Angeles Angels in the 2014 major-league draft, made a rapid rise through the professional baseball ranks. A week into the season, the Angels have promoted the southpaw to the Big Show. According to the L.A. Times, he is only the eighth player from the 2014 draft to move up to the majors, and the other seven were selected 55th or higher.
S.B. ATHLETIC ROUND TABLE ATHLETES OF THE WEEK
Addison Seale, SBCC swimming
The freshman won three events, set a new school record in the 200 breaststroke (2:32.36), and took second and swam on five relay teams that scored in the top three at the Pasadena Invitational.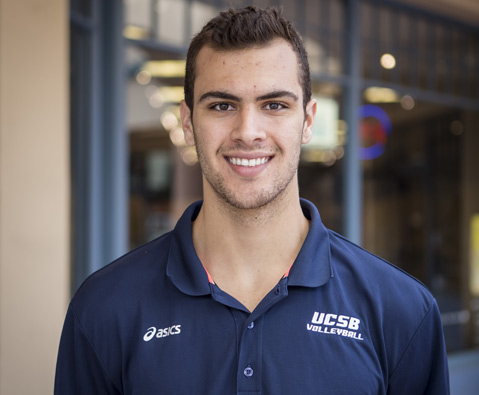 Jonah Seif, UCSB volleyball
In his last homestand, the senior setter led the Gauchos to four-set wins over Pepperdine and third-ranked Stanford. He had 47 assists in each match and, with 10 digs against Stanford, his sixth double-double of the year.