Briefs
L'Etape California Cyclists Heading up Gibraltar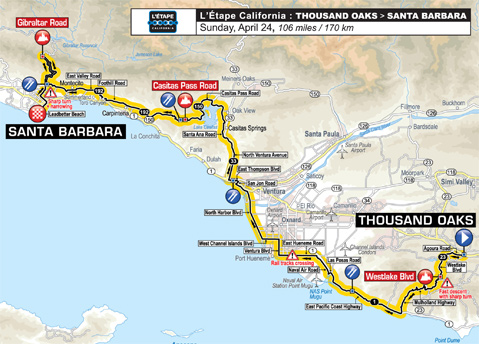 Six hundred cyclists will ride into Santa Barbara on Sunday, April 24, in the final miles of L'Etape California, a preview of the 2016 Amgen Tour of California. They will follow the 106-mile route of Stage 3 (which will take place May 17 during the professional race) from Thousand Oaks to the summit of Gibraltar Road.
German cycling legend Jens Voigt and four-time U.S. champion Freddie Rodriguez will ride in L'Etape (a French word meaning "a day's march") along with the amateur riders who signed up to experience perhaps the most challenging stage of the upcoming 11th annual Amgen Tour.
The final 10 kilometers will ascend the newly resurfaced Gibraltar Road at an average grade of 8% to the finish at an elevation of 3,300 feet. Organizers plan for most of the riders to go for the summit, but those having difficulty will be directed to an alternate finish at Leadbetter Beach. The first finisher is expected at 12:30 p.m.
The eight-stage Amgen Tour, featuring 18 elite men's pro teams, will kick off in San Diego on May 15 and conclude in Sacramento on May 22.