Briefs
UCSB Student Accused of Assaulting IV Pastor
Paul Gusman, Half Naked, Allegedly Punched Father Jon 30 Times in the Face
Paul Gusman, a 22-year-old UCSB student, was arrested early Saturday morning after he allegedly attacked well-known pastor Father Jon-Stephen Hedges at Hedges' Fortuna Road home in Isla Vista. Hedges, assistant pastor at St. Athanasius Antiochian Orthodox Church and UCSB's campus and community pastor, suffered "major injuries," said a Sheriff's Office press release, but he has since been released from the hospital.
Around 2:15 a.m. on Saturday, Hedges opened his front door after he heard a man yelling for help and "throwing his body against the front door." In what officials call a "bizarre" and seemingly random incident, Gusman — naked from the waist down — forced his way into the home Hedges shares with his wife, Khouria Hedges, and punched Father Jon over 30 times in the face before Khouria was able to call 9-1-1. She was hit in the right hand; Gusman suffered a hand injury that sent him to the hospital before County Jail.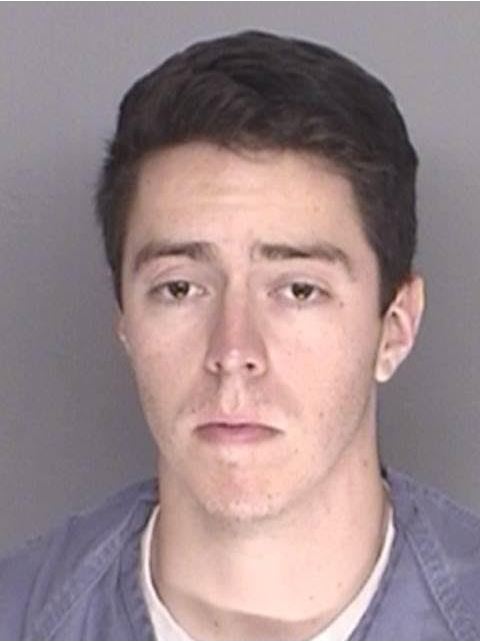 Isla Vista Foot Patrol officers discovered Gusman "standing in the front yard," half-naked, and apparently under the influence of drugs and possibly alcohol, said the Sheriff's Office release. No evidence suggests Gusman knew Hedges — a familiar face in IV who's lived in the college town since 1968, who graduated from UCSB himself, and who volunteers as a chaplain for the Sheriff's Office. The case remains under investigation, said Sheriff's Office spokesperson Kelly Hoover, who couldn't confirm whether or what drugs were in Gusman's system.
An IV resident and a third-year majoring in Geography, as UCSB's The Bottom Line first reported, Gusman's Facebook profile picture shows him dressed in a military uniform and holding a gun. He's been charged with assault intended to inflict great harm upon his victim, residential burglary, elder abuse, and dissuading a witness or victim. He's being held in County Jail on $500,000 bail before his arraignment on Tuesday.
A Facebook photo of Hedges after his release from the hospital shows him with a black eye, a bandaged eyebrow, and a bruised nose.