Briefs
Labrador Retriever Airlifted from San Rafael Wilderness
'Rex' Suffered Leg Injury While Hiking with Four Companions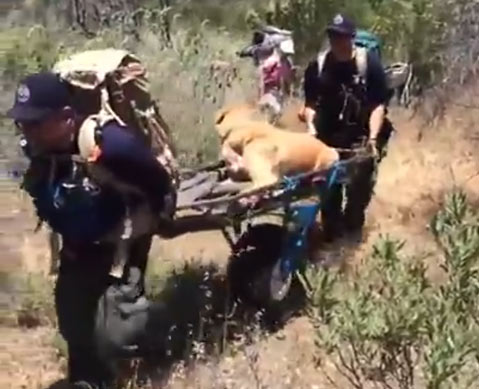 Four hikers and a 75-pound yellow Labrador Retriever named Rex were airlifted Monday from deep in the San Rafael wilderness after Rex sustaining a serious leg injury while hiking the day before, said Sheriff's Office spokesperson Kelly Hoover in a prepared statement.
On Sunday, a group of four hikers — two women in their thirties from Santa Barbara and Ventura and two boys ages 10 and 12 — were unable to traverse the six miles back to their vehicle at Nira Campground due to the severity of their dog's injury.
A hiker who found the group was able to make his way to cell phone reception and call 9-1-1 just after 7 p.m. Sunday. Due to the hikers' remote location, their extra day of supplies, and the situation's lack of immediate urgency, first responders instructed the hikers to stay put until the Santa Barbara County Sheriff's Search and Rescue team (SBCSAR) arrived the following morning at first light.
On Monday, a Santa Barbara County Air Support helicopter with members of the SBCSAR Team landed in the narrow canyon and hiked to Rex's location. The injured Labrador was carried to the helicopter and flown with the four hikers to their vehicle, which they used to drive Rex to the veterinarian.