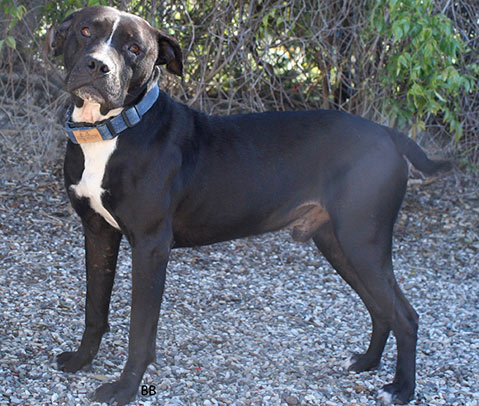 Rocket is a very friendly, handsome 4 yr. old neutered male Labrador Retriever mix, looking for that special person or family to give him a lifelong loving home. Rocket is a very happy-go-lucky dog and his tail is always wagging. He is friendly with adults, kids and gets along with other dogs. Rocket is well behaved, walks nicely on a leash, knows commands such as "sit" and "down" and is ready to learn more. He is currently participating in the K-9 PALS Dog Behavior Training classes. Rocket will be a wonderful companion for that lucky person or family that adopts him.
If you are interested in adopting Rocket, call 805-681-4332, at Santa Barbara County Animal Shelter, 5473 Overpass Rd., Santa Barbara, CA, during business hours, Mon-Fri 9 – 4:45, Sat 10 – 4. Rocket can also be seen at community outreach and adoption events, (that is, until he gets adopted).
To view more photos and information on other dogs available for adoption, go to the K-9 PALS website: K9PALS. K-9 PALS provides free dog behavior training sessions for people who have adopted a dog from any local shelter, rescue organization or humane society.
K-9 PALS – K-9 Placement and Assistance League, Inc.- is the all-volunteer, no-kill, non-profit 501C3 organization dedicated to providing humane care, forever homes and advocacy for homeless and abandoned dogs in Santa Barbara County and beyond. All donations to K-9 PALS go directly to benefit homeless and abandoned dogs of our community in order to save lives, and find forever homes for them. Information on K-9 PALS is available at K9PALS, or 805-570-0415, or info@k-9pals.org or at K-9 PALS, P.O. Box 60755 Santa Barbara, CA 93160-0755.