Briefs
Scherpa Fire: Saturday Morning Update
Blaze Jumps Slightly to 7,063 Acres with 24 Percent Containment
After doubling in size between Thursday night and Friday morning to cover 5,866 acres of Gaviota Coast, the Scherpa Fire appears to be losing steam as the gusty sundowner winds that had been feeding have also quieted.
As of 1 a.m. Saturday morning, the fire increased slightly to 6,321 acres, with 20 percent contained. By the time the sun was rising, the estimate was 7,063 acres and 24 percent containment. Instead of racing south out of the canyons and toward Highway 101 as it did the previous two nights, the blaze remained more inland Friday evening, boxed in by a steady bombardment of water and retardant drops from air tankers and helicopters, as well as ground attacks by more than 1,200 firefighters from across the state.
Crews made good progress Friday along the western edge of the fire, commanders reported, as firebreaks were cut throughout the evening. Teams are also looking for places and opportunities to construct additional lines on the east side of the Scherpa, they said. The fire continues to move up Corral Canyon and eastward toward Santa Ynez Peak; its strongest flanking movements are toward the east and southeast.
Though Friday night brought better news for worried South Coast residents, the fight is far from over, officials warned. Additional rounds of 35-45 mph sundowner winds are expected through the weekend and Monday, the strongest gusts occurring between 8 p.m. and midnight. Conditions Sunday morning through Monday may approach Red Flag status, weather forecasters said.
Humidity levels will likely drop Saturday night from the current 60 percent to between 30-40 percent, and then down to 15-25 percent by Sunday evening. Temperatures are predicted to reach 90 degrees along the coast and above 100 degrees inland. Winds by then are expected to shift more north and northeast.
Highway 101 remains open, and Calle Real is closed between El Capitan and Refugio. Mandatory evacuation orders are still in place for El Capitan Canyon, El Capitan Ranch, El Capitan State Beach, Refugio State Beach, Refugio Canyon, Venadito Canyon, and Las Flores Canyon. Fire crews have so far succeeded in protecting all home and ranching structures in the affected area, save for a water treatment plant above the El Capitan campground, which burned overnight. Damage has also been reported to some cattle grazing fields, olive groves, and avocado orchards.
The estimated incident costs to date are $1.5 million. A unified command of the U.S. Forest Service, CAL FIRE, and Santa Barbara County Fire continue to oversee firefighting operations. Currently on-scene are 83 engines, 33 hand crews, 9 dozers, 4 water tenders, 6 helicopters, 4 large tankers, and one DC-10. The cause of the fire has not been announced.
Friday morning, the County of Santa Barbara declared a Local Emergency, which freed up additional resources for response and evacuation efforts. The designation also allows Governor Jerry Brown to declare a State of Emergency if the situation takes a turn for the worse.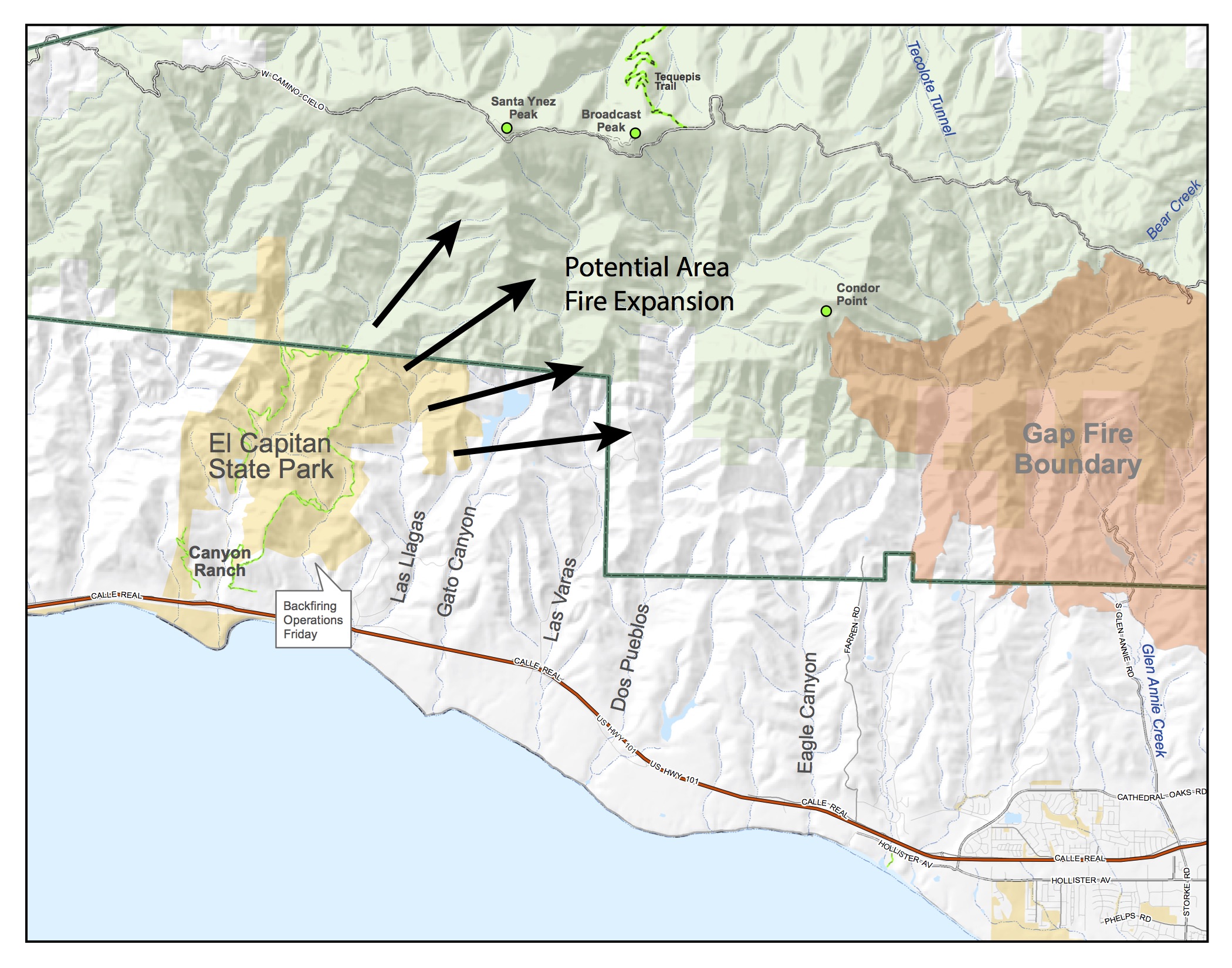 Related Links
See Indy Readers' Scherpa Fire Photos here.
Full Scherpa Fire coverage here.