Sports
Lakers Learn from Luke at UCSB
New Coach Walton Shifts Toward Team Ball; Plus, Bye to Vin, Ravelomanantsoa, and Carbajal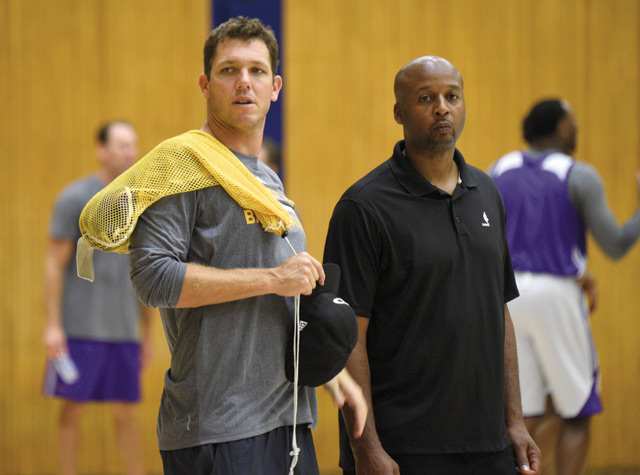 Metta World Peace is a 16-year NBA veteran who was fighting for a job last week at Mecca World Hoops, another name for Santa Barbara when it comes to basketball training camps.
The Los Angeles Lakers launched a new era under head coach Luke Walton with six days of energetic workouts at UCSB's Robertson Gymnasium. World Peace, 36, is the oldest of the 20 players currently on the roster. It is heavy on youth, featuring three years of high draft picks — power forward Julius Randle (2014), point guard D'Angelo Russell (2015), and small forward Brandon Ingram (2016) — with an average age of 20.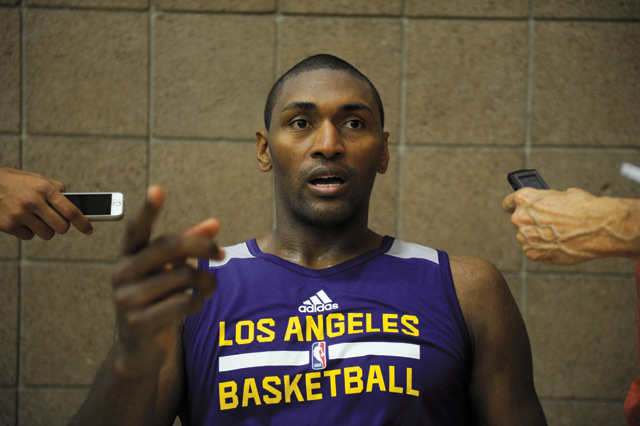 Walton, 36 himself, found the players to be highly motivated. "They play hard, which I love," he said after a session. Most of the early work was defense, the aspect of the game based on effort. The theme on the offensive side is movement and sharing the ball, the style characteristic of the Golden State Warriors, where Walton coached alongside Steve Kerr. "It's huge," he said. "That's how we expect to play this year. A lot of guys aren't used to playing that way, but we're going to keep harping on them."
World Peace was impressed. "I'm learning so much," the veteran forward said. "[The coaches] have great basketball minds."
The Lakers' camp was a homecoming for assistant coach Brian Shaw, who led the UCSB Gauchos to their first NCAA Division 1 play-off appearance in 1988. He picked up three championship rings as a player for the Lakers and two more as an assistant, before plying his trade in Indiana and Denver. Walton brought him back to L.A.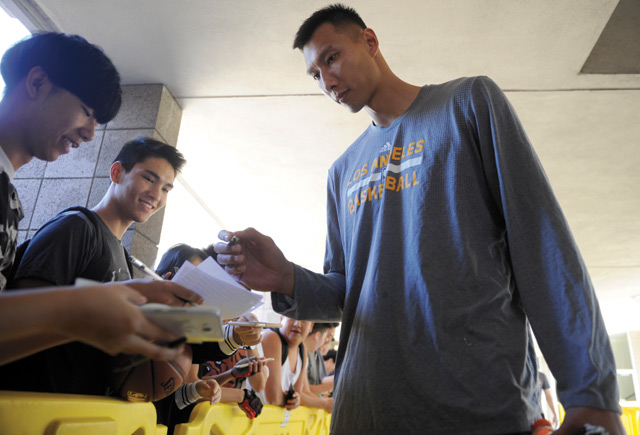 "I was on the staff for seven years when Luke was a player here," Shaw said. "He's always had an aptitude for the game and good rapport with the players. We have a young group, and we have our work cut out for us, but I think he's the right person at the right time."
The Lakers were a disjointed group last year, flaming out with a 17-65 record in a season that turned into a prolonged Kobe Bryant farewell tour. Now it's team first. "The Golden States, San Antonios, even the Clevelands have demonstrated that team ball is hard to defend," Shaw said.
Speaking of Cleveland, the Cavaliers spent several days at UCSB the previous week. "Every summer, LeBron James organizes his team in a mini camp," Shaw said. "I'm really close with [Cavs coach] Tyronn Lue, and we talked about places they should go. Santa Barbara is a beautiful place."
It's beautiful to Bill Bertka, who has resided here throughout his 35 consecutive seasons with the Lakers organization. He is the special assistant to the general manager, Mitch Kupchak. "I've seen us go up and down over the years," said Bertka, 89. "I believe this is the start of my last upswing."
OVER AND OUT: "I have said enough for a lifetime, and for the last time, I wish you a very pleasant good afternoon." With those words Sunday, Vin Scully ended the final game of his 67-year career as the voice of the Dodgers. It was well worth an hour's drive to find a TV connected to the L.A. network and hear vintage Scully for nine innings. … Another announcer of note, Dick ("Oh, my") Enberg, also worked his last game for the San Diego Padres. There was a time when L.A. had a quartet of superior play-by-play men — Scully, Enberg (Rams), Chick Hearn (Lakers), and Bob Miller (Kings). Only Miller remains on the job. Hearn's rapid-fire delivery fit basketball as perfectly as Scully's easygoing pace was meant for baseball. He announced 3,338 consecutive Laker games and might still be going if his health hadn't failed him. He died in 2002.
IN MEMORIAM: Jean-Louis Ravelomanantsoa was the most exciting athlete ever to attend Westmont College. When he enrolled there in 1970, he was a 27-year-old sprinter from Madagascar who had already competed in two Olympic Games. He entered his prime in 1971, becoming the No. 2–ranked sprinter in the world. An untimely injury knocked him out of a showdown against Valeriy Borzov at the Munich Olympics in 1972. Ravelomanantsoa, a compact 5′5″ and 155 pounds, came out of the starting blocks like popcorn. In a fantasy 100-meter race against Usain Bolt, I'd bet on Jean-Louis to win the first 50. Ravelomanantsoa, 73, died on September 27 in Lyon, France. … Frank Carbajal was another man who proved that tough competitors come in small packages from humble beginnings. One of 11 children whose family picked crops, he became a winning basketball coach. In 10 years at SBCC (1978-88), Carbajal guided the Vaqueros to two State Community College Final Fours, finishing runner-up in 1984. His teams here, as well as those at DeAnza and Hartnell colleges, were known for their grit. Carbajal died on September 29 in Fresno, where his memorial will take place Saturday.
HALL OF A CAREER: John Stoney, retired San Marcos High athletic director, coach, and sports official, has for years been stationed outside the Ranchero Room at Harry's Plaza Café, admitting people to the Santa Barbara Athletic Round Table luncheons. On October 12, Stoney will be going to a luncheon at The Grand hotel in Long Beach, where he will be inducted into the CIF Southern Section Hall of Fame. n
GAME OF THE WEEK
10/7: High School Football: San Marcos at Santa Barbara It's the 57th edition of the "Big Game" that began in 1960. The S.B. Dons have dominated the rivalry since 2010, winning five of six games, to take a 32-24 lead in the series. Friday's game is the Channel League opener, a fresh start for both teams. The Royals (0-6) seek their first win. The Dons (2-4) hope to get the league off to a good start after just missing a play-off berth last year. 7pm. Peabody Stadium, 700 E. Anapamu St. $3-$8. Call (805) 966-9101.
SB ATHLETIC ROUND TABLE ATHLETES OF THE WEEK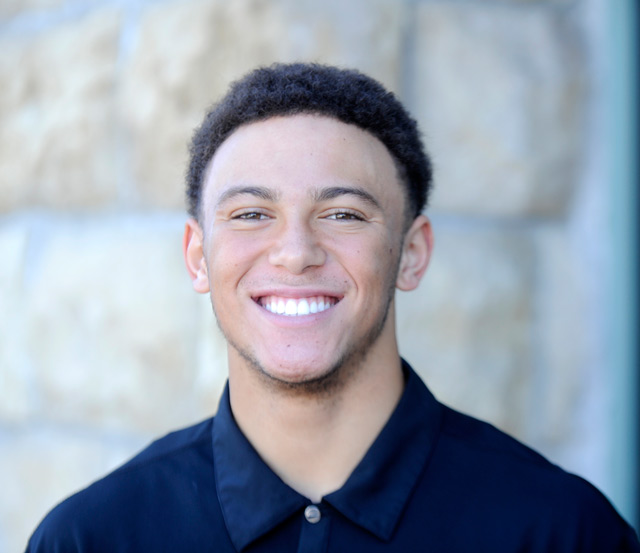 Demetrius Vinson, SBCC football
The freshman from Modesto scored a school-record five touchdowns in the Vaqueros' 47-18 victory over College of the Desert. He rushed for 188 yards on 17 carries.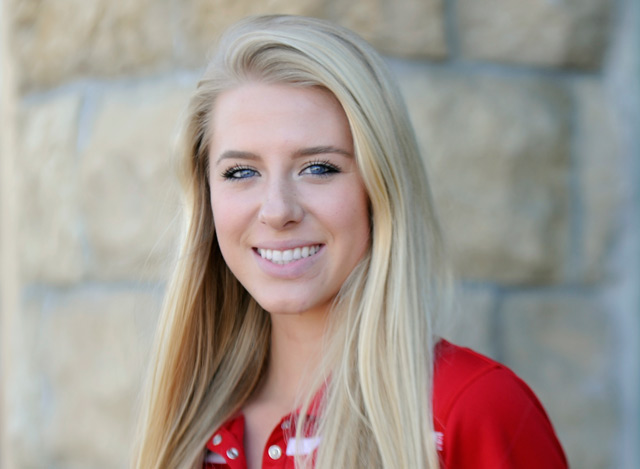 Alex Pitchford, San Marcos golf
Facing a Dos Pueblos team that had not lost a Channel League match in 17 years, the senior shot a career-best 39 as the Royals won by five strokes, 217-222.