Arts & Entertainment
Go to Hale Holds a Bob Dylan Celebration
Lobero Film Series Continues with Dylan 30th Anniversary Film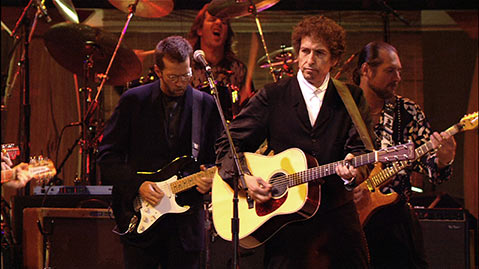 Forget Patti Smith's wobbly rendition of "A Hard Rain's a-Gonna Fall." If the Nobel Prize committee had any sense, as soon as they realized that Bob Dylan was not going to show for the ceremony, they would have just slapped on the incredible film known as Bob Dylan: 30th Anniversary Concert Celebration. This star-studded affair took place at Madison Square Garden in October 1992 and featured an extraordinary cast of musical legends. One by one, the greatest popular musicians of the era got up and did their best to bring out the genius in Dylan's songs, and, by and large, they succeeded. On Friday, January 13, Hale Milgrim continues his entertaining and educational Go to Hale film series at the Lobero by screening highlights from that show and offering his always trenchant and amusing commentary. Although the audio CD of the night was remastered and re-released in 2014 with some additional tracks, Milgrim will undoubtedly have video rarities to share, and that means getting a peek at some of the show's more obscure, but still fascinating, moments.
What might they be? Lou Reed tossed off a powerful version of "Foot of Pride," a long and enigmatic unreleased Dylan song that he cribbed from bootlegs. That would be interesting to see. It's likely that the acoustic "Masters of War" by Eddie Vedder and Mike McCready will make it, as will Eric Clapton's blazing "Don't Think Twice, It's Alright" and Milgrim hero George Harrison's tender take on "If Not for You."
Perhaps the most amazing thing about this carnival of Dylan-worshiping megastars is how completely they gave themselves to the project. Just sample John Mellencamp's "Like a Rolling Stone" or Johnny Winter's frantic "Highway 61," and you will hear immediately what total immersion in a songwriter's universe sounds like. In addition to the clips and Milgrim's remarks, the event, which begins promptly at 7:28 p.m., will also include a silent auction of some great memorabilia, with all proceeds going to benefit live music at the Lobero Theatre (33 E. Canon Perdido St.). For tickets and information, visit lobero.com or call (805) 963-0761.