Sports
Women's Water Polo Power
Santa Barbara Tournament of Champions Brings Olympic Dreams to the Pool
As high school competitions go, it would be hard to surpass the quality displayed by the girls' water polo teams in last weekend's Santa Barbara Tournament of Champions.
The Laguna Beach Breakers swept to the title, defeating San Marcos 15-6 in the semifinals and Mater Dei 11-5 in the final. Laguna Beach senior Aria Fischer was named Most Valuable Player, an honor that often stamps a player as an Olympic prospect, but Fischer was ahead of the game. She missed her junior year with the Breakers to train with the U.S. national team and came home with a gold medal from the Rio Olympics.
The road to the Olympics led through Santa Barbara for many other players, including Makenzie Fischer, Aria's older sister and the tournament MVP in 2014 and 2015; Dos Pueblos High's brilliant Kiley Neushul, another two-time MVP (2010 and 2011); standout DP goalie Sami Hill (2009); and Santa Barbara High's powerful Kami Craig (2004), a three-time Olympic medalist.
It is no coincidence that the players are getting better at a younger age. "The first few years, it was a big deal to get a kid started [at water polo] in the 8th grade," said Santa Barbara High coach Mark Walsh, who started the Tournament of Champions in 2000. "You'd teach swimmers how to play a game, or you'd teach burned-out soccer or basketball players how to swim. Now the age-group programs are developing them. They're going on international trips. Somebody like Ryann Neushul may play 500 games before high school."
Ryann, a Dos Pueblos junior, is the third Neushul sister to excel in water polo, following Kiley and Jamie, past and present All-Americans at Stanford. Both their parents played the sport, and they have been coached at the club level by their mother, Cathy Neushul. "This is a water polo town," Ryann said. "The players and coaches have worked really hard to make it that, to make people really want to be a water polo player in this town."
Kiley Neushul led Dos Pueblos through a remarkable streak of 69 consecutive victories while winning four consecutive CIF titles. A year ago, Laguna Beach brought a 63-game winning streak into a match at DP, and Kiley's younger sister helped the Chargers stop it there with an 11-7 victory.
"There are great programs in town that provide the experience for kids to improve," said San Marcos High coach Chuckie Roth, citing the Santa Barbara 805 and Santa Barbara Premier water polo clubs. "In this day and age, that's what you have to do to be good."
San Marcos took third place in the Tournament of Champions, its highest finish ever, by topping Dos Pueblos 9-7. Paige Hauschild, who scored five goals for the Royals, benefited from playing club water polo and making the U.S. national youth team along with Aria Fischer and the Dos Pueblos trio of Ryann Neushul, Abbi Hill, and Jewel Roemer.
Hauschild, a senior, is committed to play at USC next year. "I enjoy all the teams I play on," she said. "I grow a lot during the high school season, not only as a player but as a person. Brittany Prentice and I are the captains. We've taken on the job of helping out the young girls." Ryann Neushul similarly said that high school was "a learning experience. It teaches you to be a leader."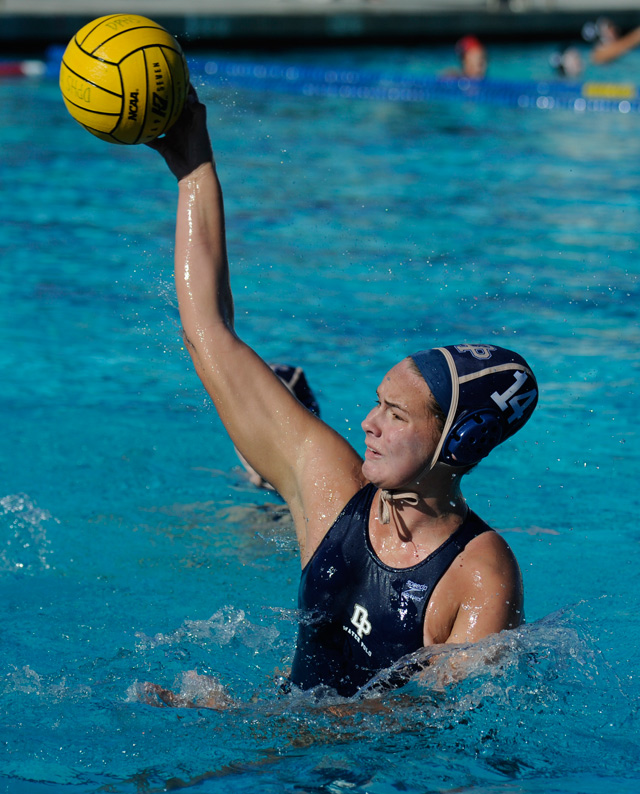 Abbi Hill, like Neushul, is following in the path of two older sisters: Sami, a UCLA graduate, and Kodi Hill, a senior with the Bruins. Their mother was a basketball star at San Marcos and BYU. "She always talks about wanting one of us to play basketball," said Abbi, a DP sophomore. "I think we were born to be in the water. It's a really nice way to get to college."
The Tournament of Champions brought 24 teams to Santa Barbara, making it a destination for college recruiters. A coach from Princeton said that 90 percent of the Tigers' roster hails from California.
UCSB TOURNAMENT: The college women's water polo season gets underway this weekend, January 20-22, at UCSB's Winter Invitational. Coach Serela Kay's Gauchos, defending champions of the Big West Conference, will host three of last year's top four teams: No. 1 USC, the defending NCAA Champion; No. 3 UCLA, and No. 4 Michigan. The Gauchos finished the year with a No. 9 ranking after making their first appearance in the NCAA tournament. Among their returning players is Sophie Trabucco, a defensive specialist out of Santa Barbara High.
DONS OF DISTINCTION: The Santa Barbara High Athletic Hall of Fame will be formally launched on Thursday, January 26, with the induction of five individuals: Randall Cunningham, a football star who also excelled in track and field; tennis champion Alison Hardey; baseball standout Ryan Spilborghs; and a pair of graduates who have supported the Dons over the years, Peter and Gerd Jordano. Recognition will also be given to dozens of Dons previously honored by the booster organization Ye Ole Gang. January 19 is the deadline for reservations to the Hall of Fame dinner at the Cabrillo Pavilion. Visit yeolegang.com or call 966-9101 x5006.
GAME OF THE WEEK
1/21: High School Soccer: San Marcos at Santa Barbara Santa Barbara High announced that the fourth annual Super Soccer Showdown between the crosstown rivals has been moved to SBCC's La Playa Stadium because the rains have soaked the natural grass field at Peabody Stadium. Six games are on tap, beginning at 10:30 a.m. with freshmen-sophomore teams, followed by junior varsity and varsity. Santa Barbara's boys, 13-1-4 through last week, were ranked No. 4 in CIF Division 1. Proceeds from admission fees and the snack bar will benefit the Dons' soccer program. Varsity matches: girls: 5pm; boys: 7pm. S.B. High School, 700 E. Anapamu St. $3-$5. Call 966-9101.