Briefs
Santa Barbara's Massive Women's March
Organizers, Police Stunned By Turnout of 6,000-Plus
More than 6,000 protestors gathered, thronged, and rallied in De la Guerra Plaza this Saturday — far more than anyone can remember happening before, and way beyond what police and organizers alike expected — in response to the inauguration of Donald J. Trump as 45th President of the United States. Like the bigger marches taking place in Washington D.C., Los Angeles, and throughout the nation and the world, Santa Barbara's rally was a women's march, though many men participated and many issues other than women's rights were championed.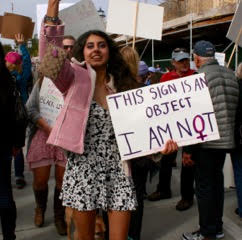 The prospect of a Trump White House has horrified and galvanized Santa Barbara's liberal and Democratic residents, but the spirit at Saturday's rally was defiantly upbeat rather than angry. Many participating spent considerable time crafting placards to carry. "Make America Sane Again," read one. "Love Trumps Hate," read another. Many riffed on Trump's infamous boast about getting away with "grabbing women by their pussy," and others expanded on this theme, carrying signs reading "Viva la Vulva," or "My Pussy, My Choice." One male protestor referenced his own genitalia, with a sign reading, "No Dick-tatorship."
After listening to speeches by Santa Barbara Mayor Helene Schneider, councilmember Cathy Murillo, Assemblymember Monique Limon, and Planned Parenthood executive Jenna Tosh, the crowd marched down State Street to the beach. While most turned around and marched back to De la Guerra Plaza, a sizable group split off and headed to Pershing Park.
Like event organizers, Santa Barbara police had little idea how many protestors to expect. Organizer Michal Lynch, a bookkeeper and folk dance instructor, said she initially envisioned a small group of about 50 marching to make a quiet but determined statement of solidarity with the larger march taking place in Los Angles. As of Friday, Lynch said she'd gotten social media confirmations of intent from 3,500. By Saturday, that number had ballooned to 4,500.
Police assigned 31 sworn officers to provide traffic control for the event. At one time, the marchers extended all the way from State and Del La Guerra streets to State and Yonanali. Long time activists attending the rally — who remember participating the protests of the 1970s — said they could not recall a more populous display of political disapproval. Protest organizers took pains to stress harmonious relations with city police — "If you can, thank an officer for looking out for you," Lynch told the crowd — and the officers reciprocated in kind. No arrests were made. No Trump supporters sought to heckle the protest marchers either.
Mayor Helene Schneider congratulated the crowd for turning out in such large numbers. "This is the first step: to show up," she roared. "So we've shown up." Step Two, Schneider said, was to "speak up," for women's rights, the environment, and transparency in government. "Step Three," she said was to "rise up," and "step four" is to "act up," by which she meant getting involved, staying involved, and voting.
Councilmember Cathy Murillo, a semi-announced mayoral candidate, urged those in the crowd to participate in politics at the local level. "We need you to be there to help us make the change we need to make," she said. Monique Limon, recently elected to the state Assembly, pledged to work with fellow legislators to make California "the light of the nation" when it came to resisting the Trump policy agenda, particularly as it related to maintaining protections built into the DREAM Act.
Trump has advocated the elimination of future federal funding for Planned Parenthood. Should he succeed, warned Jenna Tosh, executive director for the Central Coast's Planned Parenthood network, it would seriously affect the 35,000 people a year for whom Planned Parenthood provides an array of services ranging from sex education, birth control, and cancer screenings, to abortion. The people most affected, she said, are the ones who can least afford to get such health care elsewhere.
President Trump, Tosh said, needs to stop listening to Jeff Sessions, his aggressively anti-choice nominee for Attorney General, and Georgia Representative Tom Price, who believes life begins at conception and is Trump's nominee for Secretary of Health and Human Services. Instead, she said, Trump should listen to the seven out of ten people who support Planned Parenthood, the one in every three American women who've had abortions, and the 48 percent of Trump supporters who also support Planned Parenthood. "We are watching and we will not stand idly by while all our rights are taken away," declared Tosh. She then led the crowd in a spirited chant. "What do we want?" she'd ask. "Women's rights!" they'd call back. "When do we want them?" she'd ask. "One hundred years ago!" they'd answer.
Organizing for Santa Barbara started almost as an afterthought about ten days ago. At that time, many Santa Barbara activists were planning on travelling to Los Angeles for the march there that ultimately drew more than 500,000. But for older residents disenchanted by the prospect of Trump's presidency, the trek to Los Angeles — and the fight through traffic getting there entailed — was prohibitive. For younger people with kids, the same.
Michal Lynch, a 30-year resident of Santa Barbara, took it upon herself to get the ball rolling for a local march. "If we cobbled 50 people together to take a stroll down State Street," she recalled, "at least we'd be making a statement." Lynch said she'd never tried anything like this before. She praised city police for working with her. "It was the easiest thing in the world." She praised others in the activist community, who quickly responded to her calls for help. "Now look at what you did!" she exclaimed to the crowd.