Film & TV
Bokeh
Writers/directors Andrew Sullivan & Geoffrey Orthwein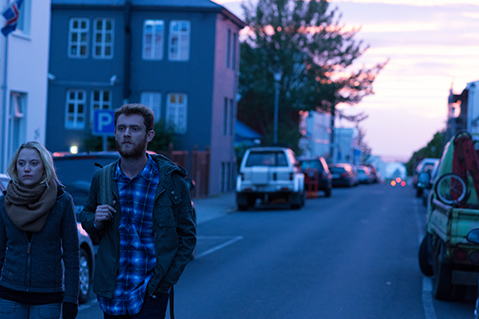 Imagine if you woke up one morning and you were one of the last two people alive on Earth. Bokeh plays with this idea with impressive simplicity through its two characters, Riley and Jenai, as they attempt to make sense of mankind's overnight disappearance. With stunning imagery and eerie silence, the film allows viewers to create their own interpretations of what the end of the world means.
See bokehthemovie.com.
Why did you decide to film in Iceland?
A lot of films are shot in Iceland, most treat Iceland as another world or another time, few use Iceland as Iceland. We wanted to use the land as a way to tell our story. The colors and landscapes change as the story progresses. We could use some of the more surreal, alien-looking locations to emphasize certain parts of the narrative. Because much of Iceland's power is generated through geothermal plants, we took that, with a little presumed automation, and it let us have an end of the world where the infrastructure is not crumbling. Also, in June, Iceland has 23 hours of daylight per day. Since we were telling the story of the last two people on earth, we could shoot at 3am in the empty streets of Reykjavik and it would look like morning.
What inspired you to make this film?
We love cerebral science fiction stories. The Twilight Zone is a favorite of ours. Narratives where the conceit may be extreme, but the stories are still just about the people that are put into an intense situations and how they choose to handle those moments. We wanted to see what would happen when the world ended without armageddon, zombies or some dystopian future. Lo-FI Sci-Fi has the ability to be more relatable, it asks the audience to envision what they would do if they were in this situation. This gave us a narrative framework as we were reacting to some of the discord in the world right now. The tensions, just in our own country, whether they be political or philosophical, are driving people apart. What do you do when you're your own worst enemy?
What is the relationship to the film's title and the photographic technique, bokeh?
Bokeh is the blur, the out of focus part of the photo. In life, we choose what we focus on and what we blur. We wanted to tell a story of two people who continue to change their priorities, their ideals, their focus based on an altered world. They are defined not just by what they focus on, but what they choose to blur. One of our two characters, Riley is a photographer, he uses a twin reflex camera to capture moments. At times, Riley chooses to see the world through a lens instead of just lifting his head up and experiencing the world as it actually is. One of the features of the twin reflex camera is that you look through one lens while the second lens takes the photo. In essence, Riley's view through the lens and what is shot are slightly different, always a little off.
Were you worried about creating a film centered around, more or less, just two characters?
Simple answer, yes. We asked ourselves if we could tell a relevant and compelling story about the last two people on Earth. This became even harder to figure out because we removed a lot the physical dangers that come with apocalyptic movies. Essentially, we chose to make a more cerebral science fiction film about a couple and tried to avoid having them constantly narrate their feeling to each other throughout the film. We learned to embrace the quiet nature of the film.
Why did you decide not to disclose the reason for mankind's disappearance?
When we came up with the idea, one of our first decisions was to not determine why "The Event" happened. We didn't want to know more than Riley and Jenai know in the film. Also, an event like this is less interesting to us than how our protagonists handle it. This type of event can act as a mirror for the audience. Regardless of whether the event is religious, alien, or an unnatural occurrence, our characters still have to deal with this new, empty world whether they were chosen, forgotten or none of the above.
What are your plans for releasing this film to a wider audience?
We are very fortunate that Screen Media Films came onboard to distribute Bokeh. They are releasing the film day-and-date in select theaters and online on March 24.