Briefs
California Holds Its Breath on Gas Tax Vote
Santa Barbara County Could Gain $135 Million for Roads and Transit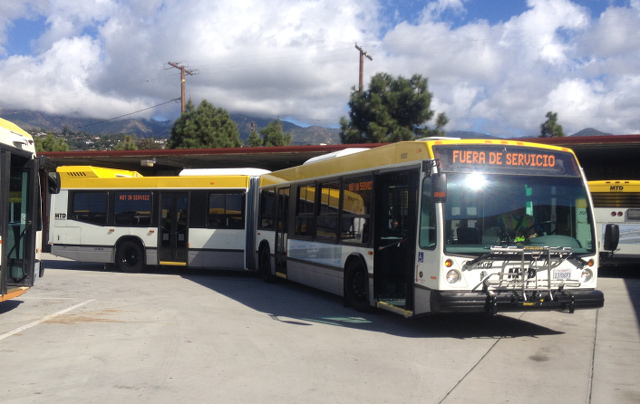 [UPDATE]
The gas tax passed California's Senate and Assembly by exactly the number of votes it needed to make it to Governor Brown's desk late Thursday night. Several swing districts received perks — $427 million to Riverside for transportation, according to the Mercury News, and train service to Ceres and Merced — as did the trucking industry, which saw vehicle replacement and upgrade rules relaxed. The governor promoted the tax as adding jobs and improving safety, including for old bridges, and vowed to work on climate programs to aid communities affected by dirty air from older trucks.
[ORIGINAL STORY]
Governor Jerry Brown has hopes for passage of a bill to raise $52.4 billion over the next 10 years for the state's roads and bridges, as well as increase funding for transit and safety. Santa Barbara County as a whole could gain as much as $135 million more for roads and transit. To pay for it all, gasoline would face an additional 12-cent-per-gallon tax on November 1, autos a fee scaled by price in 2018, and electric vehicles a $100 surcharge in 2020, if Senate Bill 1 passes. A diesel tax increase from 16 cents to 36 cents could raise as much at $730 million over 10 years.
The numbers are apparently changing as deals are cut as SB1 travels through the State Senate and Assembly. According to Assemblymember Monique Limon's office on Wednesday, more than $32 million per year would be available to transit countywide over the decade, including $6.9 million to the Metropolitan Transit District.
The county has had to dip into the general fund the past three years to keep the streets smooth, pothole-free, and safe, said Scott McGolpin, the county's director of Public Works. Over the course of the decade, the county could receive $91 million more. It would take two to three years before the money materialized, he added, saying he was just happy that Sacramento was listening.
The Santa Barbara County Association of Governments, an agency composed of reps from the county's eight cities and unincorporated areas, could receive $12 million more in what is called the State Transportation Improvement Program, said Gregg Hart, the agency spokesperson.
As the bill heads toward a vote, Republicans have been vigorously raising the alarm of new taxes. Santa Barbara's cities of Santa Maria, Guadalupe, and Lompoc fall in District 35 represented by Assemblymember Jordan Cunningham. He's a coauthor of a competing bill, AB 496, which states it can also raise about $7.8 billion over several years without raising taxes. Instead, AB 496 sends various transport-oriented fees – like vehicle sales taxes and truck weight fees – directly to transportation funding instead of partly to the state's general fund, where the money does things like pay the interest on transportation bonds.
In a statement, Cunningham said, "I believe [the majority party's] plan relies too much on tax and fee increases on working families and does not have enough structural reform." The reforms include repealing the "road diet" – which slows traffic to prevent traffic deaths – because it "blocks projects that reduce traffic congestion." A CEQA exemption for road repair projects is proposed by Republicans, as well as the creation of a Transportation Inspector General.
"Something needs to be done to address these needs," said Assemblymember Monique Limon, who represents the county from Buellton southward and part of Ventura County. She was in favor of SB 1 as it read on Tuesday. "I am waiting to see the final language for the bill," she said, "and hear the bill in the Assembly on Thursday."
Editor's Note: This story was corrected on April 7 and 13. It is $7.8 billion, not $5.6 million, that AB 497 proposes to raise, and editor has slapped self on head for missing the numbers.