Briefs
S.B. Couple Embarks on 43-Day Condor Trail Journey
Monica and Justin Kennedy Hike for the Wilderness and Their Labor Union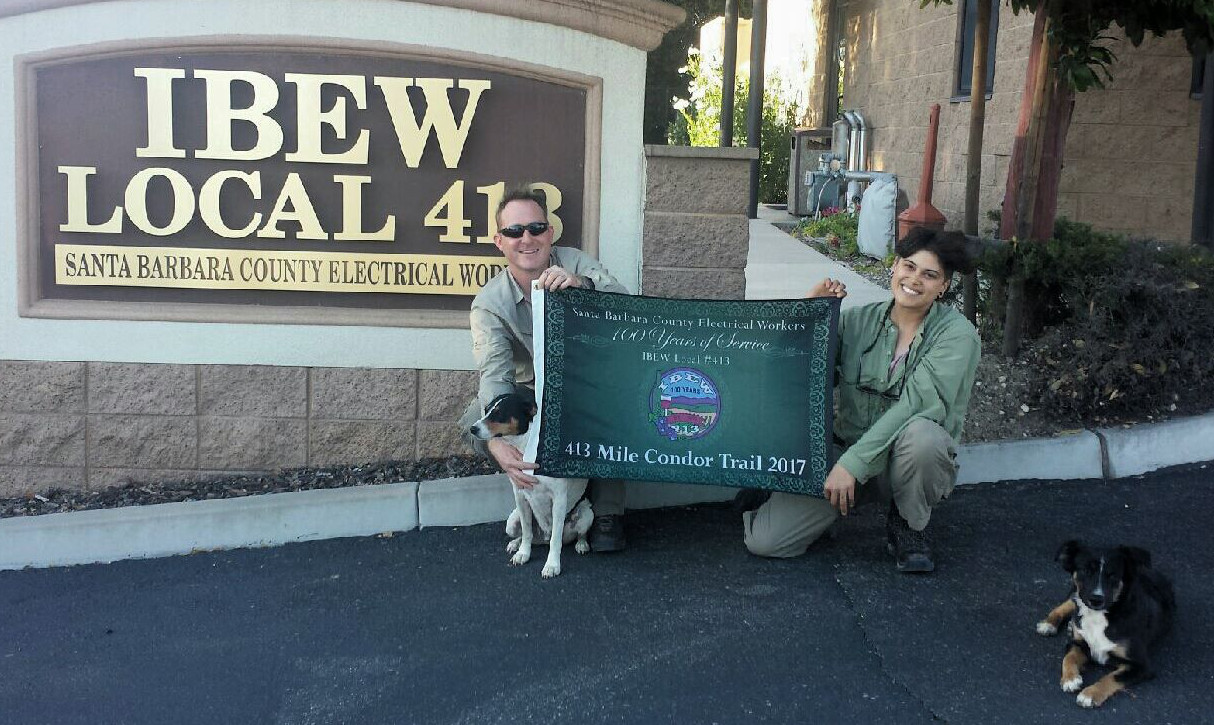 Last Thursday, Monica and Justin Kennedy began their 43-day hike of the Condor Trail across the Los Padres National Forest with their two eager dogs, Emma and J-Dog, in tow. They plan to hike all 411 miles of the trail – which stretches from Monterey County down to Los Angeles – in one trip and camp every night except for two. When they finish, they'll become only the second and third persons to complete the journey. Emma and J-Dog will be the first dogs to do so.
Monica and Justin are seasoned backpackers, having met four and a half years ago, and have made several journeys together throughout the San Rafael Wilderness. They have even hiked parts of the Condor Trail before. But their next trip will be no walk in the park.
While offering a beautiful view of Los Padres, the trail is largely isolated and features difficult terrain. According to Justin, "This has only been put together since 2015 in its current form by connecting a series of smaller, existing trails, so there has been only one person who has through-hiked it before." But the Kennedys are ready for the challenge and have been preparing for the past six months by mapping out their route with Los Padres Association, compiling 43 days' worth of food, and saving money to cover trip and home expenses while they're gone.
For the Kennedys, however, this adventure is not just about expanding their backpacking horizons. "We are doing this to promote awareness and support for the Condor Trail and the many wilderness areas it traverses," said Justin. As volunteers with Los Padres Association and frequent hikers, they recognize the beauty and value of such areas.
Furthermore, the Kennedys plan to make a two-mile detour so their total distance hiked – 413 miles – will match the number of their local union chapter, International Brotherhood of Electrical Workers Santa Barbara Local Union 413, which is celebrating its 100-year anniversary this year. Both Justin and Monica are proud members. "We have helped build everything from Vandenberg Air Force Base to local schools to traffic intersections to Cottage Hospital," said Justin of the chapter's contribution to Santa Barbara. Currently, Monica is working on a project to put solar panels up at UC Santa Barbara and Justin is working on the restoring Entrada De Santa Barbara downtown.
To follow Monica and Justin Kennedy on their Condor Trail trip, visit their Facebook page.