S.B. Questionnaire
The S.B. Questionnaire: Amy Cooper
Talking retail integrity with the owner of Plum Goods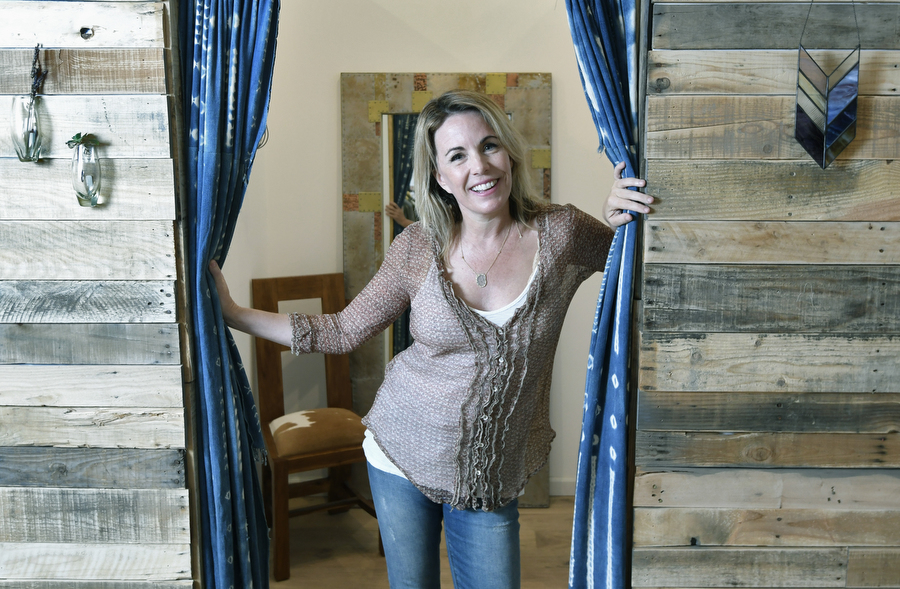 Asked about the challenge of operating a store on State Street in the current economy, Amy Cooper, the owner of State Street's Plum Goods Store, says, "I've always had the ability to see the best in any argument — I have known how to maximize the strengths and minimize the weaknesses." Bucking the recent trend of unsuccessful retail, Amy recently expanded her gift store with more real estate to include clothing — she just opened a little Plum Goods in the Funk Zone's Waterline Project. Plum Goods carries handcrafted, fair trade, local and recycled products. "Santa Barbara is the perfect place for a store like this," Amy shares enthusiastically. "Beautiful things made with integrity."
There's a lot of positivity and good vibrations while you sit to chat with Amy. "When I decided to open Plum Goods in October 2010, everyone thought I was insane," she says. She'd never been in retail. She'd never been a buyer. But she wanted to create an environment. "I needed to go big or not try it at all," she explains.
She came from the Bay Area. She went to college for about two years and decided to take a year off and get a real job as a receptionist for the PR company PBN. Soon after she started, she found herself writing press releases. She finished her degree in communications at Mills College in 1991, but continued working in PR. She got a job at Kamer Singer communications, where one of her big clients was the San Francisco Marriott. She was only 24 years old. Charles Schwab hired her in 1995 to work on a million-dollar campaign to help their employees understand the overall vision of the company. "I was good at selling someone else's business," she confides.
In 1996, she followed her husband, Matt Cooper, to Santa Barbara after he'd been offered a promotion at Territory Ahead. She worked for the now-defunct Santa Barbara Civic Light Opera as their development director. She eventually created her own freelance company and helped companies like Horny Toad with their brand marketing. "It's weird to think about all the things I've done," she says with a laugh.
After her daughter was born, she asked herself what would make her happy. She had always found the gift store Imagine to be her happy place, and understood that Plum Goods was something that was missing in Santa Barbara: a local, experiential, and carefully curated store. It's all about creating an environment more than selling. She gives a lot of credit to Fabian Ojeda, the creative director for the business. "He's so good at picking music," she says. "The music we play is a big part of our success." They have their own Spotify channel.
Amy lights up when she starts talking about the new clothing side of Plum Goods. "Did you know that 'fast fashion' and 'trendy cheap' clothing is the #2 polluter of the environment?" she asks me. "My passion is to make a difference." The store is carrying hard-to-find brands like RIZ sustainable board shorts and LOVJOI clothing, made in Germany by Syrian refugees in an old VW factory. Amy's proud to be able to represent all these labels that are making a difference. "If I buy something it has to be something good," she says. "Quantity over quality."
People tell her they feel better when they're in her store. "When I was a kid I loved giving gifts," she recalls. "I'm now facilitating somebody getting something that people will love."
Amy Cooper answers the Proust Questionnaire.
What do you consider your greatest achievement?
Plum Goods, without a doubt. My idea was to create a beautiful, positive environment where people could find great gifts to express their love for someone, and to offer goods that are better for people and the planet. People said I was crazy and that I would fail. I'm very proud that I created something from scratch that means so much to me and that has the capacity to create a great experience for other people.
What is your motto?
I don't have one. But my two favorite quotes are "We must let go of the life we have planned, so as to accept the one that is waiting for us" — Joseph Campbell — and the quote that was a big inspiration for Plum Goods, "Everybody needs beauty as well as bread, places to play in and pray in, where nature may heal and give strength to body and soul" — John Muir.
Which historical figure do you most identify with?
I don't know about "identify with," but I admire Jane Goodall because she was brave enough to create an innovative life and career centered around what she cares about most. And she's a passionate advocate for the health and well-being of our planet and all of its creatures.
What is your current state of mind?
Deeply troubled and concerned about the state of our country and our planet, but choosing to remain hopeful.
What do you like most about your job?
Being there when people are finding and getting something they love to give to someone they love, including themselves. And working with talented artists from all over the world, many who are working to make a difference.
What is your idea of perfect happiness?
Everyone I love being happy and healthy, including myself, and laughing with my favorite people. I also just returned from a trip to Cat Island in the Bahamas and being there, on the beach and in the water, was pure bliss.
What is your greatest fear?
I have just enough superstition not to answer this one. As someone brilliant once said, the worst thing that ever happened to me never happened to me. I have a great imagination and when used for worry and fear, it's a powerful force.
Who do you most admire?
People who have been through great difficulty and faced it fully without losing their sense of gratitude and joy when they come out the other side.
What is your greatest extravagance?
Eating out when I could easily cook at home. Santa Barbara has so much good food to choose from. I have been eating at Arigato for 23 years and have yet to have a single bad bite or bad experience there.
What is the quality you most like in people?
Honesty, integrity, and a strong sense of gratitude. And you must have a sense of humor, including about yourself.
What is the quality you most dislike in people?
Ignorance, selfishness, and lack of accountability.
What do you most value in friends?
Smarts, kindness and a great sense of humor.
What is your most marked characteristic?
I'm sure you should ask someone else this. I would guess people would describe me as enthusiastic, but since that sounds vaguely irritating I'd rather say passionate, optimistic, and opinionated.
Which words or phrases do you most overuse?
As someone born and raised in California, it would be great if like, I could stop using the word like, because it doesn't even belong in sentences but I can't like get it to go away. I'm also a big fan of f*@K or WTF when things are going badly.
Which talent would you most like to have?
Being able to draw or paint. When I'm in my backyard or at the beach or anywhere in nature I'd love to be able to capture what I see.
If you could change one thing about yourself, what would it be?
I would be more organized and tidy. I'm so busy, and when I'm not working I'd rather hang out with my daughter and watch bad TV or sit in the backyard and read than file and clean. My family knows to be a bit cautious when they go deep into my fridge or pantry; it could be 2008 in there.
Where would you most like to live?
I love Santa Barbara and can't imagine living elsewhere. But if I left the country, I love London and Amsterdam. Great food, great art and culture, great people.
What is your most treasured possession?
Strangely, as a store owner, I'm not that attached to things. It's my relationships that are my treasures. But I am deeply attached to my house. It's my refuge, my nest, my favorite place on earth. It's tiny, but filled with light and color. I have nightmares that I've accidentally sold it.
Who makes you laugh the most?
That's a toss-up. The three people in my life that I am closest to all make me laugh a lot. My mother and my daughter in particular are very funny. My mom often without meaning to be, and my daughter has brilliant timing and a fantastic sense of humor.
On what occasion do you lie?
I am a terrible liar. I should actually learn to lie better, since some people aren't a fan of how direct I am. I would say I've gotten better at presenting the truth with kindness.