News
Santa Barbara Rallies for DACA
Courthouse Crowd Hops and Hollers to Support Children Without Documents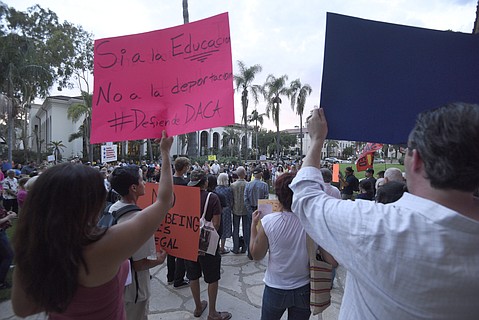 Over 200 people circled the Santa Barbara County Courthouse's entrance Friday in support of the Deferred Action for Childhood Arrivals (DACA) program. The speakers, who included community members, students, and politicians, gave remarks on how they would support the undocumented immigrant community in the county and beyond.
Representative Salud Carbajal (CA-24) spoke near the end of the event, when he promised his support to DACA recipients.
"We have a president who is running on xenophobia," Carbajal said. "He is coming after the Dreamers … because it'll boost his numbers and popularity with his base."
Carbajal said he has been working on getting the BRIDGE (Bar Removal of Individuals Who Dream and Grow our Economy) Act, a bipartisan bill that has garnered support from several Republicans, through Congress. The bill would grant an extension to DACA recipients and would codify the protection into law.
DACA currently receives its authority from an executive order initiated by former President Barack Obama in 2012. Now in its fifth year, the program protects from deportation those people born after 1981 who entered the U.S. illegally before their 16th birthday. The program also allows recipients to apply for work permits.
In the middle of Carbajal's bashing on President Donald Trump, a woman in the crowd shouted, "Fuck that puto," to which Carbajal laughed and responded, "She said it more eloquently." "Puto" is a strong, derogatory slang term in Spanish, used against homosexual men; it roughly translates to "faggot."
When asked after the rally if he stood by his comment of support, Carbajal vehemently denied supporting the comment. "The statement of what they were trying to say was just 'be negative toward the president,'" he said. "I'm on the LGBTQ caucus, so it's not in that framework in which I would condone that statement."
When pressed on his "more adequately" statement, Carbajal said he "kind of thought" the woman might have used another word.
After the event, Carbajal issued the following statement: "Let me be clear. I do not condone the use of that derogatory language under any circumstance. I was unfortunately unaware this term was used by the member of the audience that I responded to."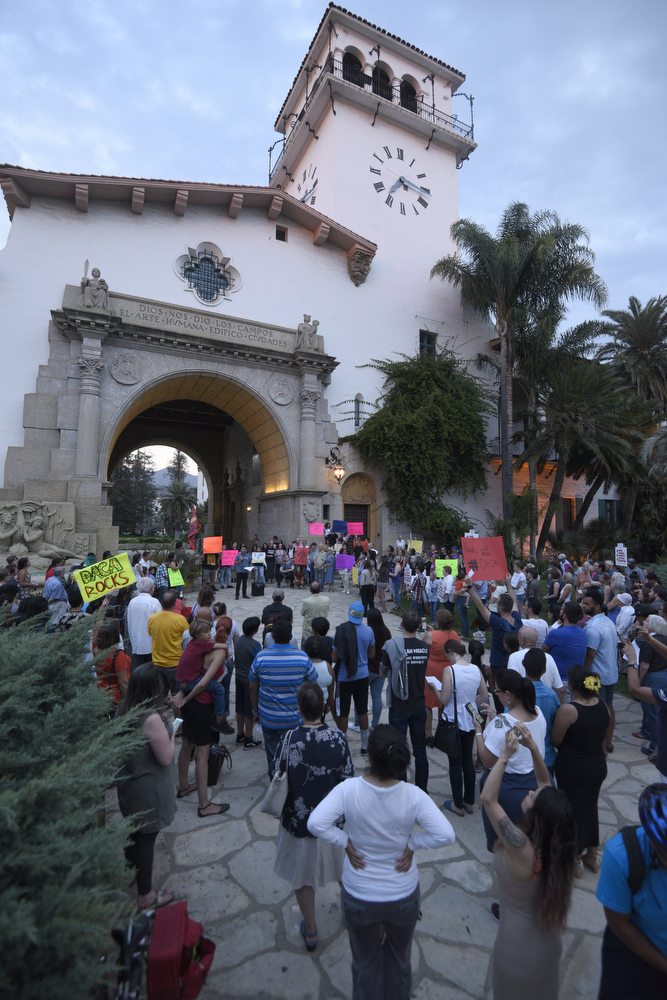 State Senator Hannah-Beth Jackson also made an appearance and pledged her support for DACA members on behalf of the California State Senate. Jackson is a sponsor of Senate Bill 54, also known as the "sanctuary state" bill, which would create a shield for undocumented immigrants within California by barring state and local officials from cooperating fully with immigration officers.
The bill passed the State Senate and is now in the Assembly.
Santa Barbara County Sheriff Bill Brown has expressed strong opposition, saying the prohibition of communication between local and federal immigration agencies would translate to undocumented criminals going free with no follow-up from Immigration and Customs Enforcement (ICE) agents.
"We need to turn the heat up on our federal government," Jackson said. "We are a nation of immigrants." Near the end of her speech, in a direct message to Trump, Jackson shouted, "Keep your hands off the Dreamers."
Chants were spread throughout the rally, with prompts handed out by volunteers so that everyone could follow along. At one point, a chant in Spanish that went "whoever doesn't jump is an immigration officer" had most attendees hopping for a few seconds.
Pundits are currently throwing out predictions on when and if Trump will end the program. Yesterday, the New York Times reported that John F. Kelly, Trump's current chief of staff, has advised the president to be cautious in his choice to end DACA. Despite the White House's declaration that Tuesday will be the day Trump announces his decision, unpredictability reigns supreme. Trump's abrupt decision to ban transgender people from the military, announced through his Twitter account, serves as an example. Not even the White House could answer integral questions about the transgender ban policy due to the hastiness of the decision, according to media reports.
Eder Gaona-Macedo, executive director of Future Leaders of America and rally organizer, said he was happy with the turnout and that his organization will keep helping the more than 6,000 DACA enrollees in Santa Barbara County.
Gaona-Macedo came to the United States as an undocumented student. He eventually graduated with a bachelor's from UCLA and a master's from Columbia University. He now has U.S. citizenship.
One Santa Barbara student shared a poem shared a poem she'd written on the experience of an undocumented student and what it's been like studying in a place she calls a predominantly white environment.
"I come from a bet my family placed on me," a verse read. "Like a new card in la lotería: el estudiante." Like a new card in lotería, the Mexican card game: the student.
Attendees were given a list of state attorneys general who have threatened to sue the federal government if it does not end DACA. Tennessee's Herbert Slatery recently backed down on the threat, which Gaona-Macedo saw as a sign that officials can be pressured to back off from DACA revocation.
Editor's Note: The name of a student previously mentioned in this article has been redacted in order to protect their identity. Also, Carbajal's rejoinder to the shouted comment was that it was said "eloquently" not "adequately."