Sports
Santa Barbara Triathlon 2017
Dos Pueblos High Alumni Dominate the 37th Annual Event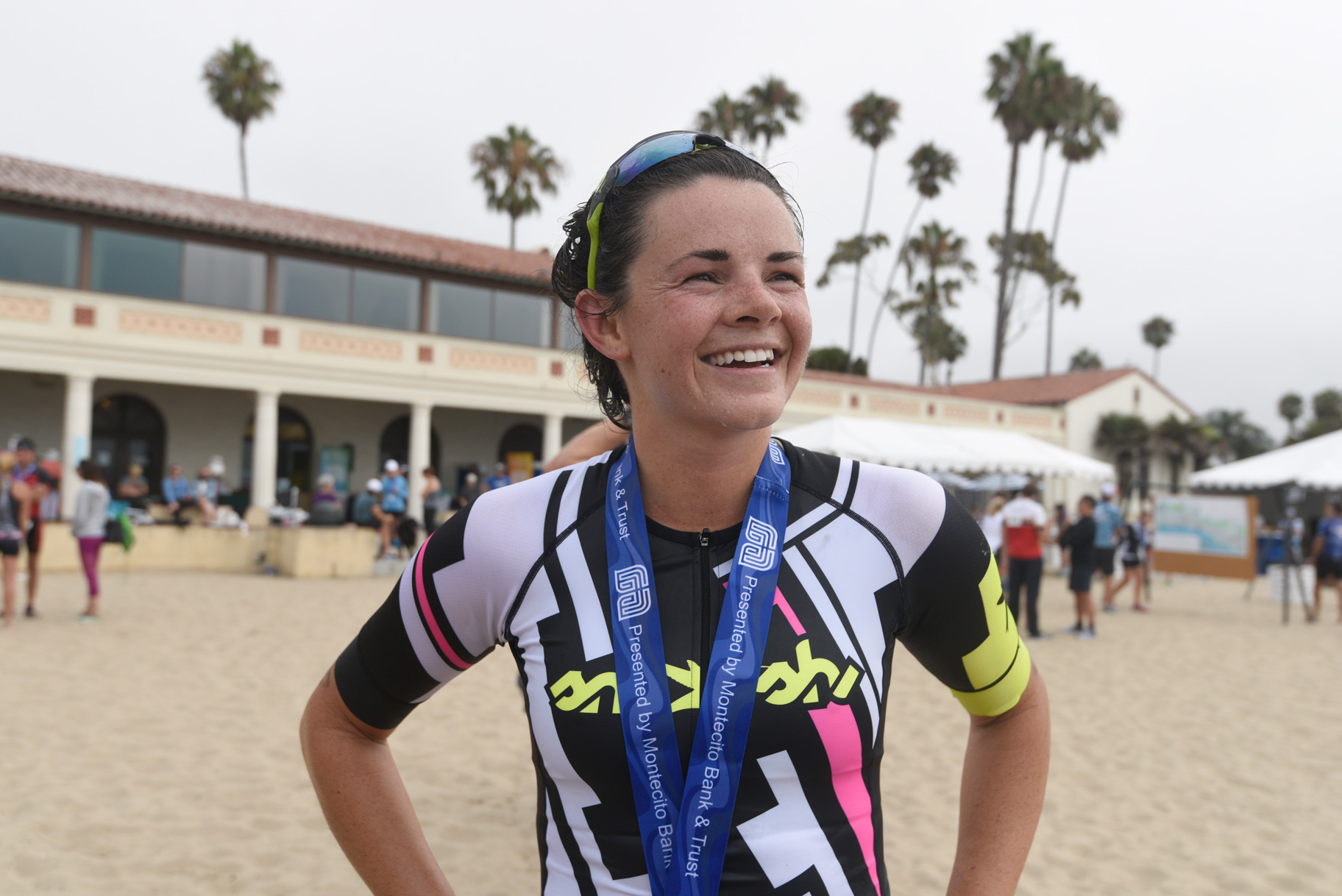 I happened to be downtown a week ago Saturday and came upon a crowd of people on the sidewalk outside Sharkeez. They were craning their necks to watch the Floyd Mayweather Jr.–Conor McGregor mega-fight being televised inside the bar. One of the screens was tilted at an angle that made it marginally visible to the freeloaders outside.
At home later, I watched some post-fight interviews. Mayweather, who won by a 10th-round TKO, seemed as fresh as a daisy. McGregor appeared a little roughed up ​— ​a bruise under his left eye ​— ​but he was rather jolly. He reportedly partied hard that night, as well he might after surviving a bout that may bestow a combined $300 million on himself and Mayweather.
Earlier that day, I was on the sand at East Beach watching another brand of fighters ​— ​people taking on the challenge of the Santa Barbara Triathlon long course. They paid $100 entry fees for the privilege of swimming, biking, and running 45 miles. At the finish, they were quite well spent after pushing their bodies for three hours. Standing out among them was a young man with a raw, bloody abrasion from his shoulder down to his waist.
Ben York had suffered a TKO in the second round of the triathlon, the bicycle leg. He was leaning on the aerobars ​— ​special extensions on the handlebars that triathletes use to achieve an aerodynamic position ​— ​when his front wheel hit a pothole. "I went over the aerobars, landed on my elbow, and slid on my back on the asphalt for a while," York said. It apparently can be more damaging to be hit by pavement than by a padded fist. "I'm just glad I didn't hit my head," York said.
Of course, boxing is much more of an inherently dangerous sport than the triathlon. But there is something impressive about the athletes who do hard things for nothing more than the pride of accomplishment. "I love it," York said. "I love training. Your body feels so good training and being in shape for the triathlon. You can do it for as long as your body is able and willing, and all the training makes it so that your body is able and willing for a long period of time."
York, 22, was a runner and baseball player at Dos Pueblos High. He recently graduated from UCLA, where he participated in the triathlon club, and is working at the William Sansum Diabetes Center while he applies for medical school. "The community aspect of the triathlon is the best," he said. "I've met so many great people."
Kelly O'Neil, 24, is another former DP runner who took up the triathlon at UCLA. She finished second in the women's elite division of the Santa Barbara Triathlon, the first time she competed after marrying fellow triathlete Brian O'Neil. Her maiden name is Kelly Kosmo. "That's how I got my first research job ​— ​the professor saw my name and said, 'Okay, you're perfect,'" she said. O'Neil is studying the cosmos at UCLA's Galactic Center Group. "We're testing Einstein's theory of general relativity on a scale it's never been tested before," she said. "We're looking at stars that orbit the black hole in the center of the Milky Way. So, you know …"
Actually, I don't know, although I've heard that black holes can devour very large objects, like planets and stars. O'Neil offered a reassuring disclosure about the Milky Way's black hole. "If it was as close to us as our sun is, we still wouldn't get sucked into it," she said. "Its field of influence is on the magnitude of the closest planet from the sun."
O'Neil said that her aspirations as astrophysicist and athlete give her a far-reaching perspective on things. "It helps you zoom in and zoom out," she said. "You're never so great as you think you are. When there's so much incredible stuff out there in the vastness of the universe, running a few miles after a hard bike ride is not such a big deal." It has the additional effect of attuning her to suffering in the world: "Whether it's mental or physical or emotional, there are a lot of people going through things much harder than a triathlon."
Molly Supple of Santa Cruz pulled away from O'Neil in the 10-mile run to win the women's elite crown. There's nothing soft about Supple, an Albuquerque native who competed in the triathlon at the University of Arizona. "I ran really hard to keep [O'Neil] away," Supple said. "I like hurting real bad. I grew up swimming and have always been racing. My happy place is on a racecourse. This is my first time in Santa Barbara. The course is beautiful. It makes it easy to be in a lot of pain."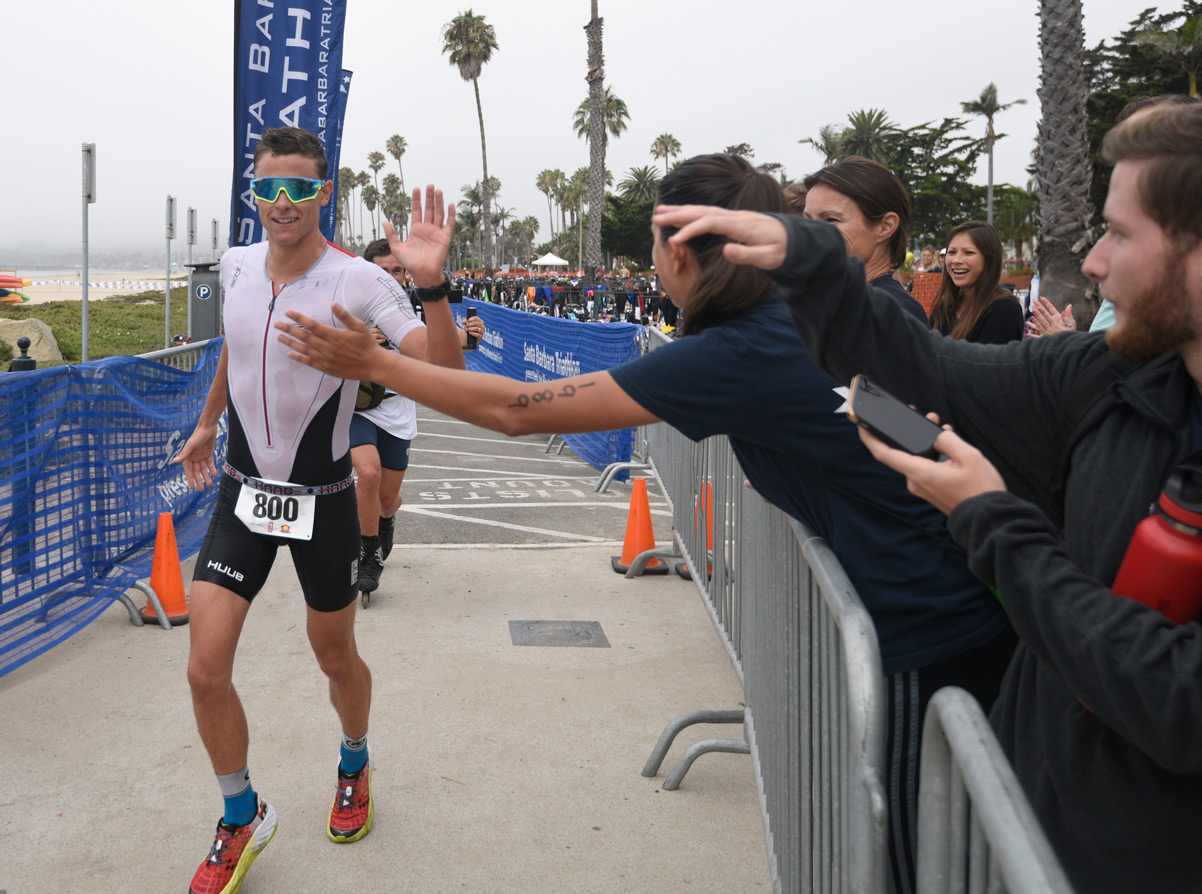 Chris Braden, 26, was the overall winner of the triathlon for the second consecutive year. He is another Dos Pueblos High alumnus, having competed in cross-country and track for the Chargers. What is it about that school, teaching so many students to excel at the "four Rs" ​— ​reading, writing, arithmetic, and racing?
Braden studied finance at the University of Colorado and, while in Boulder, became serious about the triathlon. "I trained and competed professionally for two years," he said. Last year, he hammered the Santa Barbara course in a record time of two hours, 40 minutes, and 39 seconds. He was four minutes slower this time, having taken up a full-time job here at IPT (Integrated Procurement Technologies).
"I did this for fun," Braden said. "Two years ago, on the start line at an Ironman event, you have to perform to make money, and there's a lot more pressure. It's fun to be part of this fitness community."
Plenty of people agree. That's why the Santa Barbara Triathlon has been going on for 37 years, and last month the long course and the Sunday sprint race drew some 1,400 participants.
GAME OF THE WEEK
9/8-9/9: College Women's Volleyball: UCSB Thunderdome Classic The Gauchos will play three matches on their home floor after spending the last two weeks in Waco, Texas, and Logan, Utah. Sophomore outside hitter Lindsey Ruddins recorded a phenomenal 36 kills in a match against Florida State at the Baylor tournament in Waco. The only UCSB player to top that was Gaucho Hall of Famer Roberta Gehlke with 38 kills in 1999. Two hometown women are key players for the Gauchos — junior setter Lexi Rottman (Santa Barbara High) and sophomore hitter Chloe Allen (San Marcos High), who had career highs of 24 kills and 15 digs against Florida State. Fri.: UCSB vs. Yale, 10am; UCSB vs. USC, 7pm. Sat.: UCSB vs. Arkansas, 7pm. The Thunderdome, UCSB. $5-$8. Call 893-UCSB (8272) or visit ucsbgauchos.com.